Delhi is a fascinating city. Much like Johannesburg it gets its fair share of bad press and the first thing you think about is safety but if you look beyond there is so much to explore. I grew up in Mumbai and have no family in Delhi which means I never visited as a child ( except for the occasional school trip ). For me, Delhi is an adventure and again a couple of days in the capital isn't enough to really understand the city.
It's also one of those cities that is completely blessed when it comes to food. From some of the countries finest restaurants and bars, exceptional regional cuisines and the most intense and diverse street food, Delhi has much to offer. I did a recent trip to the capital with the exclusive purpose of exploring Old Dehli cuisine or what is called Dehlvi cuisine at the extended invitation of the stunning J W Marriott New Delhi Aerocity and was delighted by the assault of flavours, sights sounds and smells on this trip.
Dehlvi cuisine refers to the mixture and melange of dishes and cuisines that are available in Delhi. Over time the city has seen a major influence from various other parts of the country that has contributed to it's typical cuisine. This entire trip focused on Dehlvi cuisine and dishes that Delhi is known for. While the first night was spent touring the famous Jama Masjid and devouring all the meaty treats in the lanes close by, day was a dedicated vegetarian affair.
My extensive food trail began with an interesting ride in the Delhi Metro which I have to say is superb. It really reminds me of any country abroad where I constantly take the metros. If only Mumbai could have this but I think for now we'll stick to our signature Mumbai locals. The one thing I noticed the previous night near Jama Masjod is that Delhi like Jaipur or Kolkata is full of cycle rickshaws which I find extremely charming. To be told I have my very own cycle rickshaw ride waiting for me the minute I got out of the metro had me thrilled. So while cycling through the small lanes and by lanes of Old Delhi, I tried to take it every sight sound and smell that seemed to assault my senses. It's hard to explain but almost each street or by lane is dedicated to a specific craft or cause. So I passed a spice market, utensils market and some more I'm sure but was so caught up in take photos that I can't quite remember exactly which ones.
The rickshaw dropped me off at Natraj which I believe is a famous spot but I have a sneaky suspicion that just like most eateries that are considered famous or well known, it must be a bit over rated. I can't tell though, it was my first visit and I enjoyed it. However Delhi locals seem to frown upon this place considering it to be another tourist trap. What is well known here is a dish called Dahi Bhalla which is  black gram lentil paste that has been deep fried into a spongy fluffy ball soaked in chuntey and dahi that have been but I also manage to wolf down some divine aloo tikkis that are their specialty.
The next stop was a 70 year old food stand where you sat on tables and chairs on the footpath because the stall only has place to cook was a shop called Dogra Sainiks Shop which specialised in what is called Ram ladoos or Daal Bhaajis which is made with ground moong daal which is then slightly fermented and deep fried. they are served with a fiery green chutney and some raddish slivers. In my humble opinion they're tastier than the Dahi bhalla but that is just me.
In the midst of this intense food excursion I found my self inside the walls of Delhi's – gurudwara. Interestingly I have never been inside one thought for the life in me I can't figure out why. I felt oddly embarrassed as I didn't know what the customs or traditions were and honestly not much about Sikhism. Thankfully I wasn't the only Gurudwara newbie but I also had Amrita Rana happily educating me. It's a beautiful peaceful space and was a very calming experience. I didn't have the time to sit for the langar but did manage to get some lovely Kada Parasad which reminded me of a mithai I use to eat as a child but for the life of me I can't remember the name.
I've heard many many tales about Delhi's infamous Paranthe Walla Galli. At first the sight of this tiny narrow conjested lane had me in a mild state of panic since I absolutely hate crowds and thought I would get mugged. Once inside of course its a photogs dream with all that hustle bustle of various stalls dishing out well.. parathas.. or some version of it at least.
Now most of my crew are seasoned Delhi travelers and had already made up their minds that this was an over rated stop. I chose to ignore and form my own opinions. Sadly they were right. My biggest grouse is that Delhi has lost their mind if they think what these guys serve is a paratha because its deep fried !! It's a Puri !! BIG DIFFERENCE. Most places ( like those ice cream ones ) that list a singular item in about 50 different flavours and combinations, I find are rubbish. While I bravely tried a banana paratha it turned out to be a deep fried dumpling of sorts stuffed with banana and some gooey white filling. In the words of my dear darling granny.. CANCEL. I'm all for innovation but that's just wrong. Calling that a paratha is criminal. The second thing tried was a lime paratha that came highly recommended from two of the seasoned pros. However if you read the fine print, in their opinion it was the best of what the restaurant served ( not just the best ) which honestly isn't saying much. If you like a lot of lime in your food and lean towards acidity in your food then you might enjoy this. For me, it was a limboo soaked fried piece of dough. Just no. Despite this lackluster food, I must point out that the hotel made a booking ( they don't take bookings! ) three days in advance and we had to battle a crowd going in and out ! Delhi what is wrong with you ???? You do parathas so well !! Why are you giving into this nonsense ? siiigghhhh.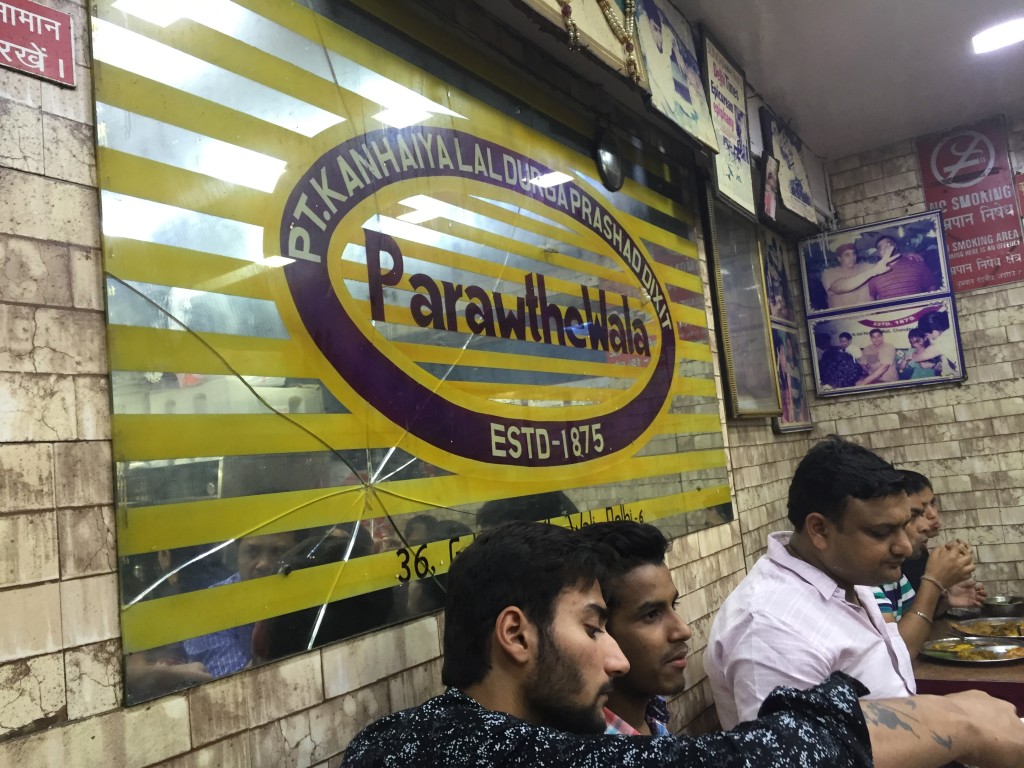 After much disappointment from these fraud parathas my spirits were lifted with a beautifully creamy daulat ki chaat. Made with milk, cream and some saffron, it's a frothy, deceivingly heavy dessert that you only find in the winter much like my beloved Doodh na Puff. Only difference is the puff comes in a glass and native to mostly Udwada and some parts of Gujarat. It's always an enjoyable experience when food evokes a memory or reminds you of something. I almost felt left out as the rest of the group had old Delhi stories and food stories to trade. This made me happy, a little bit of frothy milk that reminded me of home.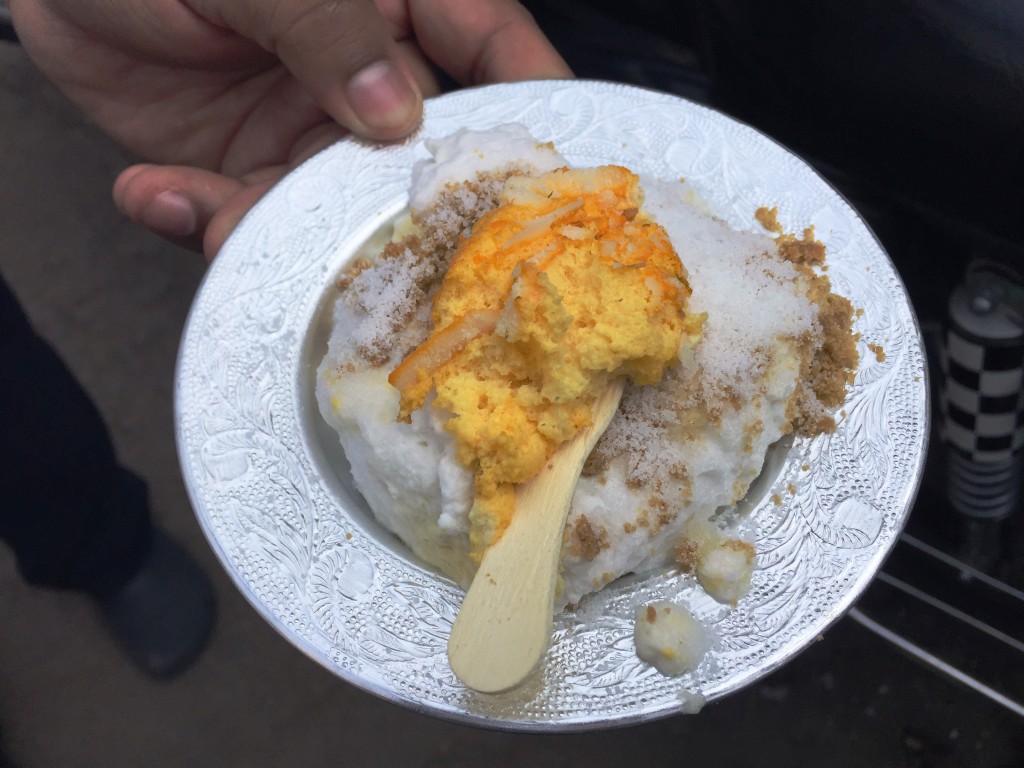 It might not sound like a lot but believe me after the first stop I was nibbling and pecking and found it incredibly hard to eat. This food is extremely filling and despite walking all over from one stop to the next in what I can only describe as tremendous heat, it still doesn't prepare you for all that heaviness so thankfully that was all on the menu.
Disclaimer : This was part of a beautiful trip curated and hosted by the J W Marriott New Delhi Aerocity Hotel but all thoughts and views are my own 🙂