Without a shadow of doubt, this has got to be one of Gurgaon's most popular eateries. I walked into Prankster on a Monday night to a semi packed restaurant and a dance floor bursting with patrons busting a move. Unbelieveable I thought because it's Monday for crying out lound, who gets out then ? Well… apparently Gurgaon does. I can't blame the city, this pub/ haven of cool is pretty funky and makes you just want to come back.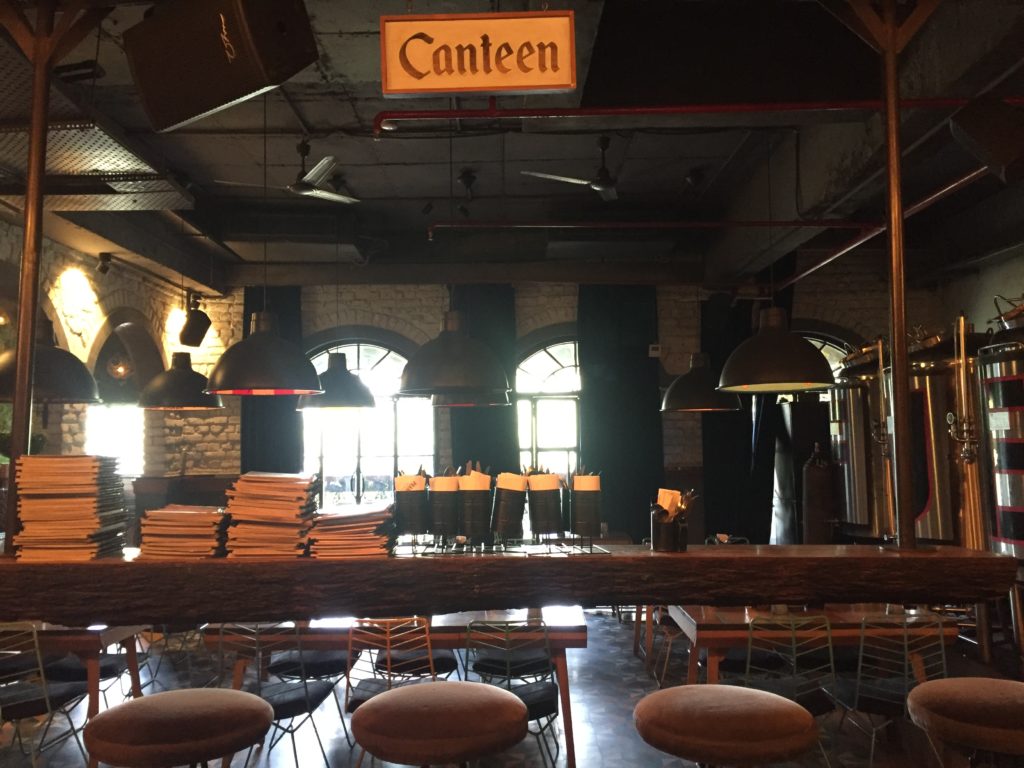 The entire space is modeled on a college campus to make you feel like you're back reliving your fun college memories. The space is divided into fun areas like a section that reminds you of your library but is possibly the noisiest library you've been in. A laboratory with test tubes and decanters as decor, An auditorium which is actually three levels of bench like tables that over look the bar and dance floor and even a really funky outdoor section ( it's on the balcony so not technically outdoor) which has tables and chairs in the shape of scooters and even a jeep to make you feel like you're hanging out at campus.
It's a genius idea and one that is clearly successful judging by the crowd. I'm told the weekends get jam packed.
The food is what they like to call Playful Nostalgia where the very talented chef Harangad Singh has gone all out by recreating some nostalgic dishes from your childhood, comfort food with his own signature tweaks making it typical Prankster Fare. ( I now see the inspiration which gave birth to Pra Pra Prank, you can read about it in my previous post)
I skipped their cocktails in aid of their own local brews. They've got their own little brewery and while the Stout and Strawberry Beer was interesting their simple Apple Cider is just delicious.
Dahi Bhalla and Papdi Chaat is just a North Indian thing that everyone relates to. When it's mashed together in one dish it's even better.
I don't know what it is with Chef and soups because I relished the Nepalese Chicken Broth at lunch at Pra Pra Prank and then at night was completely dazzled by this Sambhar Cappuccino with Dosai crisp. At first I thought it too thick and hot for a soup but the more I sipped on it the more the flavours started opening up. It is spiced but in a very comforting way and to dip those dosa crisps into it was perfect. Seems so unlike bar food but I urge you to try this, you'll be blown away.
Chilli Potatoes is probably a rite of passage in most college canteens. If someone tells you they don't like crispy chili potatoes, one of the very best things Chindian or Indo Chinese fusion has created – they're lying. Prankster takes you back to your college canteen with their insanely good version of these potatoes tossed in honey and perfectly crunchy outside but once you bite into it you're treated to warm soft creamy mashed potatoes. I have never had potatoes that look like a French fry but are stuffed with mashed. It's two very different textures, comes served with a bell pepper slaw and is a delight.
The most innovative dish ( I thought the potatoes and soup was pretty innovative ) of the night had to be the Chole Kulche Donut. It's the softest warmest bun stuffed with all that delicious Chole and served with a gajar ka achaar mousse( super tart and sharp so be careful ) and the teri. It's a dish that most Indians are familiar with and often made at home. I thought it was a tad bit bizarre to have this served in a plate that was actually the mould of a hand and had my biggest ROLF moment when I asked chef how this made any connection to the dish and he promptly replied ' It's all made with Maa Ka Haath ' which a sheepish grin. Hilarious, genius, brings back a flood of familiar flavours but most importantly it's delicious.
If you're missing the meat you should try their tender tandoori lamb chops that are best devoured by hand or then the Fattir, an Egyptian style pizza. The difference here is that the fattir doesn't have a traditional pizza dough but instead a more flakey one but is generously topped with your choice of meats or vegetables.
Most of these are feel good nibbles which I think make the perfect meal but for a more substantial main dish my vote goes to their simple Kheema Pulao.
I had an intensely heavy lunch so at this point I gave up and settled for dessert. My favourite jalebi but presented in three different ways ( three different textures ) and some beautiful saffron ice cream. It might seem like a sweet over dose but that ice cream helps to cut through the sweetness giving it a balance.
I completely under estimated the popularity of Prankster and was flooded with messages on social media telling me how it's everyone's favourite or giving me recommendations. I barely put a dent in this menu but if you try something new that I didn't, be sure to leave me a comment I'd love to know !
For more updates on my food and travel adventures, follow me on Facebook, Twitter, Instagram and Snapchat : thetinytaster