A beautiful packet of prawns was delivered the other day and I could only think of one thing to make with them – Goan Prawn Curry! In my house we are all curry addicts. Veg curry, Thai curry, Egg curry, all styles and combinations work but the ultimate is of course that beautiful classic Goan Prawn Curry.
There are honestly so many recipes and while the basic technique stays the same, each house has their own secret mix of ingredients so it's hard to find the very best. I've been spending all my time pouring over various cookbooks from my collection and came across this relatively simple Goan Prawn Curry recipe that I knew I just had to try.
What makes it really special is that his wonderful book "From The Table Of Mary S Narielwala" is written by my darling cousin Nicole Mody and it's full of some of the most nostalgic recipes. This prawn curry recipe is from the book and I've tweaked it ever so slightly to suit my taste buds and pantry staples. It's turned out to be such a fantastic recipe that it's now a family favourite.
What Is Goan Prawn Curry ?
This is a Goan recipe for a delicious spicy fiery prawn curry. It is a tangy spicy curry cooked with coconut or coconut milk, chillies, spices and some form of a souring agent either tamarind, kokum or both. It's relished in every household in Goa and is always a popular choice for most people who feel like eating some Goan food. Both the spice and sour flavours are probably inspired from their Portuguese heritage and each household has their own recipe for a Goan Prawn Curry.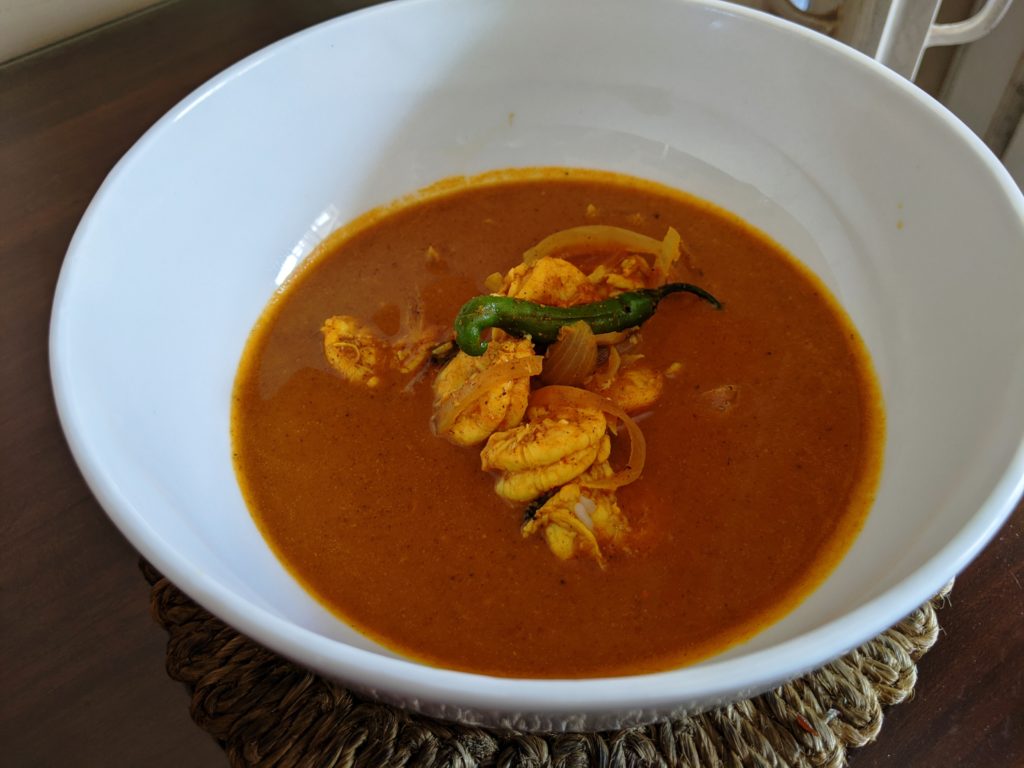 Types Of Prawn Curry
You can find various types of Prawn curry from different regions in India. Mostly they're from the Konkan and Malabar coastal region and have chillies and coconut in some form along with other spices and prawns. Apart from a Goan Prawn Curry which is the recipe for today, these are just some of the other popular prawn curries in India.
Malvani curry – It's called Kolambi Rassa and is a Maharashtrian and Konkani style of prawn curry. This one use potatoes and that special Malvani spice mix.
Prawn Gassi – This is a delicious curry from Karnataka and a popular pick at any Mangalorean restaurant. It's another personal favourite eaten often with neer dosa.
Kerala style Malabari curry – The state of Kerala includes ample seafood in their cuisine and they also make a wonderful prawn curry using coconut shrimp, fenugreek seeds, curry leaves, mustard seeds and turmeric powder among others.
Konkan style Maharashtrian curry – This is very similar to the Malvani curry often confused as the same thing but different houses like to tweak their recipe. This is sometimes called Kolambi chi Kalvan. The ingredients are almost the same as a Kolambi Rassa but sometimes they add tomatoes and replace the malvani spice mix with garam masala and other spices as well.
Thai curry – Certainly not an Indian recipe but Thailand's curry is a huge hit world over. Coconut milk, chilli, kaffir lime, galangal and lime are just some of the ingredients used to make this fiery curry and you can make it three different ways – red green or yellow thai curry.
Variations Of Goan Prawn Curry
You'll often find a dish called Prawn Ambotik at any Goan restaurant and while it is also a type of Goan curry it's slightly different to a regular prawn curry. Ambot meaning sour and Tik meaning hot or spicy, this Portuguese inspired dish uses a fair amount of souring agents like kokum vinegar or even tamarind depending on the recipe. It's another stunning curry from Goa.
You'll also find a Prawn and Raw Mango Curry which uses similar ingredients and of course raw mango.
Traditionally a lot of Goan Prawn Curry recipes include Bhindi or Okra. It might seem like an unusual combination but it started out as using the vegetable to bulk up the curry if there weren't enough prawns. It's become a hit and a lot of recipes include Okra in the curry. Alternatively if you're looking for a vegetarian Goan curry minus all the seafood then the Bhindi/ Okra curry is what you will get.
As I keep reiterating, everyone has their own Goan curry recipe and it's not a standard recipe. You will find common ingredients and in some cases there will be an addition or subtraction of them. Tomatoes, Kokum, Tamarind, Chillies, Turmeric, Fennel seeds, Fenugreek seeds are just some of the ingredients that keep changing as per the recipe but at the end of the day they're all lovely and it's a matter of choice.
Unique Tip For A Goan Prawn Curry
It is always strained. The masala paste for the curry is never cooked whole. The idea of a Goan curry traditionally must be a clean curry without lumps or granular bits.
Curry recipes typically add coconut to the paste at the time of grinding; some skip it and use just coconut milk and some recipes as for both. It is a matter of preference but coconut is always present in a Goan curry.
Recipe
Ingredients
For The Masala Paste
10 Dried Bedgi Chillies
5 Red Chillies (normal ones )
4 Cloves Garlic
1 Small pieces of Ginger
1 Teaspoon Coriander Seeds
1 Teaspoon Cumin Seeds
For The Curry
1 Teaspoon Red Chilli Powder
1 Teaspoon Turmeric Powder
1 – 2 Teaspoon Salt
1 Cup of Tamarind Water or 1 Teaspoon of Tamarind Paste
500 Grams Clean Deveined Prawns
1 -2 Cups of Coconut Milk
1 Medium Onice Sliced
2 Cups of water
Method
Marinate the prawns in turmeric and chilli powder. The original recipe doesn't marinate the prawns at all but I like to give it a slight marination.
Add all the ingredients for your masala paste into your grinder. Add a cup of water and grind for a good 3 – 4 mins or till the paste is really thin.
Empty this paste through a sieve into your cooking pot. Gently make sure the liquid paste that passes through is the curry base you're looking for. There will be some masala left in the sieve which is thick add that back to the grinder, add more water and grind and repeat by straining it through the sieve.
You might have to grind it twice or thrice but this method ensures that you are left with a fantastic aromatic flavourful curry and no thick bits. Traditionally a Goan curry is thin.
To this mixture, start heating it and add in the sliced onions, chillies and salt. At this stage the curry hasn't been seasoned at all so make sure to add salt. Let this cook for a good 5 minutes because you do want your masala mixture to cook as well.
To this add the coconut cream and the tamarind water or paste. If you're using paste it's a concentrated taste so make sure it's about a tablespoon not more. IF you're using tamarind water like I did the tangy flavour is more subtle which I prefer but it does give your fiery orange curry a slight brown tinge in colour so don't be alarmed. Many recipes substitute Tamarind for Kokum or lime juice, some add both tamarind and kokum but this recipe demands just tamarind and I much prefer it to kokum.
Let this cook for a minute or two and then add in your prawns. Prawns don't take very long to cook, if it is fresh prawns about 5-6 minutes is usually good. If you're using frozen prawns then a total of 7 minutes should be good. Anymore and you will over cook them and they get rubbery and it's not pleasant.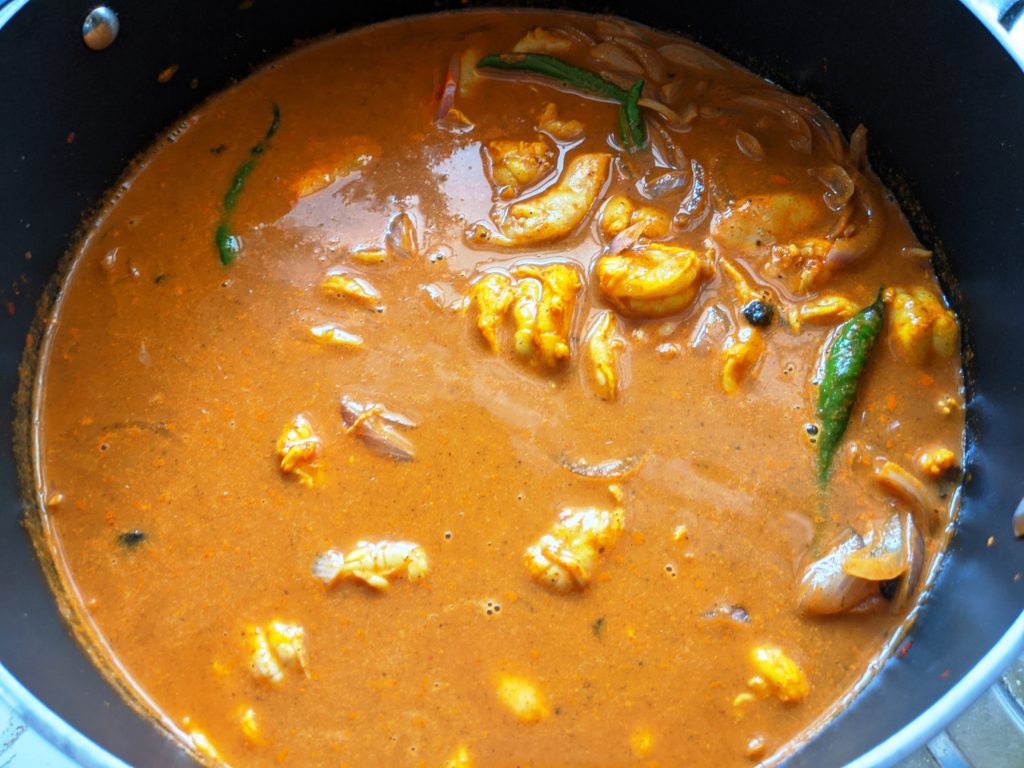 Serve hot with rice and a side serving of kachumbar, a squeeze of lime or even a crisp papad to accompany it.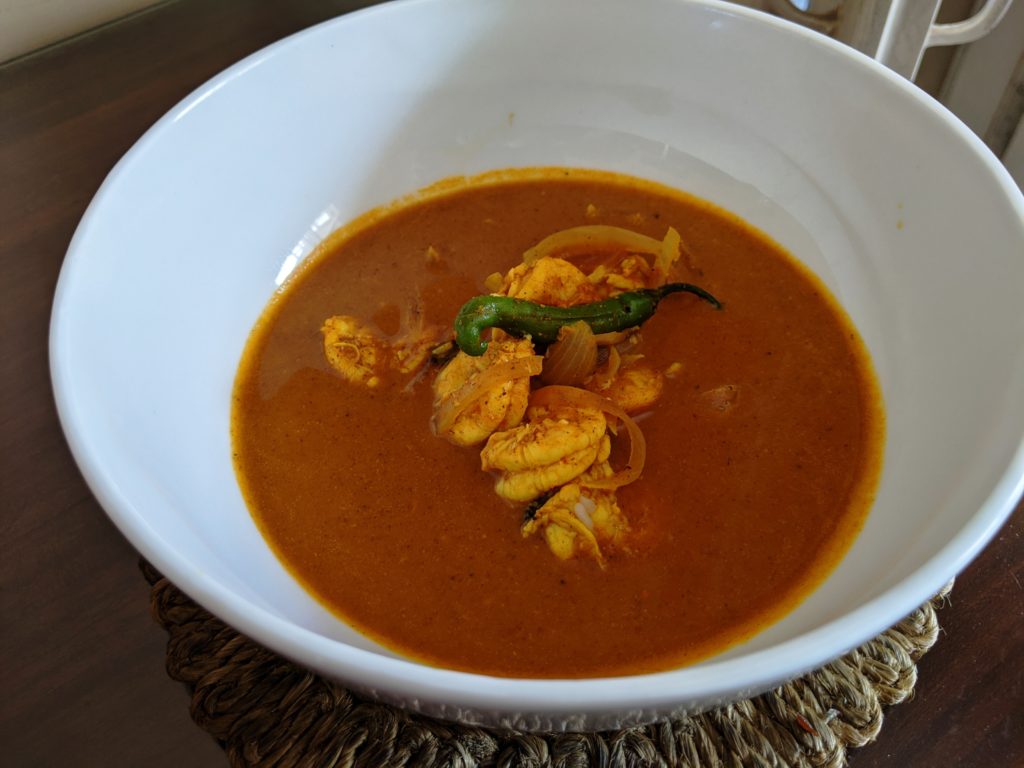 Can You Make Goan Prawn Curry With Frozen Prawns?
Yes it's entirely possible to make a Goan Prawn Curry with frozen prawns you just have to cook them a little bit longer say for a total of 7 minutes. Ideally fresh prawns are used in the curry but frozen work just as well.
Can You Store The Curry Paste?
Yes you can pre make the paste and store it in the fridge or freezer. Just make sure if comes to room temperature before you pass it through the sieve and you will have to grind it again as the process is done twice or thrice depending how much mixture there is. It's said that the longer the masala paste stays the more enhanced the flavours are but I find it's just as delicious when you make it all at once.
Can You Freeze Goan Prawn Curry
Yes you can freeze a batch for at least a month and also keep it in the refrigerator though only for a couple of days. The curry always tastes better the day later and best eaten with crusty bread.
How To Serve Goan Prawn Curry
Traditionally Goan Prawn Curry like any other curry is eaten with rice. It's usually local rice which is sometimes a shorter or thicker grain but any rice that you like works. You can eat it with basmati rice as well. An accompaniment of fresh kachumbar (sliced onions tomatoes and coriander tossed with some chilli and lime) is usually served with it or even a roasted papad.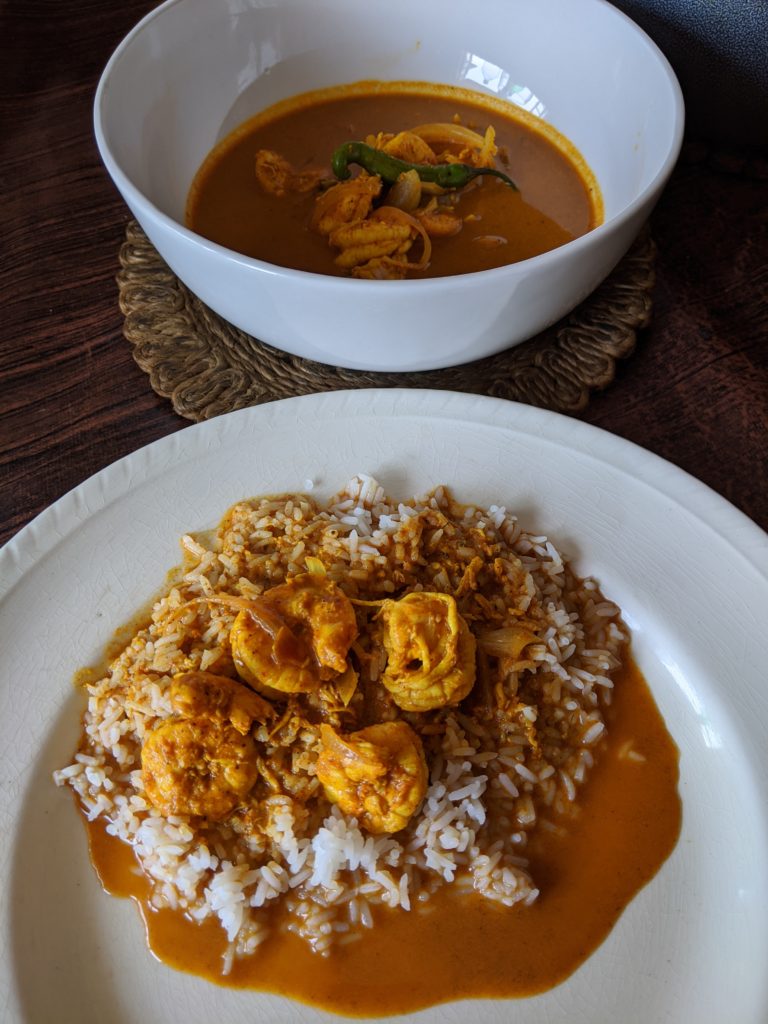 About The Book – From The Table Of Mary S Narielwala
From the table of Mary S Narielwala / Mary Narielwala's Table is a book about cooking for family in the 50s and 60s. It is a collection of recipes from the Narielwala family, whose matriarch Mary Narielwala was quite the culinary queen of her time. Her food was sought after and her family recalls friends and others clamouring for invitations to dinner. No guest ate the same thing twice in a row, and she kept a careful record of who was served what.
This book has been released by her son Adi S Narielwala in loving memory of the food he so fondly thinks of and the mother that he adored. It has been edited and conceptualised by Nicole Mody, who is currently who is a fabulous cook and baker herself and currently retails her baked goodies in Mumbai.
What we identify as Parsi food today is a mixture of different cuisines that have become household favourites over the years. There are western dishes like coq au vin and multiple baked dishes, Goan curries and moilees, and of course the dearly loved dhansaak, saas and rava. The book is a testament to a time when life was simpler, and one could spend time both cooking food as well as digesting astronomical portions of the heavyweight dishes put forth.