The first time I came across Turkish Eggs as a dish was while watching one of Nigella Lawson's videos. It seemed simple enough but the flavours and ingredient combination seemed rather odd, I couldn't quite picture a poached egg with garlic yogurt but the truth is, it works. Wonderfully might I add. Then I started seeing a trend during this lockdown with Turkish Eggs Recipes being shared on all social media platforms and I thought why not give it a go. So I'm happy to report that this Turkish Eggs Recipe is such a hit it's often requested as a lazy brunch dish in my home.
What are Turkish Eggs? What Is Cilbir?
Cilbir is the original name to this Turkish style of eggs. It's an easy Turkish breakfast dish of poached eggs that sit on a bed of Greek yogurt and generously drizzled with chilli butter. It's often eaten with thick crusty toasted bread and while it might sound like an odd combination it's a brilliant dish.
The Origins Of Turkish Eggs
Cilbir or Turkish Eggs is a popular dish across the world but its origins can be traced back to ancient Turkey. There are records of this Cilbir being eaten by the Ottoman Sultans as far back as the 15th century. The Chilli butter infusion seems to be a more recent addition. You'll also find versions of this egg and yogurt combination in several Balkan countries and often a fried egg is used instead of a poached one.
Recipe
Ingredients
1 – 2 Eggs
1 Cup of Greek Yogurt (I've used Hung Curd)
1-2 Teaspoon Dill Finely Chopped (I've used Coriander instead)
1-2 Cloves of Garlic Grated
1 ½ Tablespoon Salted Butter
1 Teaspoon Paprika Powder or Red Chilli Powder
1 Teaspoon Chilli Flakes (Traditionally Aleppo pepper flakes are used)
1 Tablespoon Olive Oil
1 Teaspoon Vinegar (Optional)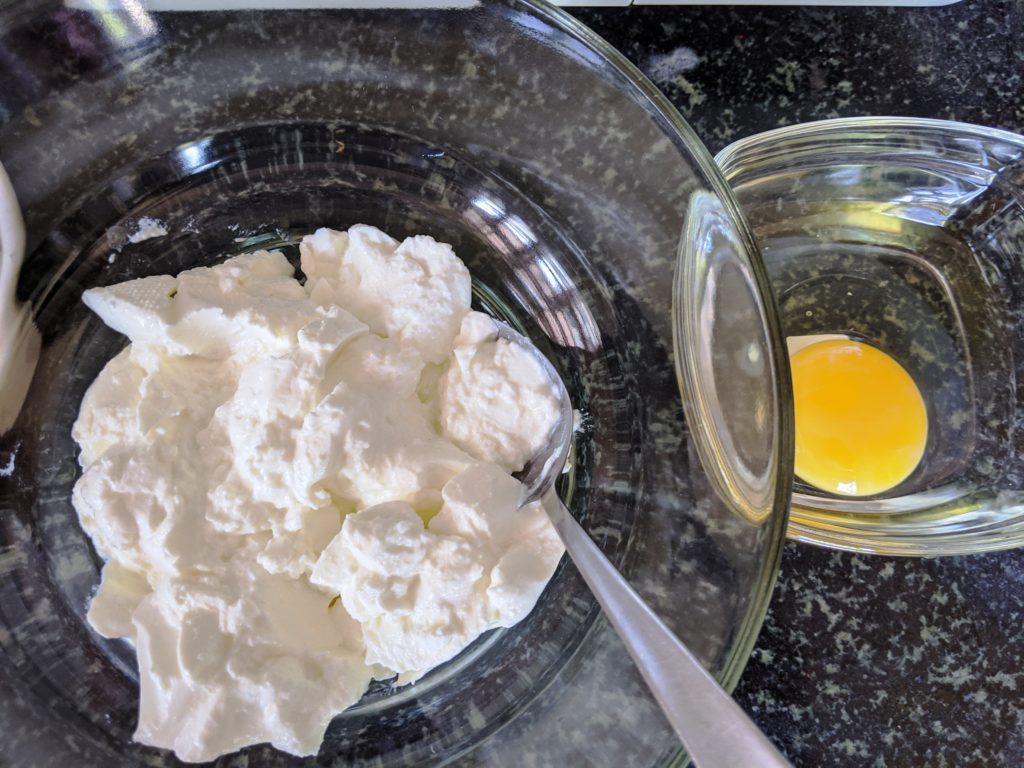 Method
Mix the grated garlic and finely chopped dill or in my case coriander into the hung curd or Greek yogurt. Mix it all together and slather the yogurt on your serving plate
The reason we use hung curd is because traditionally Greek yogurt is thicker than regular yogurt and devoid of excess water. So if you have no Greek Yogurt then hung curd works well.
Next boil water in a deep bottom pan and wait till it comes to a gentle boil. Crack your egg into a separate bowl. When the water comes to boil add in the vinegar and swirl the water in a circular motion with a spoon so it forms a sort of whirlpool. Quickly dropped the cracked egg into this whirlpool and let it poach for a total of 2-3 minutes. It should cook on a medium flame.
While the egg is cooking, heat the butter in a sauce pan. Add in the chilli flakes and paprika and let the butter turn nutty and toasty as it melts completely and the chillies infuse to form a chilli butter sauce. Turn off the flame and let it cool. Add in the olive oil as well so the butter doesn't completely burn. This should all happen as the egg is cooking it won't take more than 5 minutes to heat the butter. You can also do this before poaching the egg and keep the chilli butter ready.
Once the egg is ready, take a slotted spoon and gently scoop out the poached egg carefully so you don't break it. Place this egg on the bed of garlic and dill yogurt. Spoon generous amounts of your chilli infused butter sauce over the egg and yogurt. Garnish with some specks of chopped dill or coriander and serve hot with a slice of toasted crusty bread.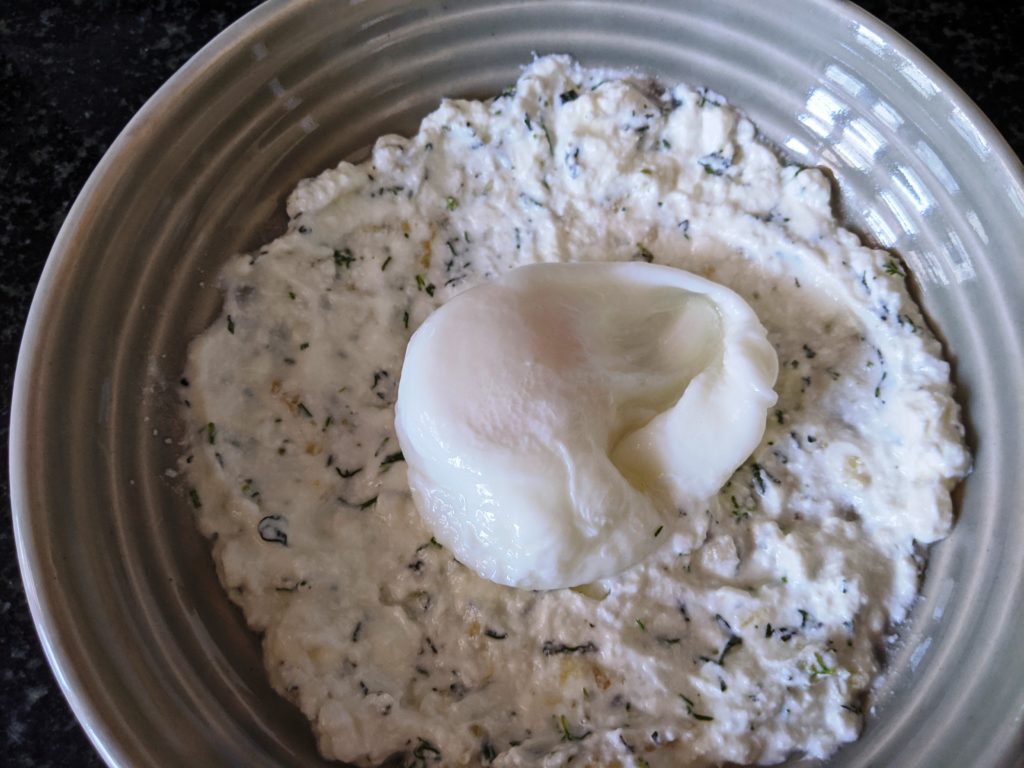 Can I Pre Make or Store Turkish Eggs?
Sadly no you can't pre make or store Turkish eggs as it will get cold and rubbery. You could refrigerate leftovers but you can't re heat it and I honestly wouldn't recommend it.
Do Turkish Eggs Need To Be Eaten Hot Or At Room Temperature?
They are eaten hot but not burning piping hot as by the time you're arranging and plating them they do cool down slightly. I wouldn't recommend waiting till it gets to room temperature you don't need to. Just maybe wait till it's not scalding hot so you don't burn your tongue.
How Do You Serve Turkish Eggs? What Do You Eat Turkish Eggs With?
This is a humble dish and usually served with thick crusty bread or toast. Sourdough bread would pair wonderfully with this. It's a breakfast dish so a steaming cup of coffee or tea along with this works well but if you eat it as a meal for a light lunch like I usually do, a slice of bread is ample to help mop up all that flavourful yogurt and chilli butter. I personally prefer to eat it as is, without any bread but it's entirely upto you.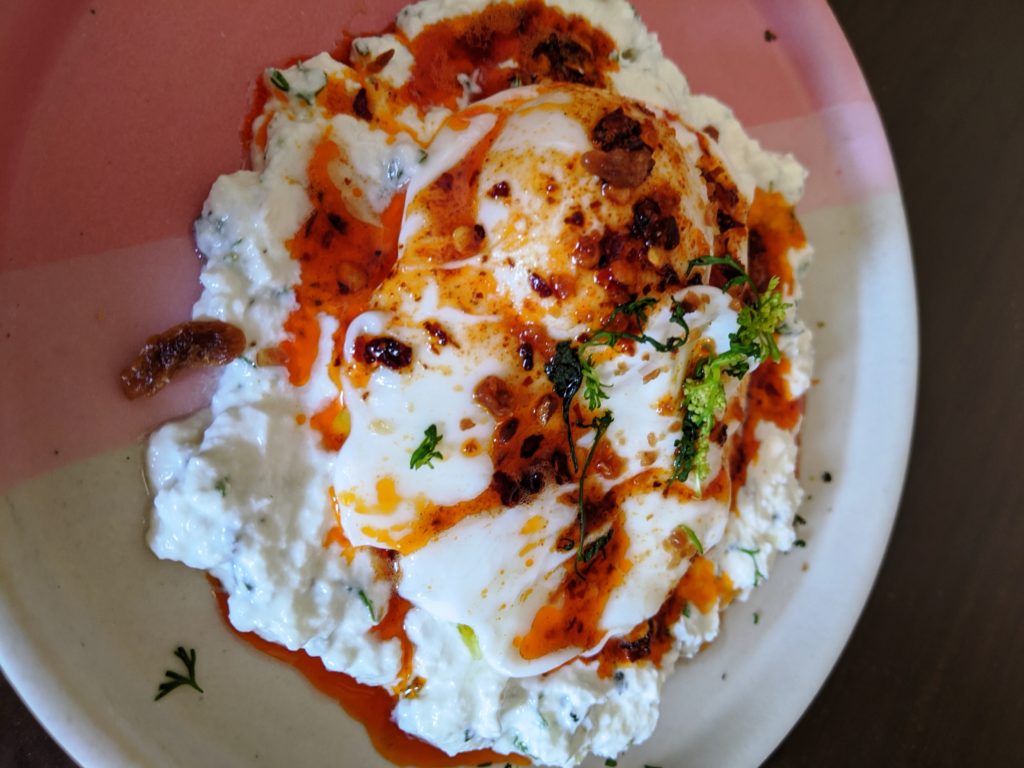 Variations To The Turkish Eggs ?
Honestly this is a basic recipe and how it's traditionally eaten. You can embellish and garnish as you like. Replace the dill with cilantro or parsley, add fried onions or fried garlic chips for some crunch. Add in finely chopped tomatoes or a drizzle of balsamic vinegar. It won't be a traditional Turkish eggs recipe but still delicious. You could even just fry the egg instead of poaching it though truth be told it won't be a Turkish Egg anymore but you most certainly can.
How Do You Poach An Egg?
Poaching an egg use to intimidate me but the truth is it's not as hard as it looks. You need to heat water in a crockpot or any pot that has some depth. Crack your egg in a separate bowl and keep it aside. Do not crack the egg right into the hot water it will break. You could crack the egg into a strainer or sieve so that the stay white bits are removed and you get a firmed poached egg but I don't really bother. Once the water comes to a very slight boil, drop in a teaspoon or so of vinegar (they say it helps to bind the egg but honestly you don't have to I've made it without the vinegar as well) take your spoon and create a sort of whirlpool by stirring in a circular motion and then immediately drop the egg in. Let it cook for 2-3 minutes giving you a runny yolk. If you want a firmer yolk then cook it for 4 minutes. Take a slotted spoon and remove the egg and it's ready to serve. It's hard to salt the egg so the salt is usually in any sauce accompanying the poached egg. Like a hollandaise sauce for eggs Benedict or in this case the chilli butter.