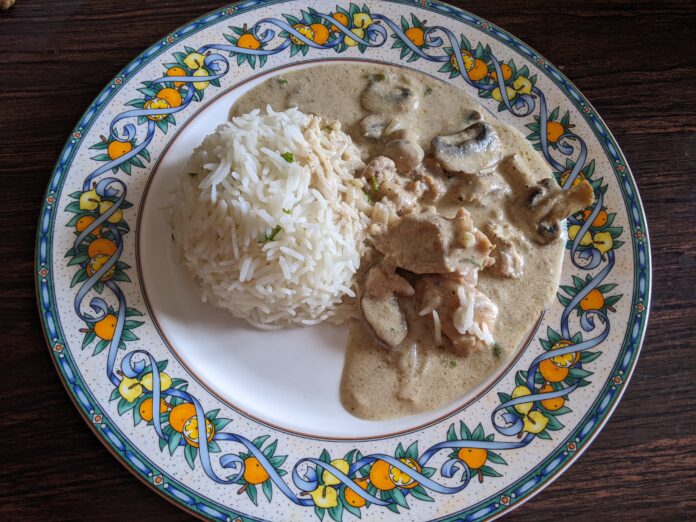 What Is Chicken Stroganoff
Chicken stroganoff is one of those old school recipes that's stood the test of time. It's a classic chicken recipe that has been made at several family dinners across the world. There are various recipes with tweaks and changes, some use tarragon, some parsley, or pureed tomato but the main ingredients remain the same. It's a chicken dish with a creamy sauce and just really hits the spot.
Can You Use A Different Type Of Protein Or Meat In A Stroganoff?
Stroganoff is the recipe for the gravy base but the choice of meat is entirely up to you. You can have a chicken stroganoff or a beef stroganoff. In theory you could even have a mutton or lamb version but the chicken and beef ones are the most popular and what you'll see across menus.
Can You Make Vegetarian Stroganoff?
Yes, you can make your stroganoff vegetarian. Since mushrooms are a part of this recipe most often the meat is avoided and the mushroom remains the hero of the dish. The recipe stays the same, you just add more mushroom, substitute chicken or beef stock with vegetable stock and you can add more vegetables if you like for e.g. potato, celery, carrots etc.
Recipe
Ingredients
500 grams boneless chicken cut into pieces
1 tsp Salt
1 tsp Pepper
1 tsp Red chilli powder / Paprika
Oil to cook
1 packet of mushrooms ( sliced )
1 Onion chopped
5-6 Garlic cloves chopped
1 table spoon butter
1 table spoon Flour
1 tsp Salt
½ tsp Pepper
1 table spoon Wooster Sauce (Worcestershire sauce )
1 table spoon mustard
Grated Nutmeg
2 Cups of Chicken Stock ( You can mix ½ cup of wine in this for more flavour or skip the wine and just use chicken stock )
3-4
Table spoon Cream
Chopped Parsley for Garnish
Method
Cut the chicken into smaller pieces or strips and marinate with a little oil, salt pepper and paprika powder or red chilli powder. Mix it well and then cook it in a pot with some more oil for about 12 minutes till the chicken is cooked.
Once cooked remove the chicken and in the same pot which has all the juices from the chicken add the chopped onions and cook for a minute or two.
Add the butter and chopped garlic and after cooking for a minute, add in the sliced mushrooms. Cook well for another 2 minutes.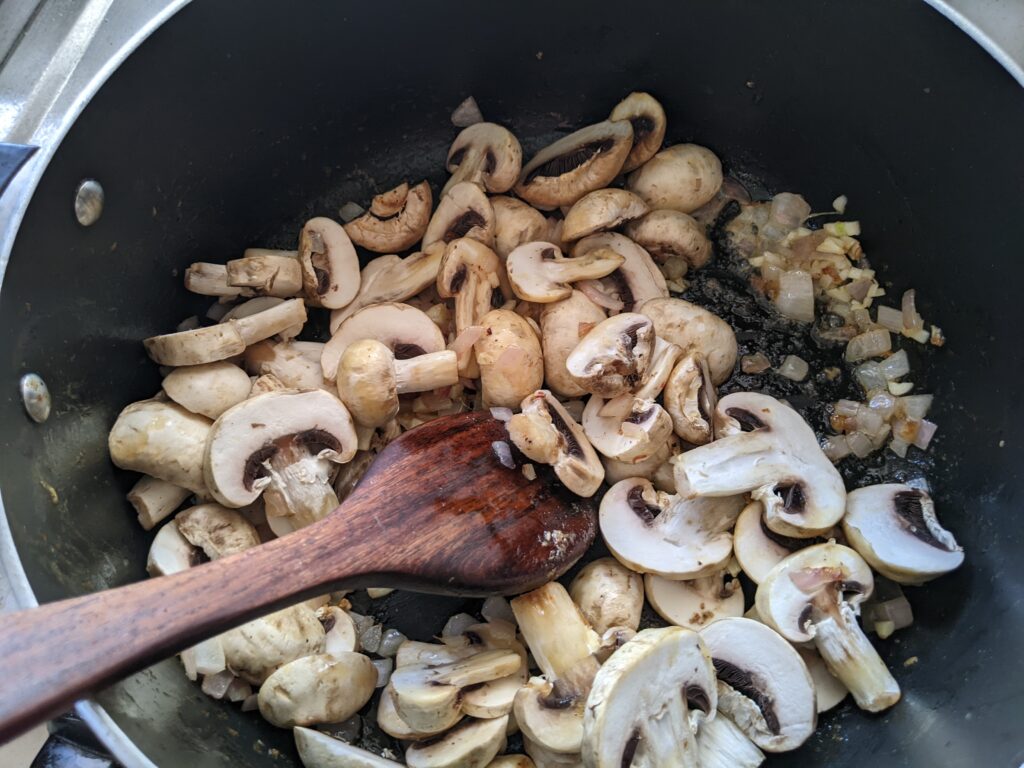 Add the flour and keep stirring till the flour mixes and cooks (It shouldn't be raw or you'll get lumps) and while it's being stirred add in the 2 cups of chicken stock and keep stirring till you start to get a nice slightly thick gravy. This is a basic roux for a gravy and if you don't keep stirring, you'll get lumps which we don't want.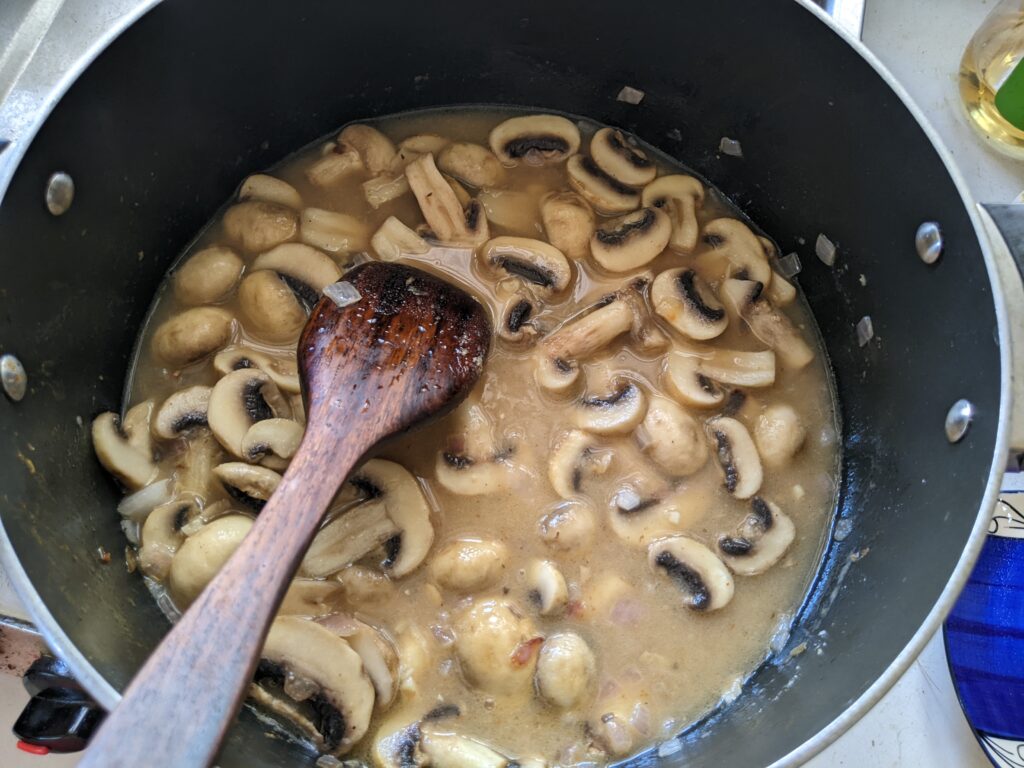 Add back the cooked chicken and season this gravy with more salt and pepper along with the Wooster sauce, mustard, and grated nutmeg. Mix well and let it cook for 5 minutes.
Add in the cream and mix it till it combines into a thicker gravy. In case you think the gravy is too thin, just remember when it cools slightly it will thicken up. In case you've added too much stock or water and feel like it's still too thin a gravy then you can add a little more cream but not too much.
Lastly garnish with chopped parsley and serve hot with steamed rice and enjoy.
How Do You Serve Chicken Stroganoff?
Most restaurants serve their chicken stroganoff with some steamed or herbed rice since it has a gravy. You can serve it with rice of your choice or even with thick bread to mop it up. You can also serve this with egg noodles or pasta.
How Do You Store Chicken Stroganoff?
You can refrigerate leftover chicken stroganoff for up to 3 days. I don't recommend making it and freezing It to keep re heating. It's best eaten freshly made. It will stay in the fridge for up to 3 days.
Other Popular Recipes On My Channel
Zdfdsf