For the last few years I had friends tell me how intensely beautiful Sri Lanka is and how I must make a trip. While I agreed that it must be beautiful I felt due to its close proximity to India, it was one of those places I could visit anytime and was also pushed further down on my list of countries to visit. I honestly couldn't have been more foolish. This lopsided logic of it being close and extremely affordable so I should visit later is silliest  thing because it really should have been the other way around. I was recently invited for a whirlwind trip to the country to meet celebrity chef and superstar Marco Pierre White as he toured the country with Cinnamon Hotels,  and every experience there made me realize what a fool hardy decision I had made previously. My personal style while travelling is to really spend as much time as I possibly can in each place, I detest rushed trips but sadly this one had to be cut short as I had my lovely Kalaghoda Arts Festival scheduled to start in the next couple of days. Which means what I experienced is just about the tip of the ice berg when it comes to Sri Lanka. Never the less, it was enough to form opinions and promise myself I would be back soon to discover more. I spent 5 days in Sri Lanka and these were my highlights.
The Food – To quote Marco Pierre White " I don't think I had a single bad meal in Sri Lanka" and it's the truth. The local cuisine is similar to South Indian food but notice how I said similar and not the same. They use a lot of coconut, curry leaves, pandan leaves and cook in beautiful earthen clay pots. The seafood is delectable and the fish are also local to particular parts so it always tastes different but the emphasis is really on fresh. Plenty of curries, chutneys, sambals and happy food memories. I managed to get a Sri Lankan Fish Curry recipe which I wrote about here. The Sri Lankan cuisine is definitely one of the country's biggest highlights.
The People – I have traveled to a different countries and always enjoyed interacting with the locals. Shop keepers, bus drivers, cafe owners they're all wonderful but in some countries the people are truly special. I thought South Africa was the country that had the friendliest folks but Sri Lanka is really something else. Not only are they incredibly friendly and chatty they're just so happy. Always laughing and smiling and when they know you're from India they get even happier. I remember the rickshaw drivers in Colombo spoke to me for nearly 20 mins and a charming coconut vendor in Hikkaduwa was thrilled to know I'm Indian and started rattling off cricketers and I spent a lovely morning hanging out with him. The people will always make a country and Sri Lankans are just wonderful.
Hikkaduwa Beach and the sea turtles – I stayed at this gorgeous beach called Hikkaduwa at the Hikka Tranz Hotel by Cinnamon Hotels and really enjoyed my time there. The hotel is right on the beach and apart from the stunning view from my balcony and insanely good food the highlight of my stay there was waking up early morning to feed the sea turtles that come to visit.  Mind you this is not a small reptile but a massive turtle that looks like a dark blob in the ocean and extremely difficult to photograph because they're so quick. You can feed them little shrubs so if you have food they tend to come closer and sometimes come up on shore. The best time to see them is early morning about 6.30-7am  and it's worth waking up at that hour.
Habarana – One of the prettiest places I visited in Sri Lanka was Habarana which is home to a beautiful Eco forest where you can take a safari and spot gorgeous elephants in the wild. Not only is it stunning but my personal safari experience was quite exciting since on a couple of occasions we went really close to the elephants and one was so close he got angry and came charging at us. Of course nothing happened but it was an exciting experience.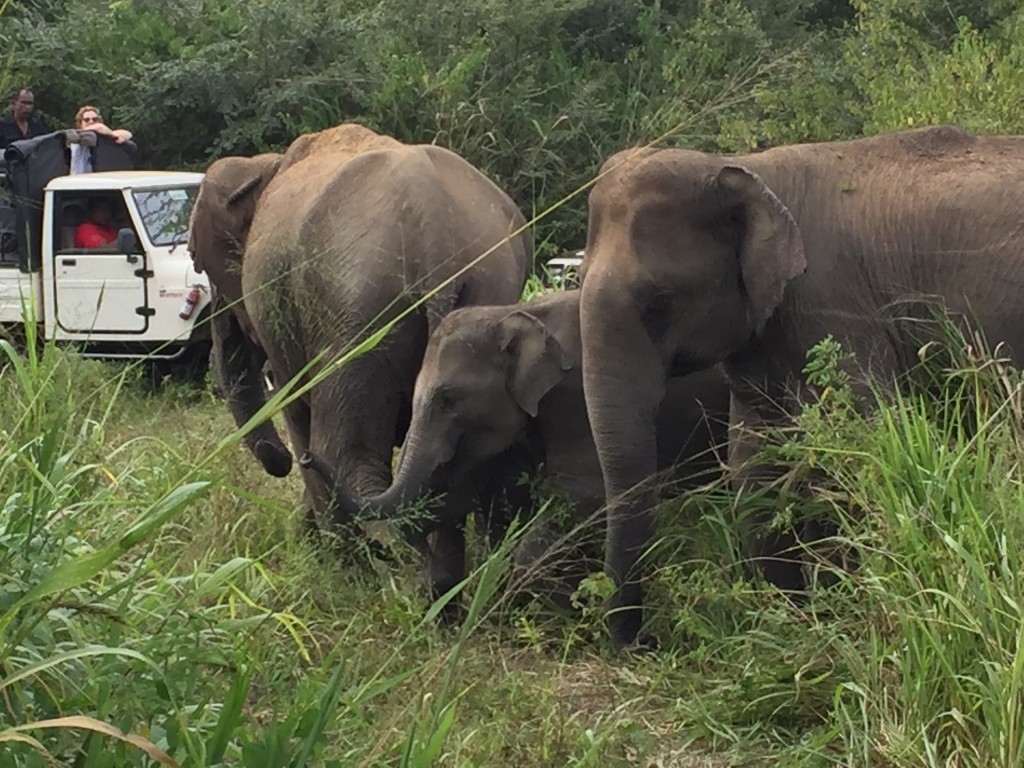 Eating with locals – One of the most memorable experience I had was when I visited a local village and watched the women prepare a meal from scratch on an open fire in their clay pots. It was some of the tastiest food I've eaten but the highlight was watching them cook from scratch.  Managed to pick up a few tips but it is the experience of meeting them in a little hut in their village with a rooster going bananas and documenting recipes that I won't easily forget.
Cinnamon Air – When you get to take a 30 minute plane ride instead of a 7 hour road journey it will always be a memorable experience! Cinnamon Air is a kick ass option to road travel in Sri Lanka and they have some wonderful planes that give you another kind of scenic route. Sadly I didn't get to sit in a seaplane ( they have those too, but I've done it before so it's ok ) but the view from the sky is breathtaking. As you drive through the country you're very aware of how lush and green Sri Lanka is but by air it's even prettier.
The Hotels – I stayed in all Cinnamon Hotel properties and couldn't have enjoyed myself more. I have to admit I have two favourites which is Cinnamon Lodge in Habarana and Cinnamon Bey in Beruwala. Both properties are vastly different, one in the jungle and one by the beach but exquisite and hotels I would revisit in a heartbeat.
Dining with Marco Pierre White – The most memorable of all my time in Sri Lanka has to be spending time with the great Marco Pierre White. While I was able to chat with him and eventually enjoy a special sit down dinner prepared by him and his team the best part was attending a session he held for chefs from the hotels where he spoke honestly and candidly about life, his work his craft and the culinary world. Plenty to learn from such a master and I felt privileged to be there. Of course the small cooking demo post that was even more exciting because I can officially say Marco cooked for me. It's also an indescribable sort of pleasure when you see him in the flesh call for his Executive Chef and from a corner you hear a live " YES MARCO "  The man is a genius, hard working and a wealth of knowledge about his craft and cuisine.
Disclaimer : This trip was hosted by Cinnamon Hotels and Sri Lankan Airlines and I was invited to be a part of it. All thoughts and opinions are my own 🙂