The most common question I was asked about my recent trip to Paris was about my culinary experiences and particularly which one stood out. To be completely honest there were many delights, Parisians know their food but the one experience that I'd rank right on top above everything else was the enchanting afternoon High Tea at The Peninsula
Tucked away on Avenue Kleber, a stone's throw away from the grand Arc De Triomphe, with its tall ceilings, gold decor and Belle Epoque themed decor the hotel feels extremely Parisian and just the place to indulge in a luxurious afternoon being spoilt by their chefs. Now this wasn't my first high tea experience, I've had the pleasure of enjoying them back home in Mumbai as well as other top notch hotels in different parts of the world but this experience was a first for me because never have I ever had a high tea or possibly another other tasting experience where I've whole heartedly enjoyed every single piece of edible food put out in front of me.
It's really remarkable because it's human nature to have favourites or be underwhelmed and tastes are so subjective but this was the first time I wanted to polish everything off the three plates that came towering to my table.
If you opt for an afternoon high tea you get a range of mini treats and three tiers featuring sweet, savoury and salty dishes. All bite sized but don't be fooled, this is all extremely filling so I'd advise you to bring your appetite. ( I skipped lunch and had a very light breakfast to do justice to this ) You can opt for your choice of beverage from their selection of tea or coffee and possibly even Champagne but if you're anything like me and want to focus on the food then I'd suggest a light tea works well.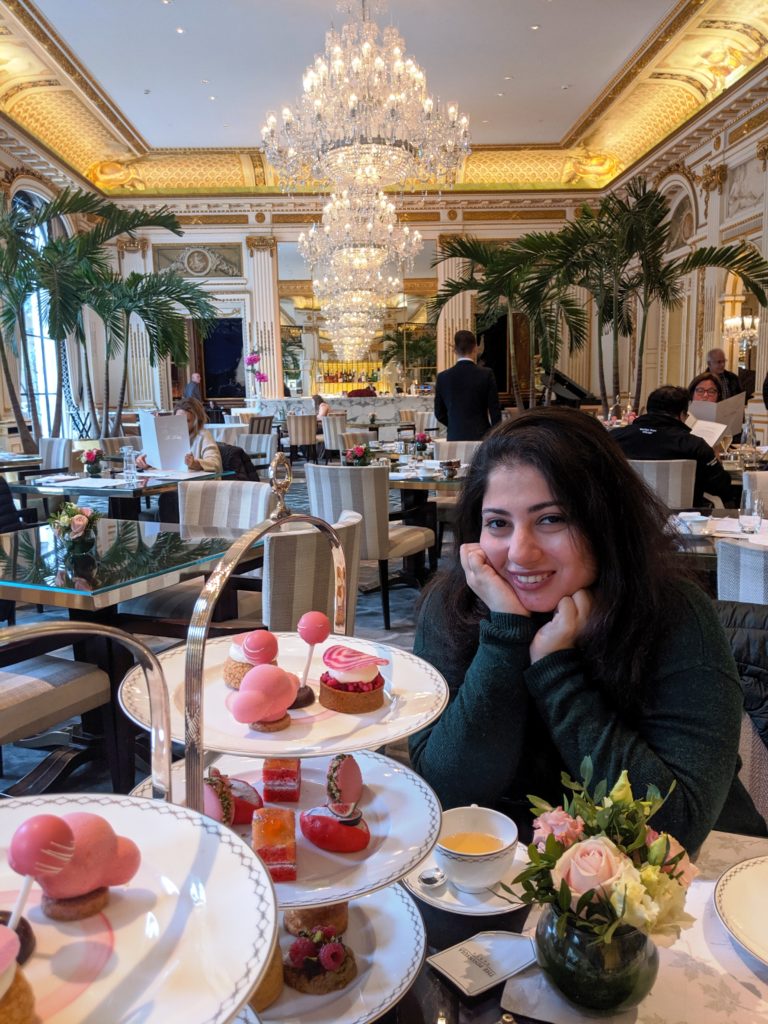 The beauty lies in the simplicity of some of the items like freshly made buttery scones ( I can't tell you how many dreadful ones I've had that are hard and brittle ) or perhaps even the cranberry and raspberry cookies. It's the ones that aren't elaborate that grab your attention and remind you of how many tragic scones and cookies you've had and this is what they should really taste like.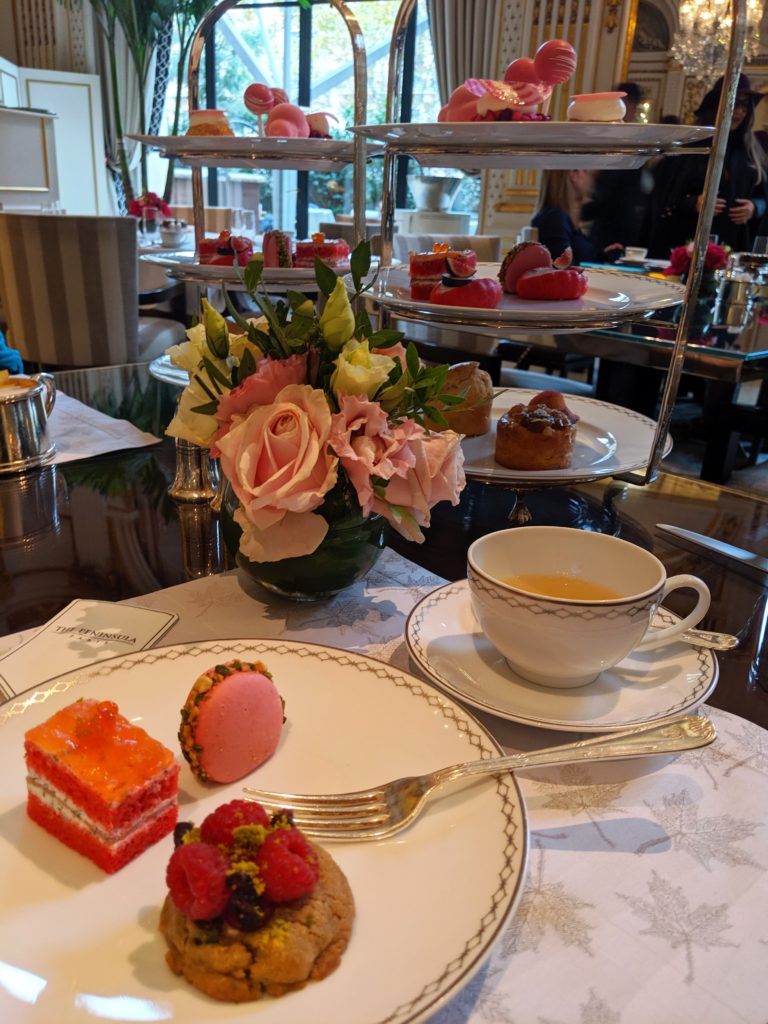 The most memorable thing from this entire high tea is a simple macaron. Now this is Paris, the land of Pierre Herme and Laduree along a host of other places for this popular French dessert. While the world gushes and swoons over macarons, I am sadly not a fan and yet out of everything I had, I just can't stop gushing about the single macaron I had at this high tea. The oddest combination if you had asked me even a day before but after eating it and being in complete and utter raptures ( flavour wise ) I'd have to say the Foie Gras and Pistachio is my favourite macaron !
Perhaps because the Foie Gras cuts through all that tremendous sweet or that the pistachio works with it, I don't know and quite frankly I don't care why. It's simple utterly exquisitely delicious and when I go back to Paris ( note how I say when and not if ) I shall return just for this little beauty.
There is plenty more to enjoy as part of the current high tea menu, salmon cream finger sandwiches, fig cream brioche, red current and pink pepper lollipops but for me it's all about that divine macaron.
The entire experience is roughly 49 Euros including the tea and is akin to an entire meal and then some. The ambiance is wonderful almost like you're dining in a royal chamber and it's the perfect present to either treat yourself or a loved one to a fabulous experience.
Would I re visit ? I think you already know the answer to that 🙂
Disclaimer : I was invite by The Peninsula Paris to sample their high tea and thoroughly enjoyed it. As always, thoughts, ideas, expressions and opinions are strictly mine 🙂