One of the best things in life is your family. When you get to experience something breathtaking and stunning with the people you love it becomes an even better experience. Thanks to my adorable aunt, four crazy women made their way to the jungles of Madhya Pradesh and enjoyed seven days of pure bliss. Starting with a mildly traumatic take off, beautiful tiger sightings, joy rides in the jungle, a wild jungle beast ( ok maybe not ) entering my room, and ending with a hilarious episode with airport security this all girls trip was fantastic.
As they say, what happens in the jungle, stays in the jungle so no gory family secrets shall be revealed but I do want to talk about my holiday and why I think everyone needs to experience the forest.
We first visited the Pench Tiger Reserve which is approximately 2 hours away from Nagpur airport and stayed in lovely spacious tents at the Pench Jungle Camp Resort. The resort is very pretty with a swimming pool, nice manicured lawn to sit out in the evening and have some warm tea post your safari, big spacious tent rooms with everything you could possibly need, super polite and helpful staff and the best home cooked food.
While it is widely accepted that Rudyard Kipling based his famous ' Jungle Book' on the Kanha forest, it is actually Pench which he visited and based the characters in the book on the animals he encountered. We were lucky enough to see some gorgeous deer, langur monkey and their entire family including new born babies, the neel gai, the Indian bison or the gaur, a jackal eating its kill ( half a deer ), an abundance of birds and of course the elusive majestic tigers.
The forest is much smaller than Kanha and so there is a greater chance of seeing a tiger (or so they say ) and we were lucky enough to spot them on three out of the four safaris we did there. So much so that we even spotted a tiger cub in a distance snoozing, twitching his ear, wagging his tail and swatting a fly in his sleep with his paw. It was like watching a giant soft toy taking a nap. Beautiful.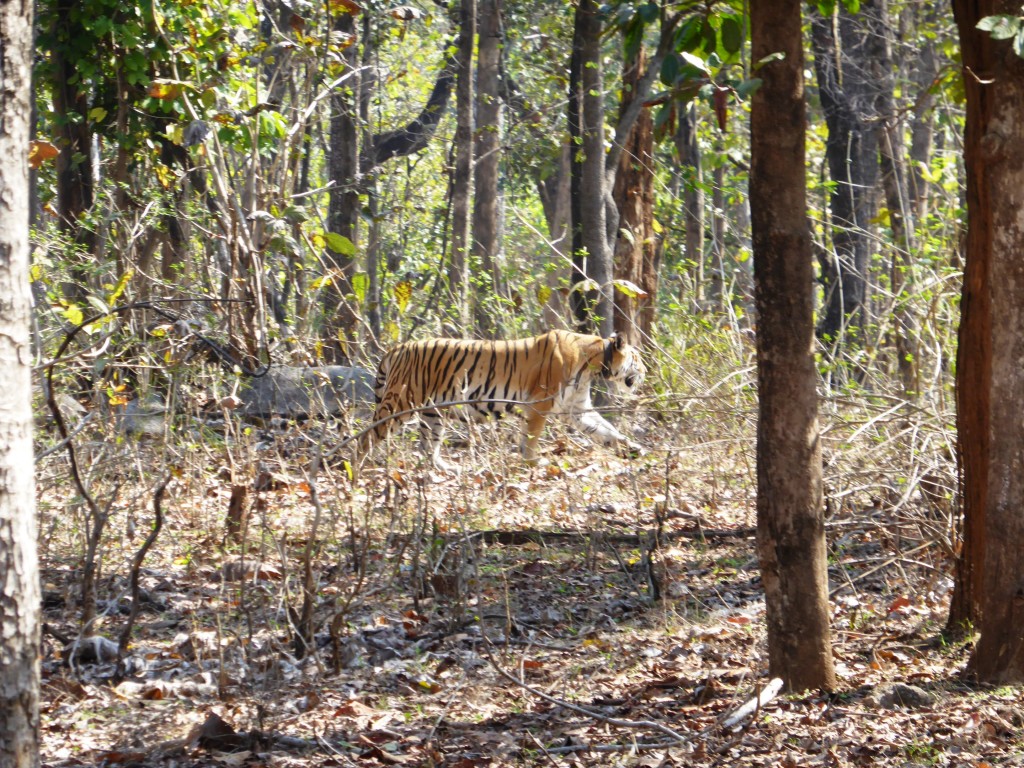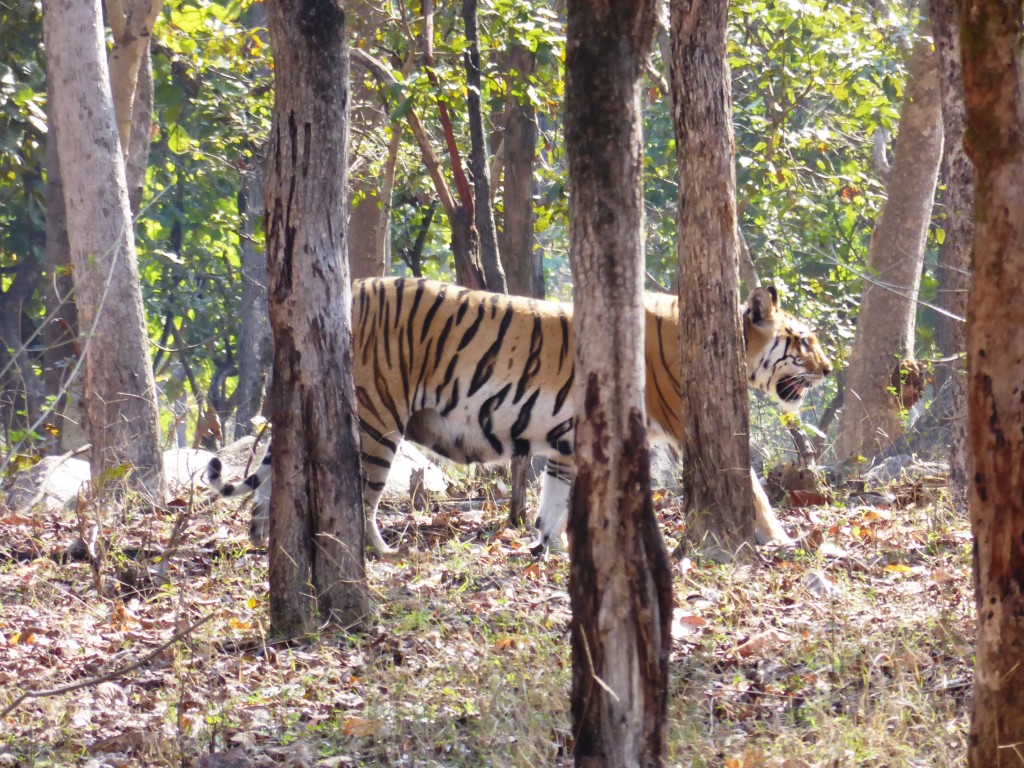 While Pench has it's ghost trees unique only to that region and a charm of its own, Kanha in comparison is a much larger and in my opinion a stunning forest. With four different zones where the topography looks drastically different in each zone, this jungle is breathtakingly beautiful and so well maintained. There isn't a sliver of garbage on the road and you're not allowed to take anything from the park, not even a rock.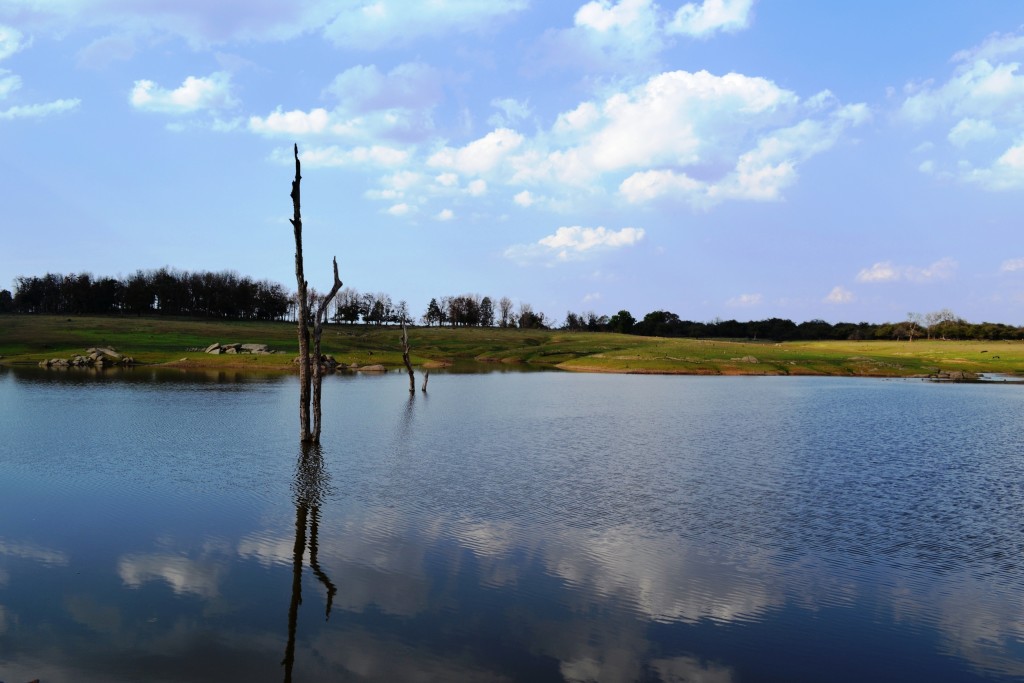 Kanha has its sprawling meadows, hills, lakes and woods which is home to not just the tiger but many others including the barasingha deer which is a type of deer only found in this forest and nowhere else. It's home to the sloth bear which unfortunately did not make an appearance but we did however see a pack of wild dogs which is extremely rare. Do not be fooled, these look like a cross between a fox and a stray dog but they roam in packs of 4 or 5 and are vicious little creatures that do tremendous harm. If a wild dog is spotted, you'll notice all the jeeps making way for the animal and very careful so as to not upset them or threaten them.
We had seven safaris in Kanha but sadly we did not spot a single tiger. I've seen them before in Kanha and two other ladies who joined us on the trip are safari addicts and they see a tiger every time so this really was just some tough luck. While we didn't see the tiger we did end up on some very thrilling rides racing through the jungle trying to catch a glimpse of him. So much so that we sat in silence listening to the animal calls ( the deer and langur monkeys have a specific alarm call when they spot a tiger near by ) , we tracked fresh pug marks and on one trail we realised that while we were chasing the tiger he seemed to outsmart us and by the time we made a u- turn he had quietly slunk away. Turns out we missed him by a grand total of four minutes. Cheeky bugger. We did however see a jackal devouring half a baby deer which is the closest I've come to watching a kill.
Despite no tiger sightings, I think it was a beautiful time to be in the jungle and an amazing experience everyone should take. It's the type of holiday that is a far cry from a bustling city with sight seeing or tourist traps  or even luxury rooms ( thought you could opt for some serious glamour in the jungle as well ) but it's the perfect one to find some quiet, peace, enjoy the gorgeousness that is mother nature and a gentle reminder that once again, you do not need to travel to exotic locations, India is plenty gorgeous if you just take the time to look and appreciate what we have.
Travel Tips –
Transport : The easiest way to get to the jungle is to take a flight or train to Nagpur and drive down. Pench is 2 hours away and Kanha approximately 6 hours
Stay : In Pench I would recommend the Pench Jungle Camp which has awesome food and very affordable for the service you get.
In Kanha we opted to stay in a very basic resort called Bagira Log Huts only because it is the only resort ( owned by MP Tourism ) that is located four kilometers INSIDE the jungle. Which means I had deer, bison and langurs coming up to my balcony for their lunch  and playtime. At night there was a 7 minute walk from my room to the main dining area which you need to walk in darkness with just a torch and enjoy the night sky. If you have night vision binoculars it's a real treat because you can see ( and always hear ) the animals at night since the forest is on either side.
I was told that a friend woke up and got out of her room to find two sloth bears playing right outside. I was staying in the same room, alas no bears 🙁
It is also located in what they call Leopard territory and there is one female that lurks around in those jungles near the resort but is rarely seen. The point is the place is very average, the food is below average but the location more than makes up and it's a delight. I would stay there all the time just to hear those animals rustle about and hoot at night.
Safari Time : There are two safaris, one where you need to be at the main park gate by 6am and one in the afternoon by 3.30pm ( exact timings change as per season) Please be prepared to wake up early. The entire point of a safari holiday is to get the most amount of time in the jungle. You want to be the first jeep in and the last jeep out.
Happy Travels and If you spot a tiger send me a picture !!
P.S – Most of the animal pictures specially the tiger and her spray have been taken by my aunt and her awesome camera 🙂