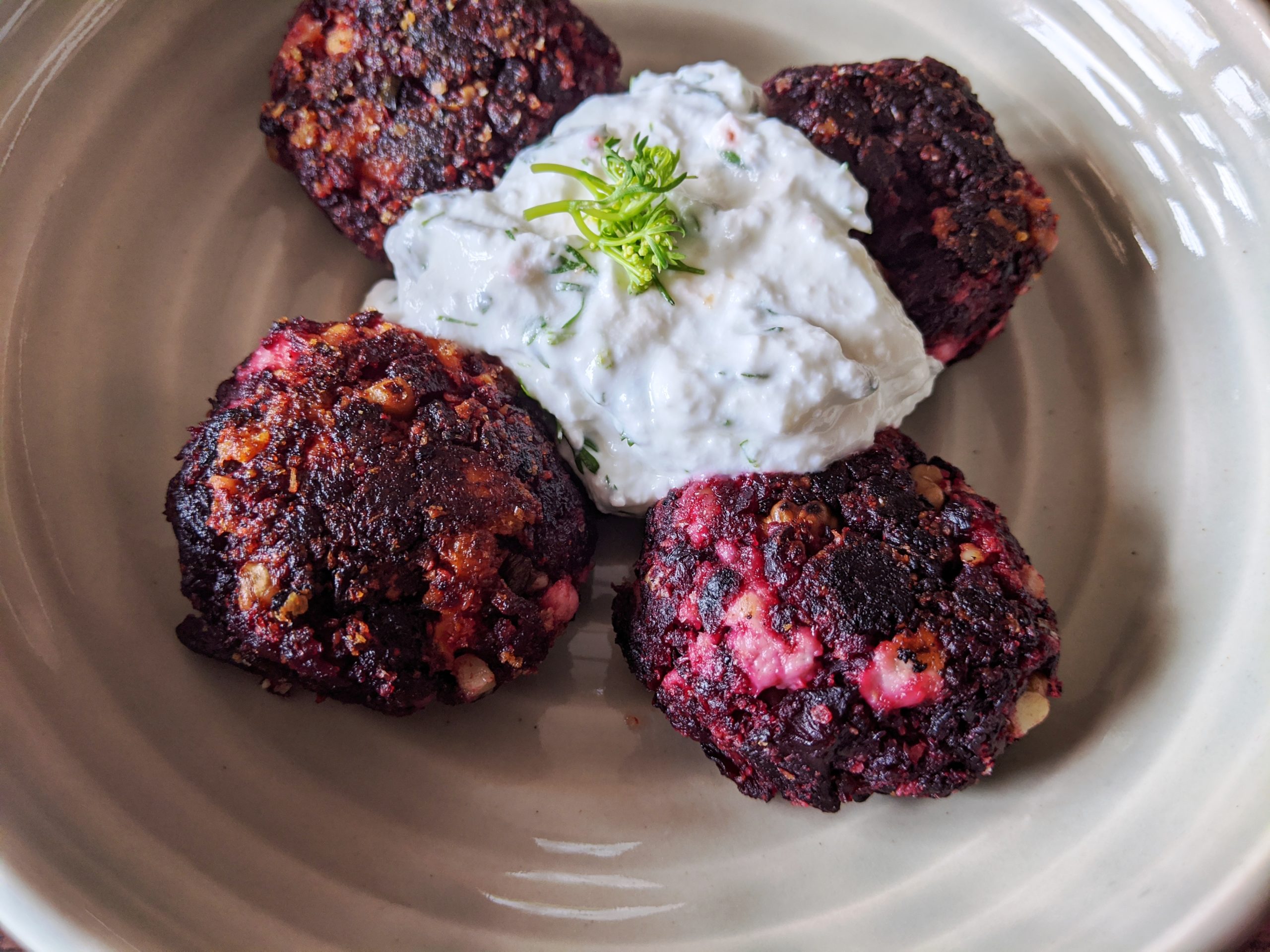 All my life I've been told how good beetroots are for me but I've never taken a liking to them. I'm on a mission to make ingredients that I don't generally enjoy more palatable and so this recipe is one of the successful fruits of said mission. It's a recipe I posted a couple of years ago of these gorgeous Beetroot & Feta Sliders ( link is here ) and while I wanted to recreate it, getting feta in this lockdown was next to impossible. So I gave up and decided to tweak the recipe. I used cottage cheese or paneer instead of feta and it's still a delight. If you can get your hands on feta then by all means please use it because the flavour is far more intense but either way it's a lovely recipe and a great way to eat more beetroots which are honestly just so good for your overall health.
The beauty of this recipe that I realise while cooking is that when you cook beetroots for a long time it releases all its natural sugars and tends to get slightly sweet. It was a revelation because that is not how I remember being force fed this ruby coloured vegetable. It's the prolonged cooking and change in flavour that makes this slightly more unique in terms of flavour.
What are sliders?
Sliders are just like burgers but smaller mini versions. You'll often see them on menus as an appetizers or starter. They're the perfect finger food and you nibble on a couple to make a meal out of it.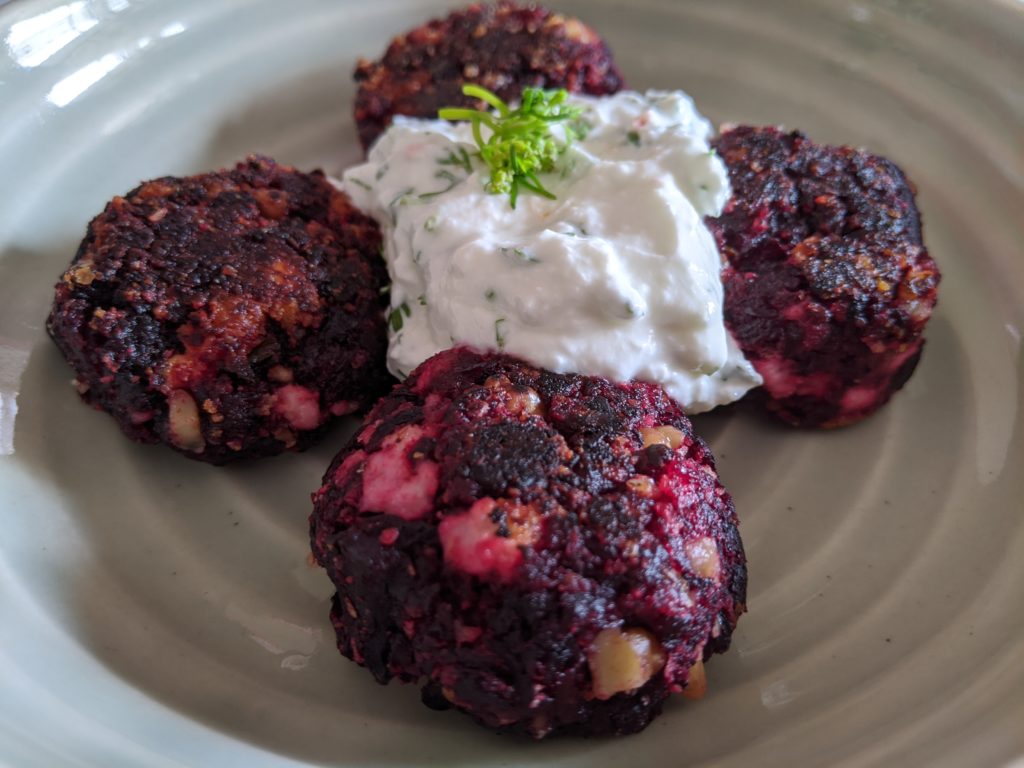 Variations To The Beetroot Sliders
Instead of making smaller patties and sliders you could make bigger burger patties.
If you'd like more punch in your patty or sliders you can add some chilli flakes and garlic or paprika. I've left the flavours very rustic and only used salt and pepper but if you'd like a more robust flavour feel free to add garlic, ginger, chilli flakes, paprika, a dash of cumin anything that you personally enjoy.
I don't eat these with any bread or bun I like to eat them with a side sauce. Maybe my chunky salsa that usually goes on my grilled chicken ( linking that recipe here ) or a coleslaw or even a basic green chutney. This time I've paired it with a hung curd dip but you could serve it with anything. Even add this to a bowl of salad.
What Are The Benefits Of Eating Beetroot
Beetroots are a beautiful root vegetable packed with flavour and goodness. Beetroots are a great source of fibre Vitamin B9, Vitamin C, potassium and iron along with a host of other vitamins and minerals that are essential for good health. It helps lower blood pressure, increases over all blood flow and helps lower cholesterol and manage diabetes. It's fabulous for your over all immunity and these days when the conversation is all about what you can do to boost your immunity to help fight illness or even COVID 19, it's best to consume beetroot in your general diet.
Recipe
Ingredients
4 Beetroot
2 – 3 Spring Onion Chopped
Salt
Pepper
250 grams Paneer ( If you can get feta cheese then definitely use feta unless you don't ike the flavour)
1 Cup Breadcrumbs
1 Cup Broken Walnuts
For the Sauce
Hung Curd or Greek Yogurt
Chopped parsley or coriander
Minced or grated garlic
A pinch of salt.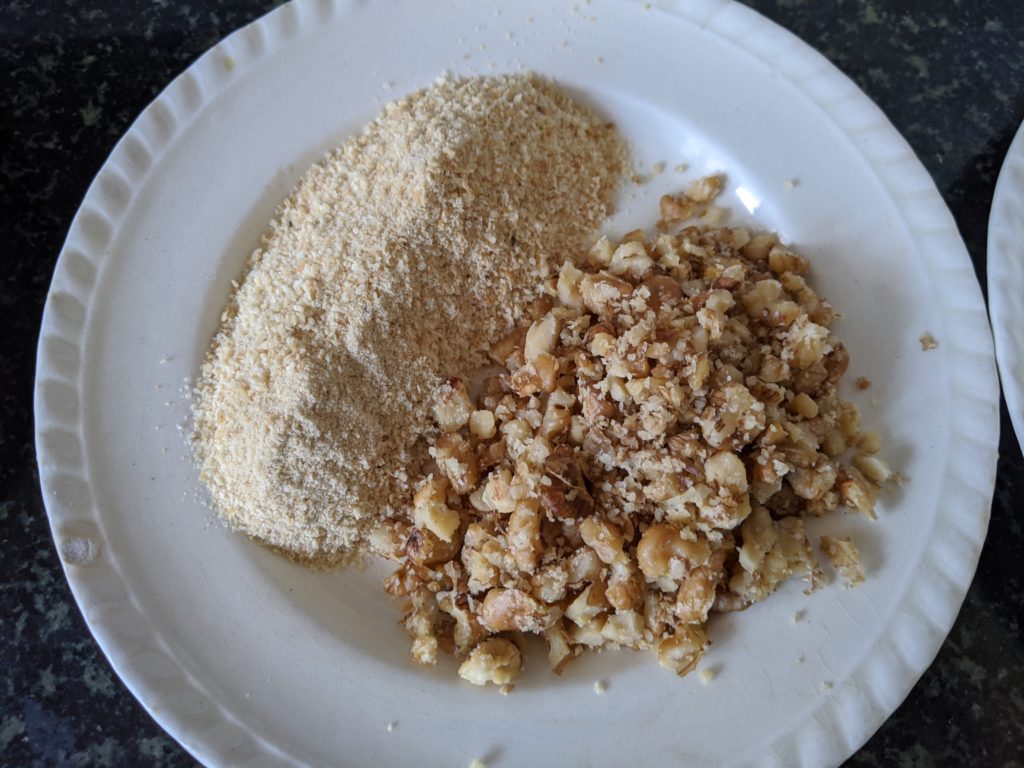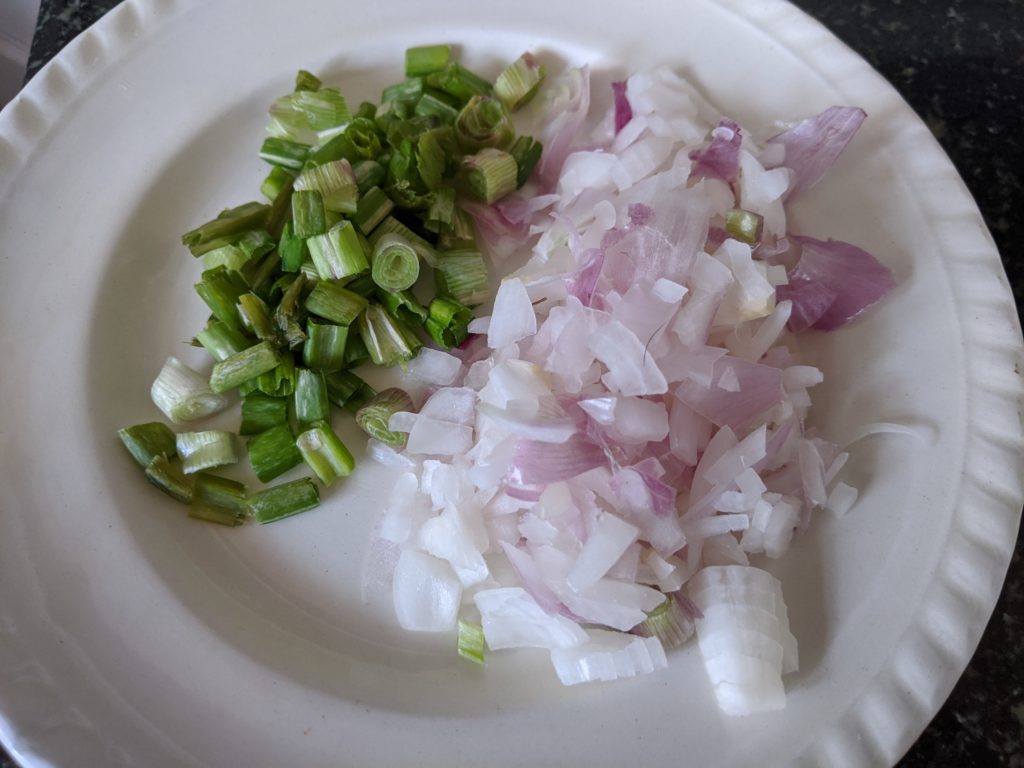 Method
Peel the beetroot and cut them into small manageable pieces. In a pan add some oil and add in the cut beetroot pieces. Cook this for a total of 20 minutes. In between you can cover the pan but keep cooking on a medium to low flame and let the beetroots naturally caramalise.
At the 15 minute mark add in the whites of the chopped spring onions along with salt and pepper. If you'd like to add more seasonings like chilli powder, paprika, chilli flakes, cumin or even garam masala you can add it at this stage. Mix well and keep cooking.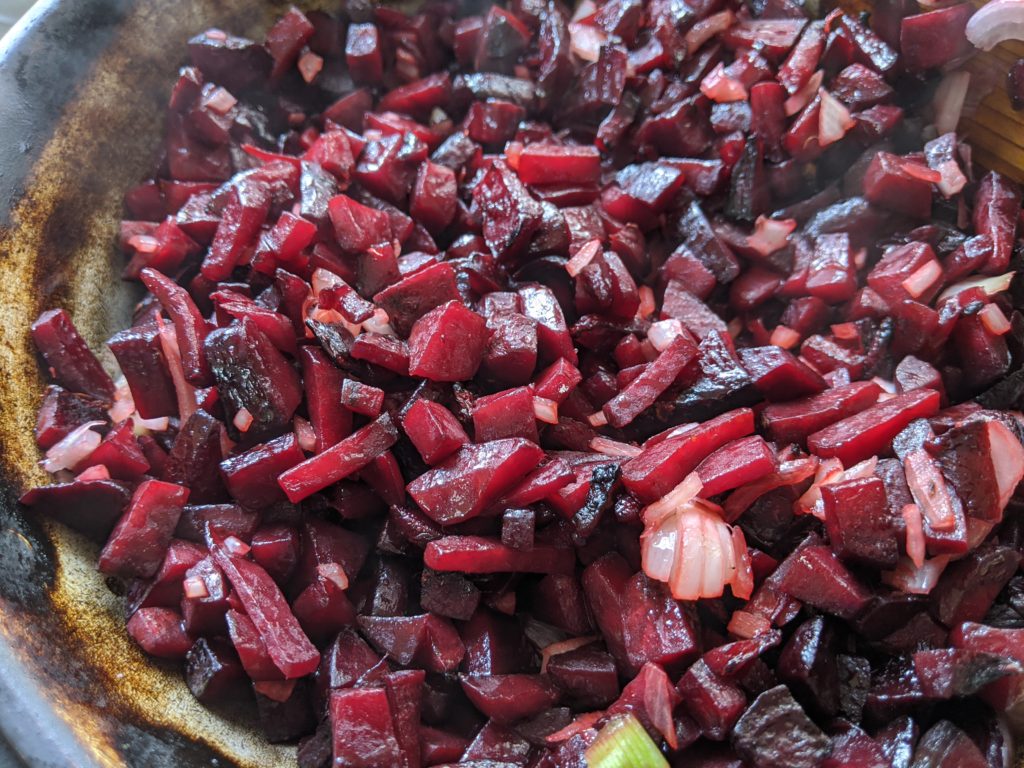 When it's almost done say around 19 minutes or so add in the greens of the spring onion and let it cook for a minute before turning the flame off and letting the mixture cool down at room temperature. You can cook this longer than 20 mins and the more the better but 20 is the minimum.
While the mixture is cooling crush your broken walnuts into smaller finer bits in a mortar and pestle or with a rolling pin. This mixture needs to cool because it's going to go into the blender and a hot mixture will lead to a kitchen disaster.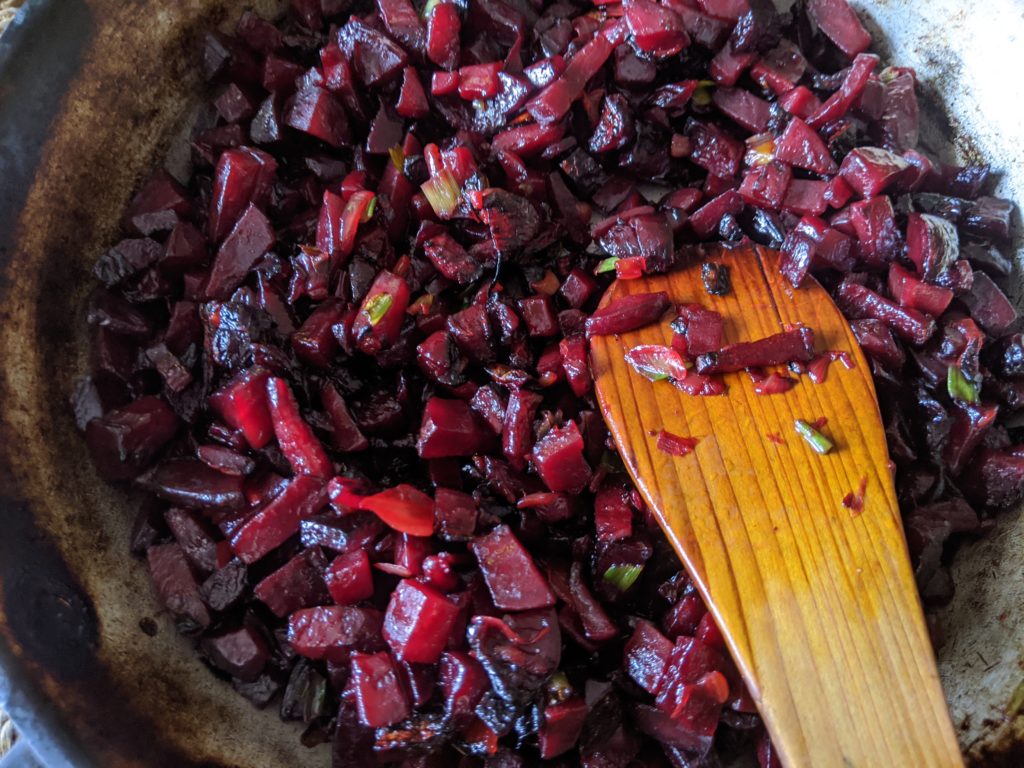 In your mixer or blender add some of the bigger walnut pieces ( not all ) and blitz this for a few seconds. Just one or two pulses as you want a chunky mixture you're just trying to break down the big beetroot pieces. You don't want to completely blend this into a puree so do be careful.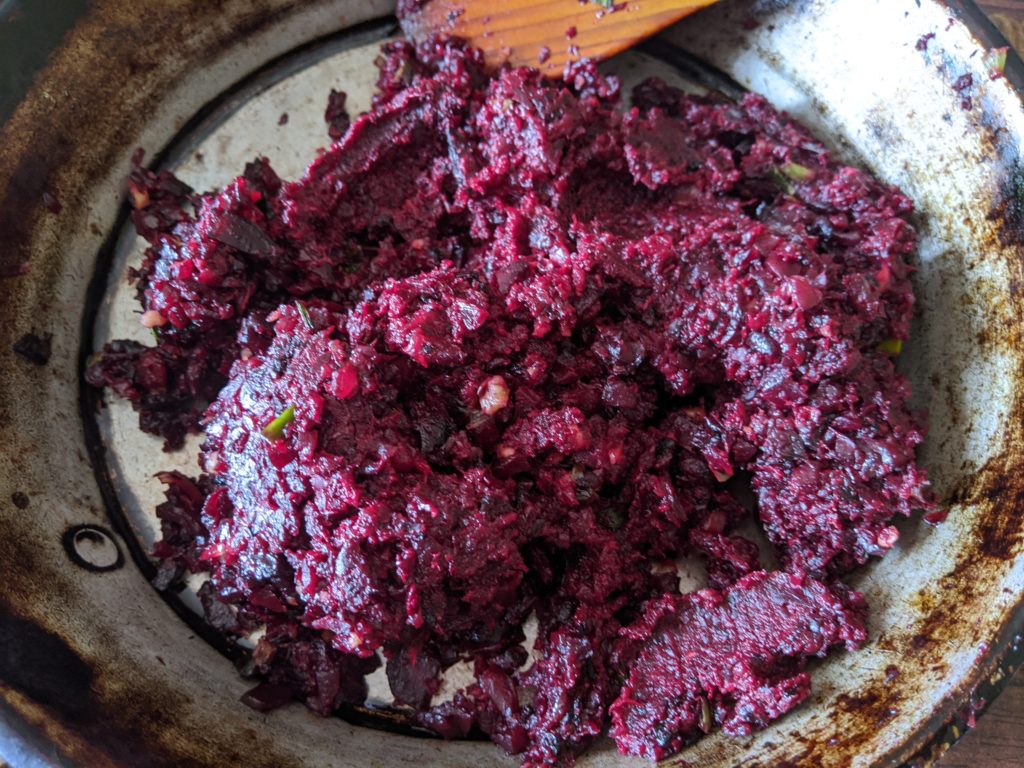 Empty this mixture in a bowl or the same pan even and add your breadcrumbs and the crushed walnuts. Crumble in your bits of paneer as much or as little as you'd like. If you're using feta cheese then you'd do the same. Mix everything well with your hands and then form small round patty shapes for your sliders. If you like you can coat them in some breadcrumbs for an extra crunch or bind but I find it doesn't need them.
At this point you can line them on a baking tray and bake for about 20-30 mins or add some oil in a pan and cook them for ten mins flipping them halfway through. It is a very delicate slider or patty so use two spatulas to gently flip them over once. Don't keep touch or flipping as you will break them.
You can serve these in a burger bun or with a side salad. I've served these with some of the greek yogurt or hung curd mixture from my Turkish Eggs recipe. You just add some minced garlic chopped coriander and salt to some Greek yogurt or hung curd and serve it up along with the sliders.
How to serve these beetroot sliders
Traditionally a slider is a mini hamburger so you'd serve it in a bun with some coleslaw or lettuce and it works as a veggie burger. I prefer to skip the bread and just serve them as is on a plate with a side dressing or sauce of some kind. You can have tartar sauce or a tahini dressing. I just made a simple sauce for some leftover yogurt mixture for my Turkish Eggs ( I'll share the recipe for that as well ) I think it went very nicely. The choice is entirely yours how you'd like to present and serve these.
Are these beetroot tikkis ?
I suppose you could call them tikkis. It's the hindi word for Indian style patty or sliders but the flavour profile is completely different here. I haven't added any potato to bind and literally no spices at all but you most certainly can. This recipe has a more delicate flavour profile where the beetroot really is the hero and no Indian spice or taste at all so it's not a traditional tikki.