For someone who prides themselves on enjoy food and writing about it, I'm quite a fussy eater. There's a long list of ingredients I don't enjoy (mostly vegetables) and eggplant is right on top of that list. It took me a while to find a way to enjoy it and thanks to my travels I discovered this delightful Middle Eastern eggplant recipe called Baba Ganoush.
What Is Baba Ganoush?
It is a thick dip or spread made from roasted eggplants or aubergines that have been pureed or mashed. It's served as an appetizer or even party snack and eaten with pita bread, lavash sticks or even cut vegetables like bell peppers, carrots and cucumber. You can have a smooth creamy texture much like I've made in this recipe or leave it chunkier which is often served in most restaurants.
What Is The Origins Of Baba Ganoush?
This is a Levatine dish with roots that are traced back to Lebanon and while it's Lebanese in origin it has been adopted and embraced by the entire Middle Eastern region. Baba Ganoush features as a staple dish or accompaniment in any Arabic menu and eaten with relish in countries like Israel, Syria,UAE, Qatar, Bahrain, Kuwait and many others. It consists of eggplants, sesame seeds or tahini paste, olive oil, lemon or lime juice as the base ingredients and is often customised in terms or texture or even with additional ingredients.
Difference Between Baba Ganoush & Moutabel
Both these recipes are similar but a few ingredients vary. Both use sesame seeds and roasted eggplant but a moutabel has more spice and the addition of pomegranate molasses and sometimes even bits of the fruit in it.
Benefits Of Eggplant
While we consider eggplants as a vegetable, technically it is actually a flower as it grows from a flowering plant and contains seed. Either way this fruit or vegetable is packed with nutrients and is a fantastic element to include into your diet. Eggplants contain antioxidants which help with chronic diseases. They contain more fibre and lesser calorie content which is helpful for weight loss.
Recipe
Ingredients –
1 Large Eggplant ( Brinjal )
1 Teaspoon Cumin Powder
1 Teaspoon Salt
1 Teaspoon Tahini Paste.
2-4 Teaspoon Olive Oil
1 Teaspoon Lime Juice
4-5 Cloves of Garlic
1 Small Ice Cube
1 Teaspoon Cayenne Pepper (It's optional as a garnish)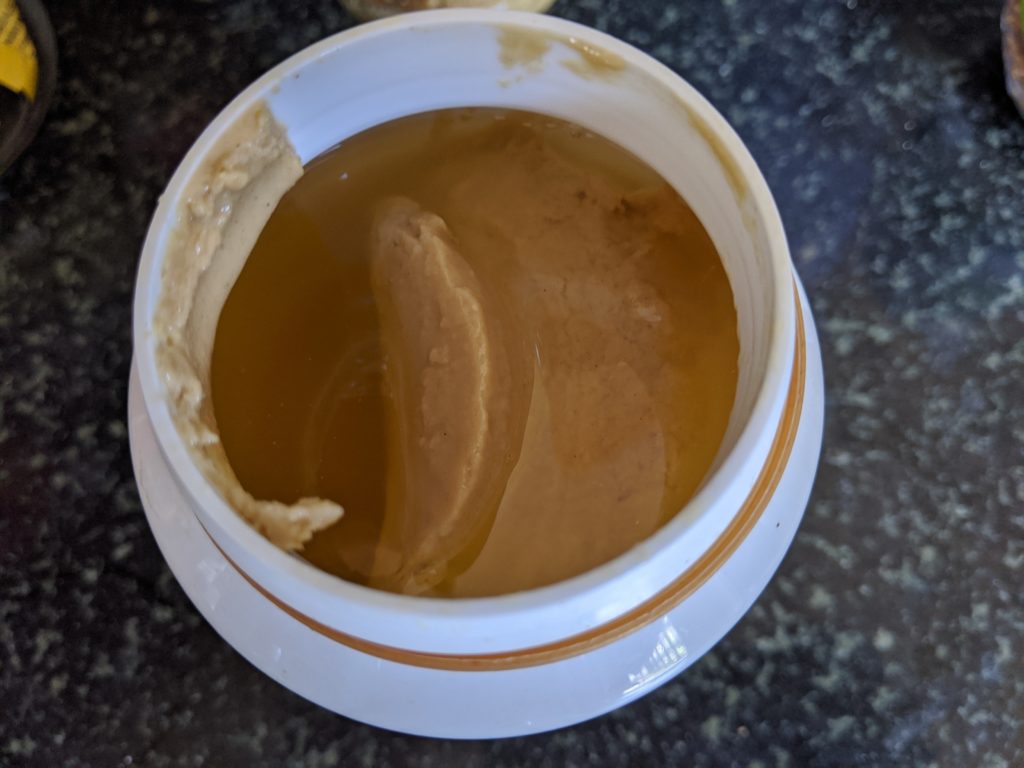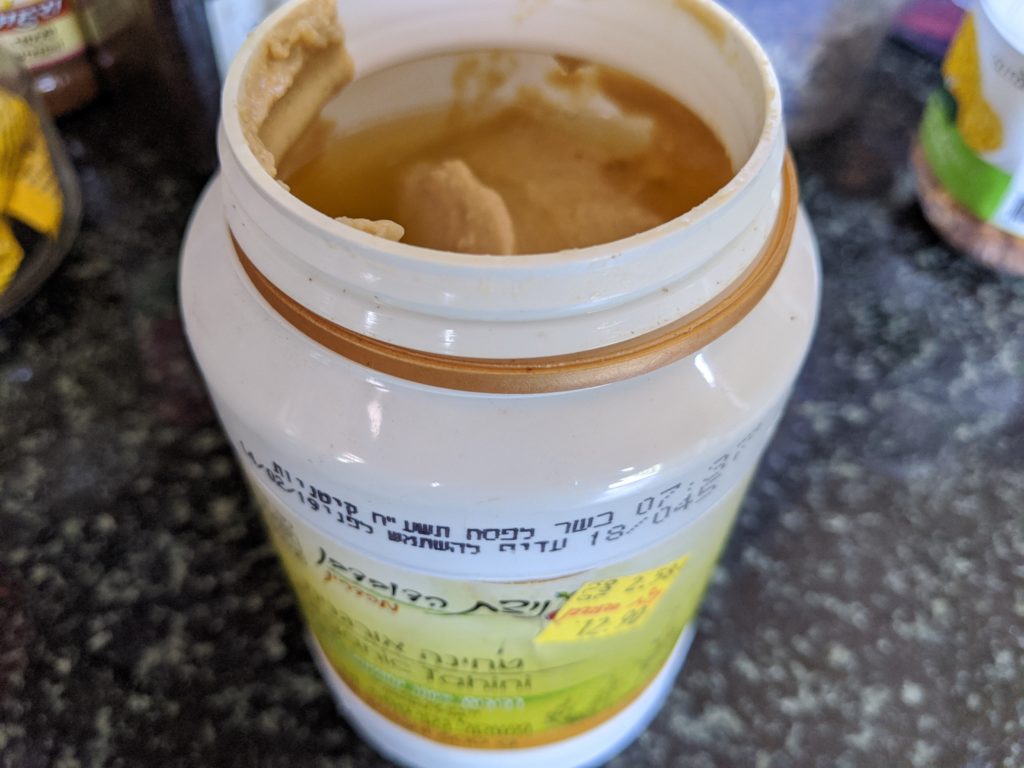 Method –
Roast the eggplant on all sides on a medium flame. Keep moving it so it roasts evenly from all sides. This might take an easy 7-10 mins. Alternatively you can pierce it with a fork, rub some olive oil over it and roast it in the oven for about 30 – 40 mins, flipping it over once in between.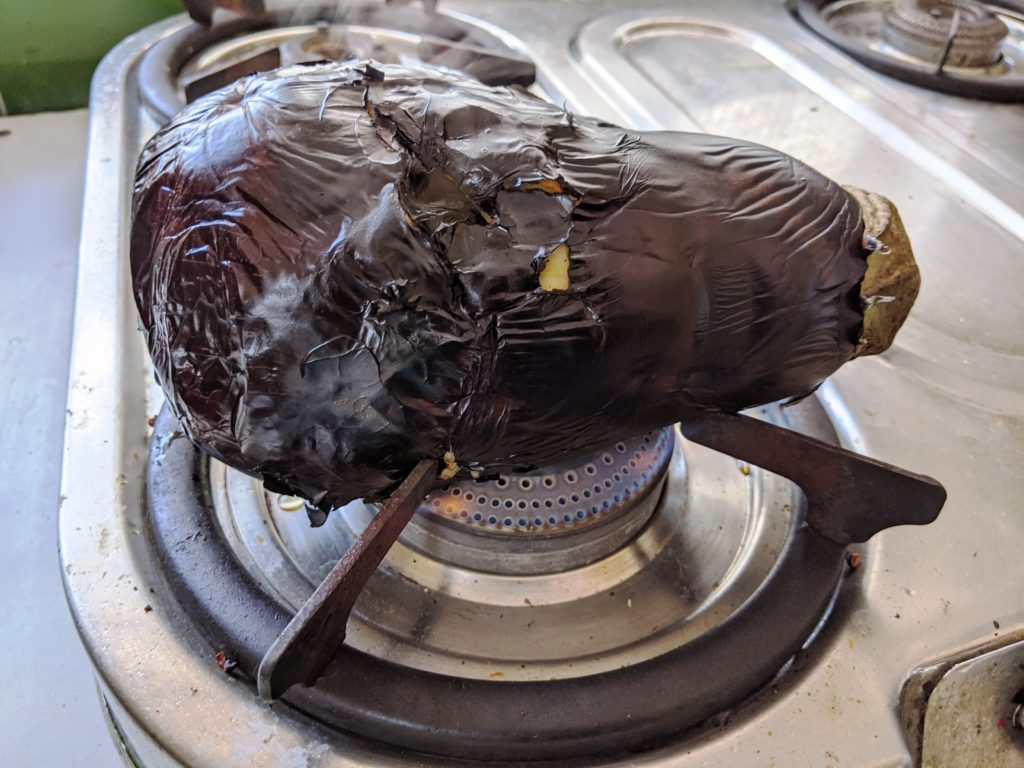 Once it's roasted let it cool for about 5 minutes, and then cut it into manageable pieces.
If your eggplant has too many seeds you can remove them or even peel out parts of the roasted skin but I like to add all of it as the roasted skin gives the final dish a more earthy smoky flavour.
In your blender add some of the pieces, followed by the salt, tahini paste, cumin powder, olive oil, lime juice and garlic and then add the remaining pieces of the eggplant. I add a single ice cube because it helps while blending to give you a much smoother creamier consistency which I personally like. Blend the mixture till smooth.
Empty the mixture into a serving bowl, sprinkle some cayenne pepper on top as a light garnish and serve with either pita bread, lavash or even cucumber and carrot sticks.
How To Serve Baba Ganoush
Traditionally this is served as part of a mezze which means many dishes together. It's a dip and has either a chunky or creamy consistency so ideally eaten with pita bread, lavash , bread sticks. If you'd like to skip the carbs for a more healthy option then cucumber and carrot sticks are a great choice.
I personally like to serve it with some sort of kebab or even sausages I think to eat it with a bit of protein but you can serve it anyway you like.
Variations To The Baba Ganoush
I like to mix up my Baba Ganoush from time to time. You can have different variations by adding paprika or cayenne pepper. You could sprinkle pine nuts for a garnish and extra crunch. You can have coriander sprinkled over, or add more garlic. You can customise it however you like.