When folks talk about Australia or plan their travels, they always seem to revolve around Melbourne or Sydney and the rest tends to take a back seat. I had the sheer pleasure of exploring two cities in Queensland and had the time of my life. Great food, lovely people and just one of the prettier parts of the country in my opinion. This is the first time I've jotted down an entire day by day itinerary including the places I stayed at, where I dined and what I did for a week. I hope you enjoy this and it turns out to be useful while planning your travels.
Day 1 – Gold Coast
Accommodation – I arrived at The Star hotel which is where I stayed for all the days I was in Gold Coast. This is a hotel with supremely comfortable rooms, a gorgeous view of the city from my room and plenty of great restaurants to dine at. It's also got a casino so there is action at this hotel 24/7 with people spilling in and out but sadly I didn't spend any time at the casino because there was so much to explore outside!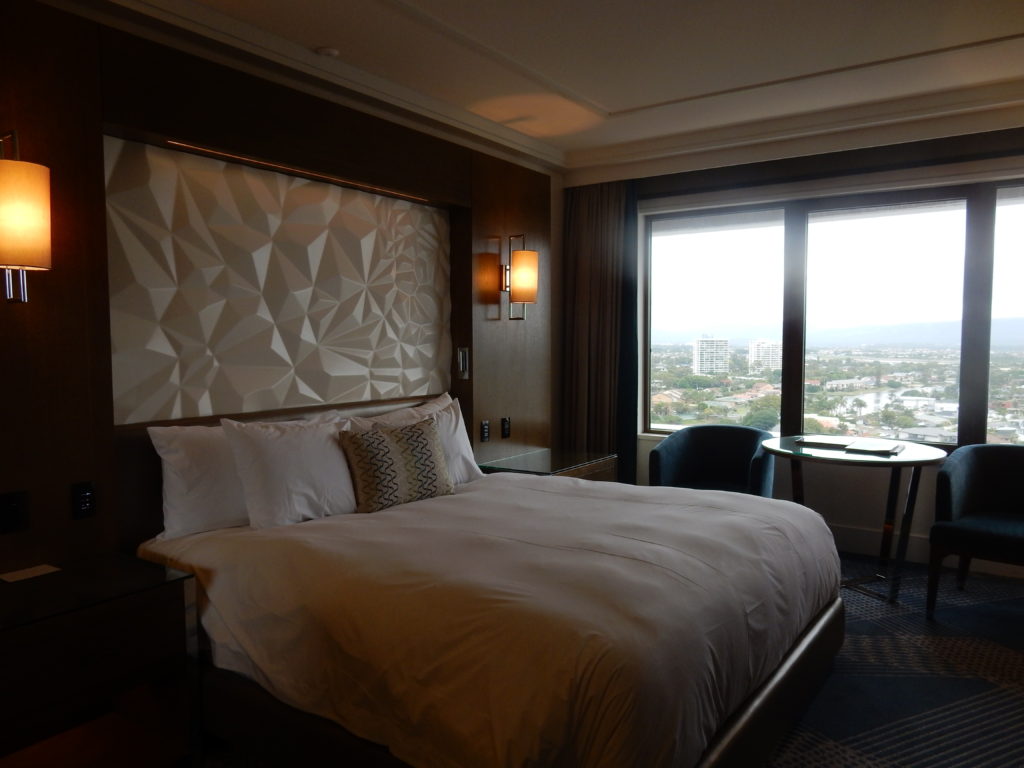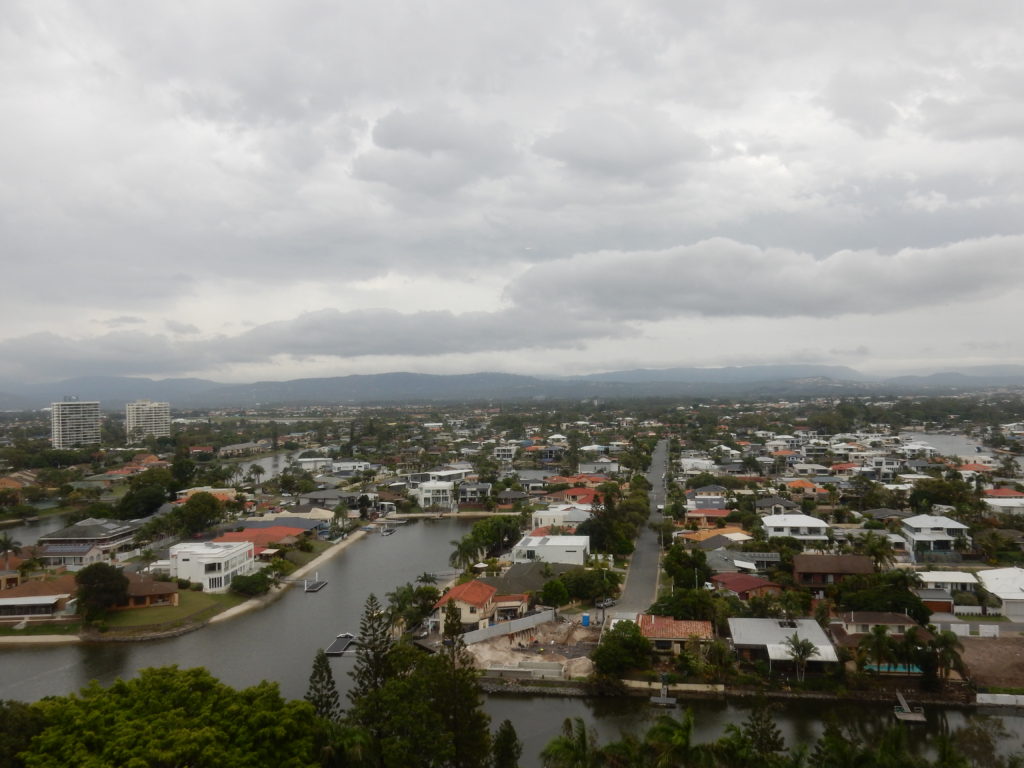 I did enjoy a wonderful lunch at the hotel restaurant Garden Kitchens with some delectable crab cakes and a good chunk of beef. Such a great meal which I think really set the tone for this trip because the running theme here was fabulous food.
My biggest advice to travelers is to really embrace everything that a destination throws at you. Apart from the usual walking and exploring on my own I do like to indulge in a fair bit of googling to see if there are any exciting things to do beyond the obvious. In this case I was lucky because the agency that had helped me plan my trip suggested a couple of interesting things for this trip and some were completely out of my comfort zone. The main one being spending and afternoon doing a bit of stand up paddle boarding.
Everyone who knows me personally went into a hysteric fit of laughter when I told them I was going to try my hand at this because I'm a terrified swimmer and stay as far away from any sport as possible. The truth is I ended up enjoying it far more than I ever thought possible and that is only because I had the very best tutor, Linda from Go Vertical . We spent an hour on the river learning first on the sand, just understanding the basics and movement ( it's really not that difficult ) and then I actually ended up learning to like it. You can't escape the water when you come here so for me it's best to try something less intimidating and this was perfect.
I ended up having the rest of the evening to myself before a gorgeous dinner so ended up at the Observatory Deck at Sky Point . It's one of the tallest buildings in the world and has a beautiful ariel view of the city. You could sit there and enjoy a coffee from their cafe perched in the sky but I just spent some time taking as many photographs as I could and read all about the city's past.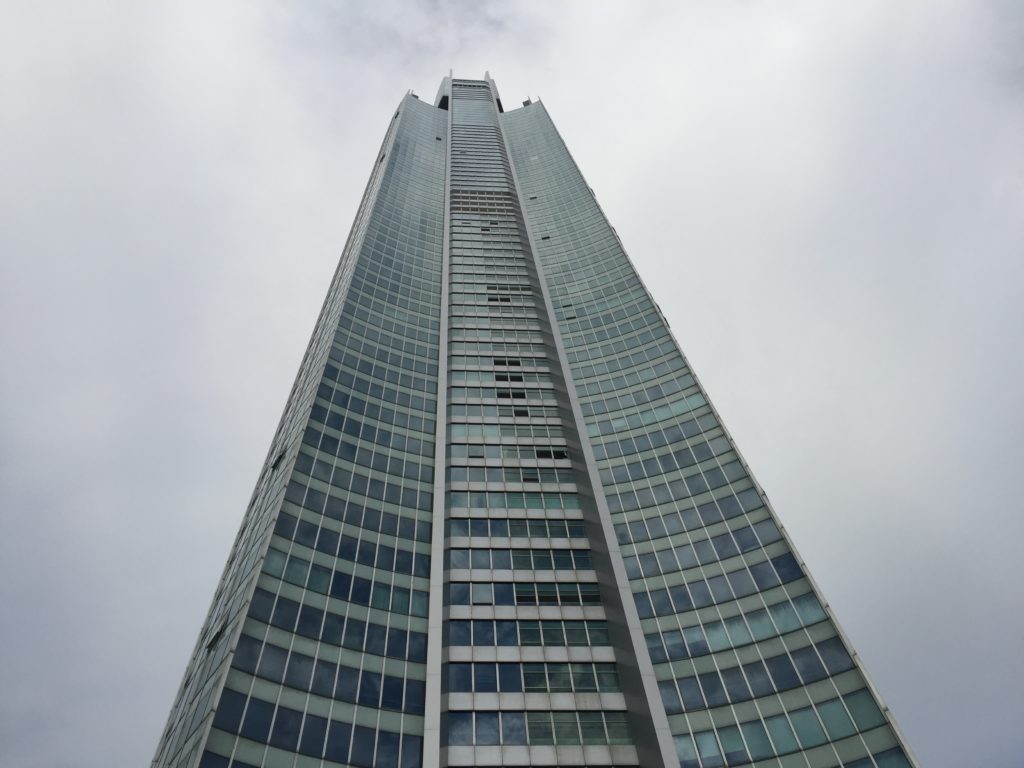 The Observatory Deck is a stone's throw away from Surfer's Paradise which is one of Gold Coast's most popular beaches so I suggest you do like I did, walk down and enjoy the beach. Every evening there are stalls put up where you could do a spot of shopping before you walk into the heart of the shopping area.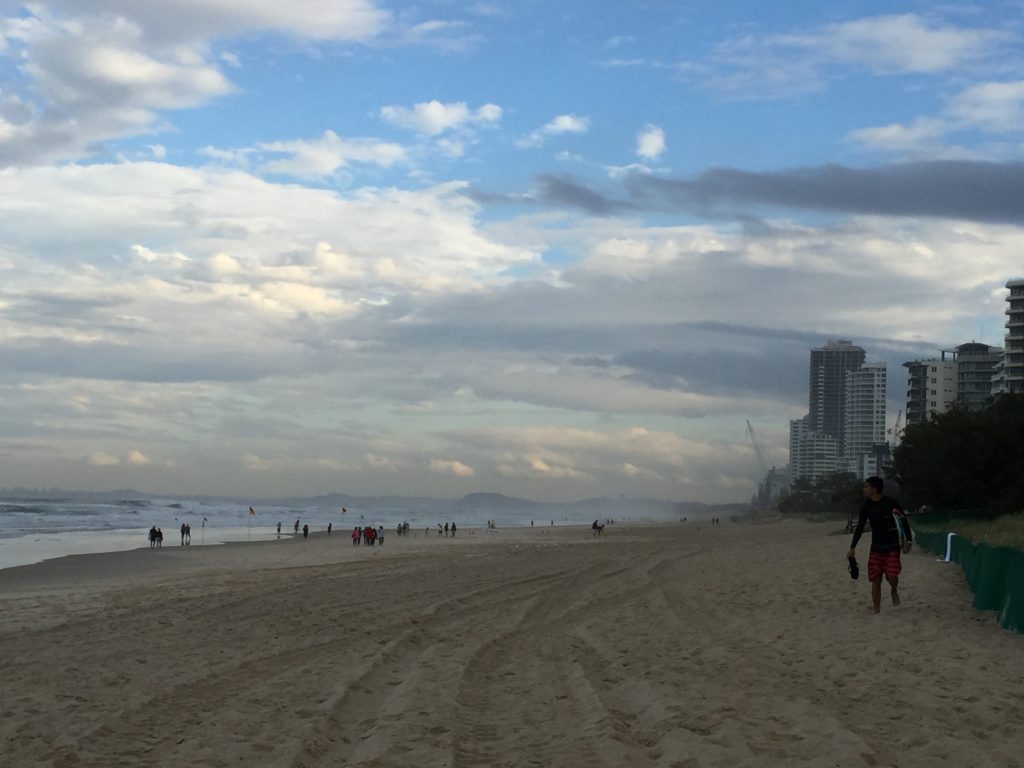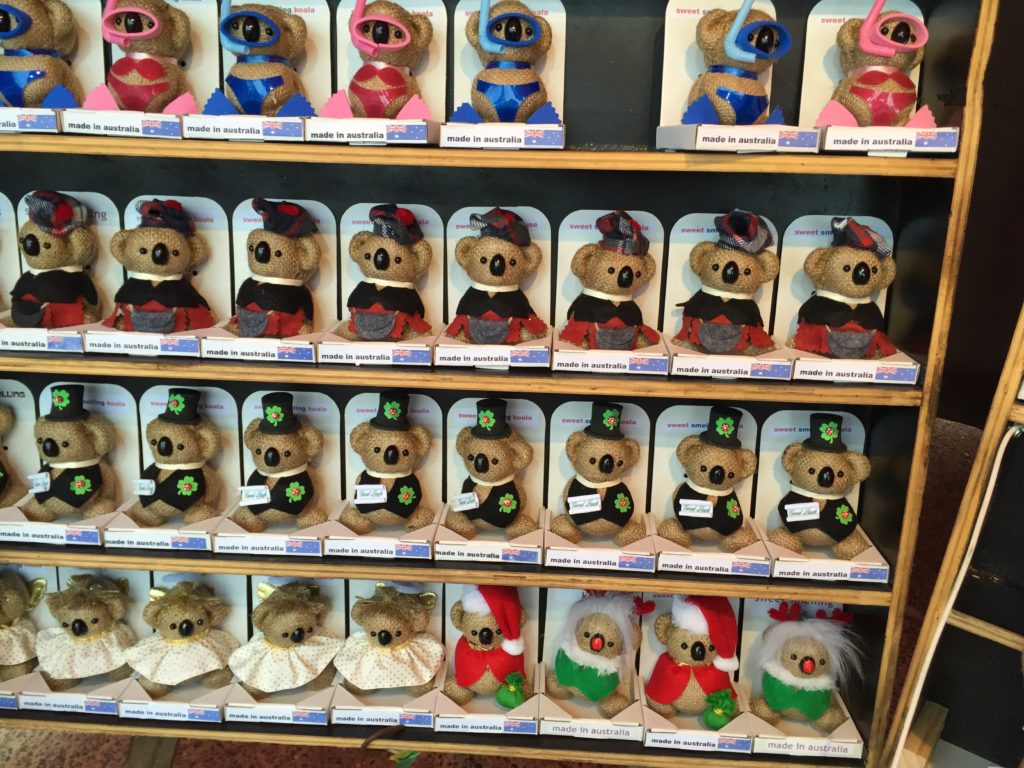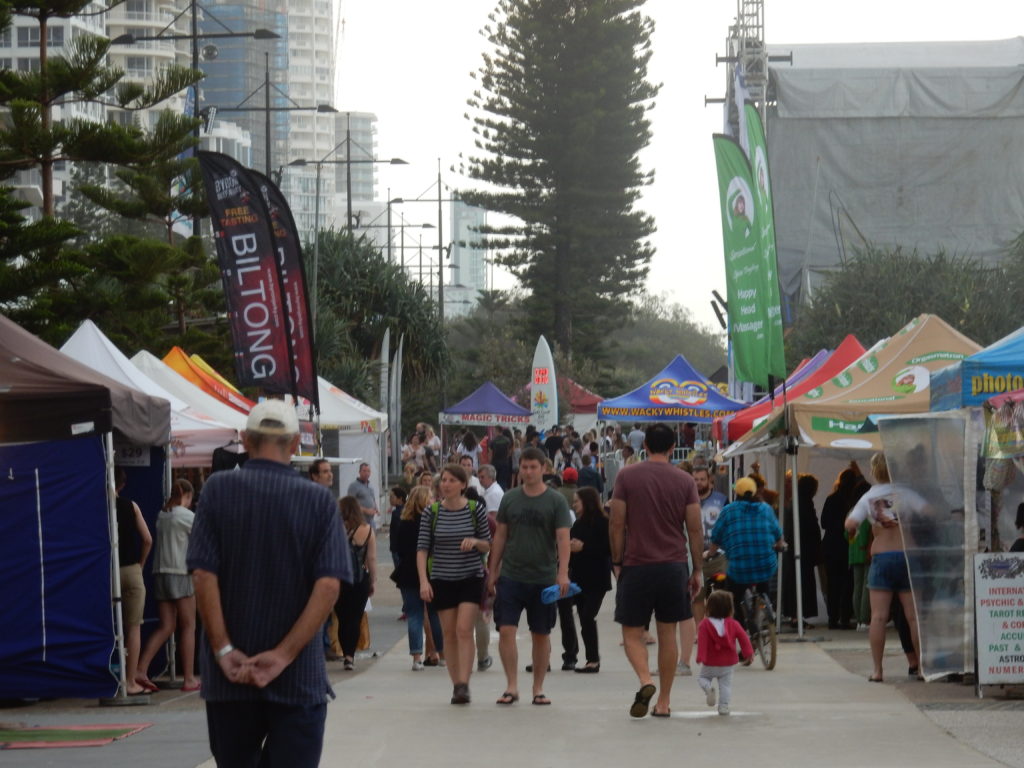 Queensland is known for their incredibly culinary choices and if you're in the mood for seafood then the beautiful restaurant Seascape that overlooks the beach is an ideal spot. You can choose to dine at their bistro or go one level up to their fine dine restaurant ( which is where I ate ) and ask for a table that overlooks the beach.
Day 2 –
One of the most exciting things I did in Queensland was brave the cold, sacrifice my sleep and go on my very first Hot Air Balloon ride. It's something I had seen people do all over the world and I can honestly say I'm so glad this was my first experience because the view from up in the sky is just fantastic. I spent all morning do this and devouring a beautiful champagne breakfast and you can read all about my adventures in my previous blogpost.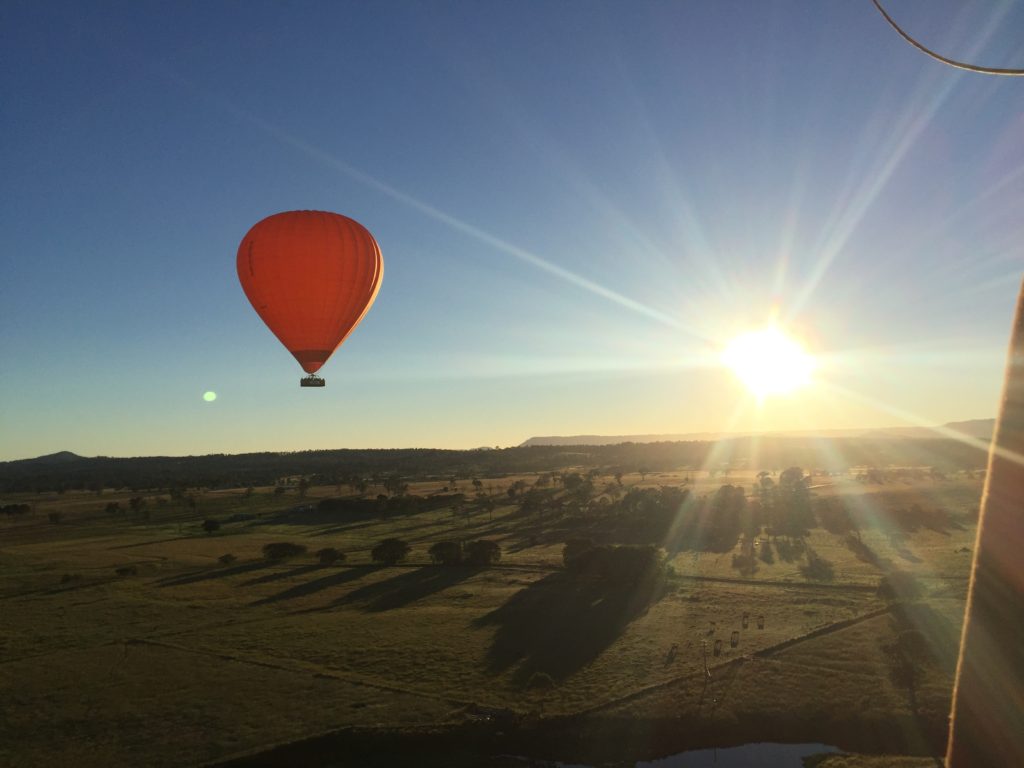 For me an integral part of any travel trip is to attack the shops. Now the evening prior I spent time at the stores near Surfer's Paradise and those are great for souvenirs but for a bit more indulgent shopping I'd recommend one of the oldest and popular malls, the Pacific Fair Shopping Centre . Plenty of international favourites, lots of funky local brands and it's actually much larger than I thought initially. What's great is that not only are there ample places to grab a bite but the shops range from some very high end luxury brands to the more affordable fashion and even basics like K -Mart or Target.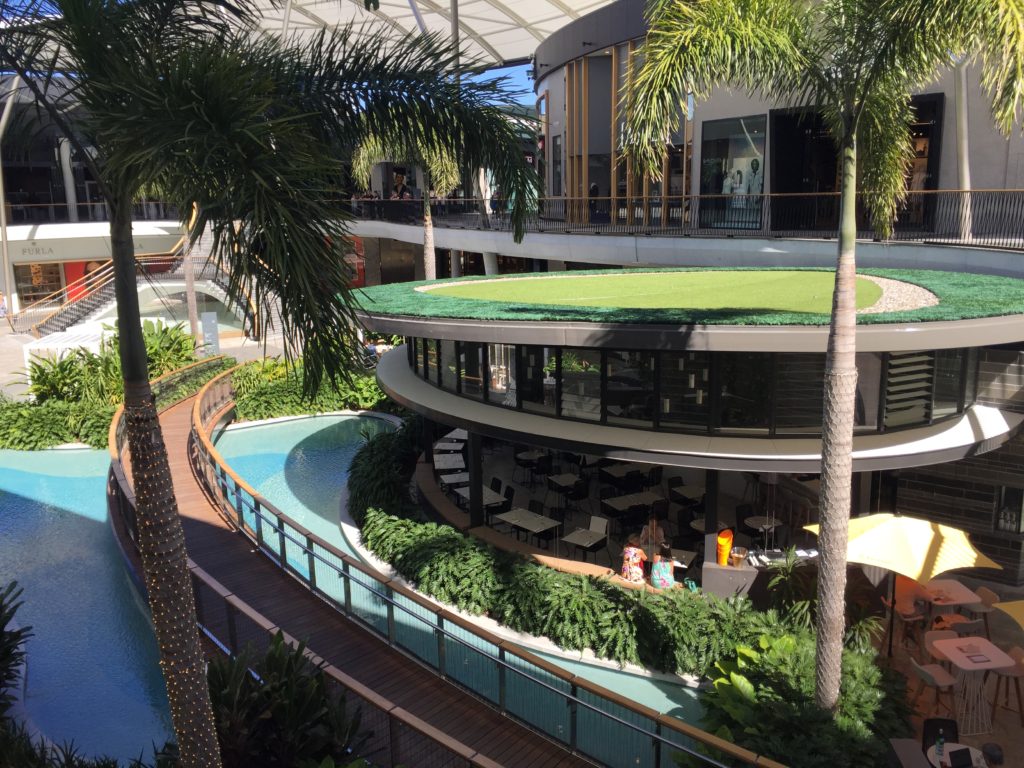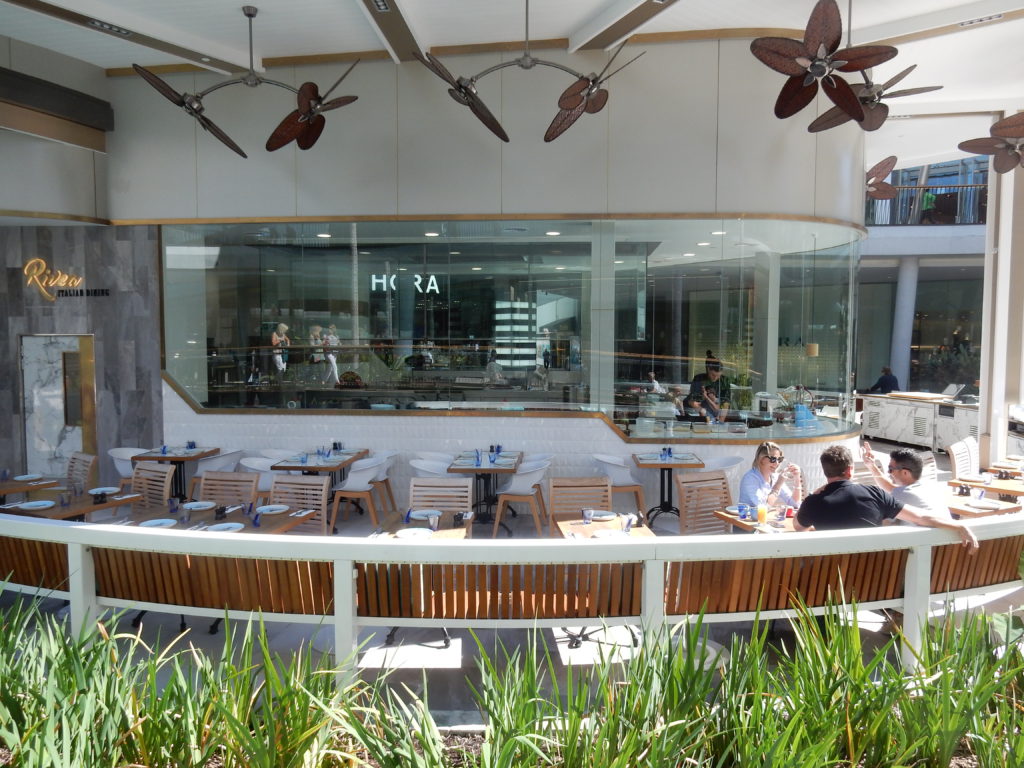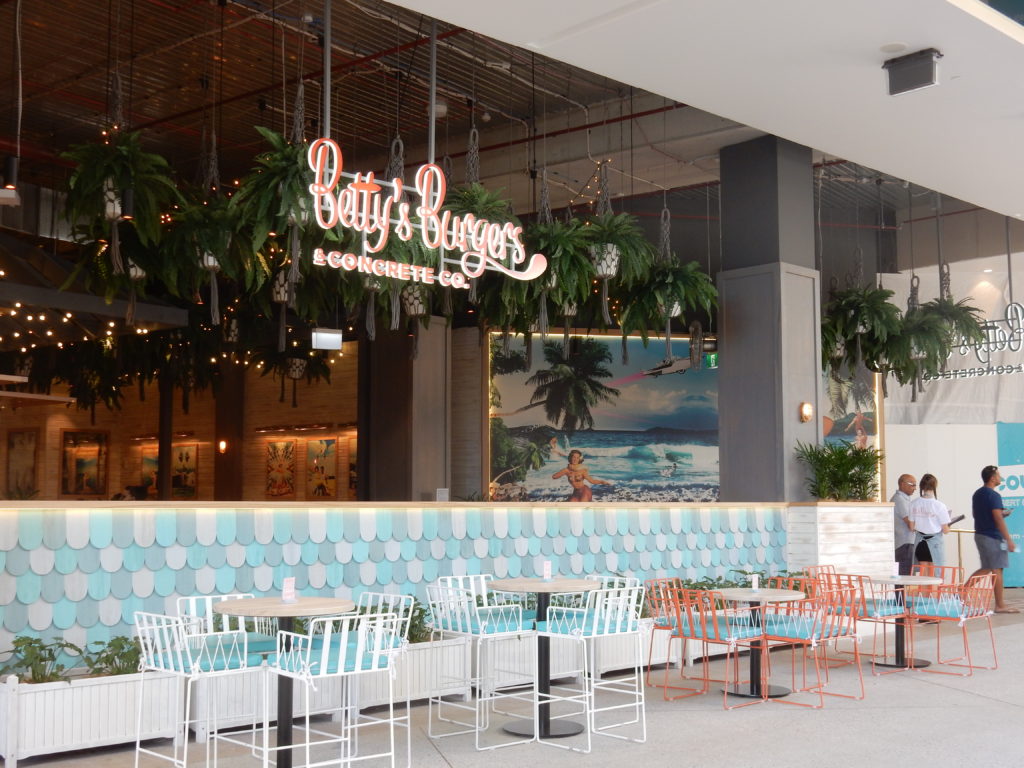 If you're not really a shopper and are looking for more action then you mustn't miss out on an experience with JetBoat Extreme They're a company that specializes in a thrilling experience where you're taken out on the water in a jet boat and given the most exhilarating ride full of spins and crazy turns. I have to admit I was terrified and hung on dearly but felt rather foolish when an 8 year old girl was fearlessly squealing in delight. If you like an adrenaline rush then this is perfect. A morning spent 7000 feet up in the sky in a balloon basket felt tame compared to this but it's great fun and the shoreline is a sight for sore eyes.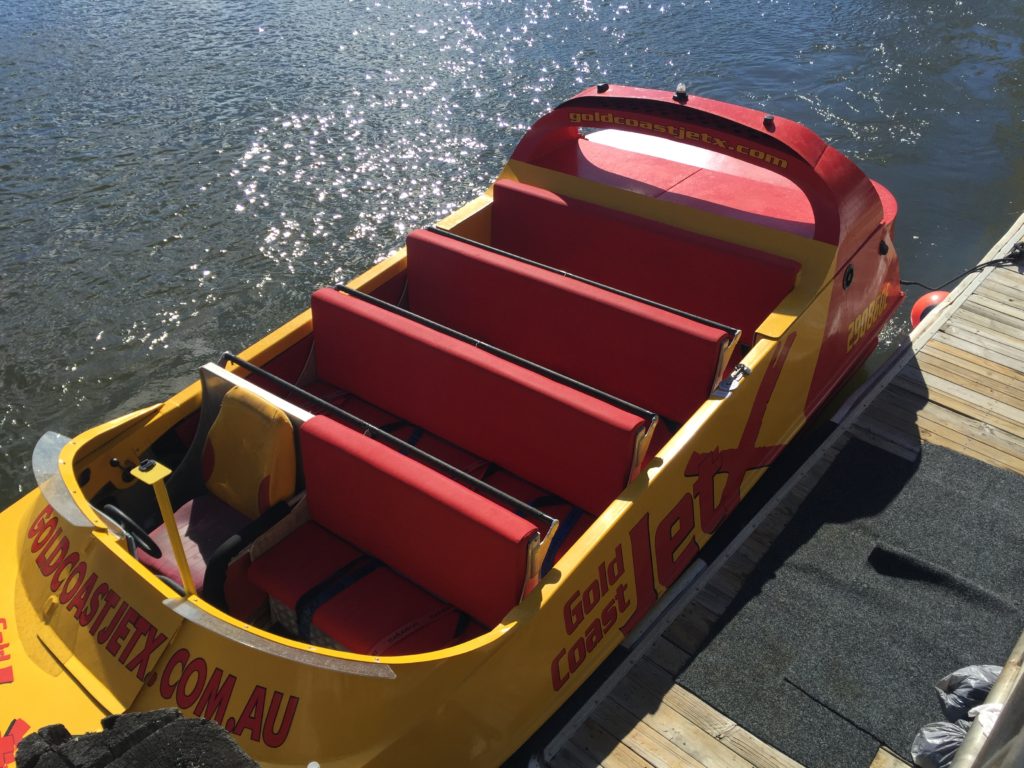 All that action will work up an appetite and you will be ready to tuck into dinner. I had the pleasure of dining at what I can safely call one of Gold Coast's culinary treasures. I was too tired to venture out so stayed at my hotel The Star Gold Coast and ate at their fabulous hatted Japanese restaurant Kiyomi. I really can't do justice to describe how sublime this meal was but just some of the most exquisite Japanese food I've eaten and  I think one of my top meals if I'm being honest.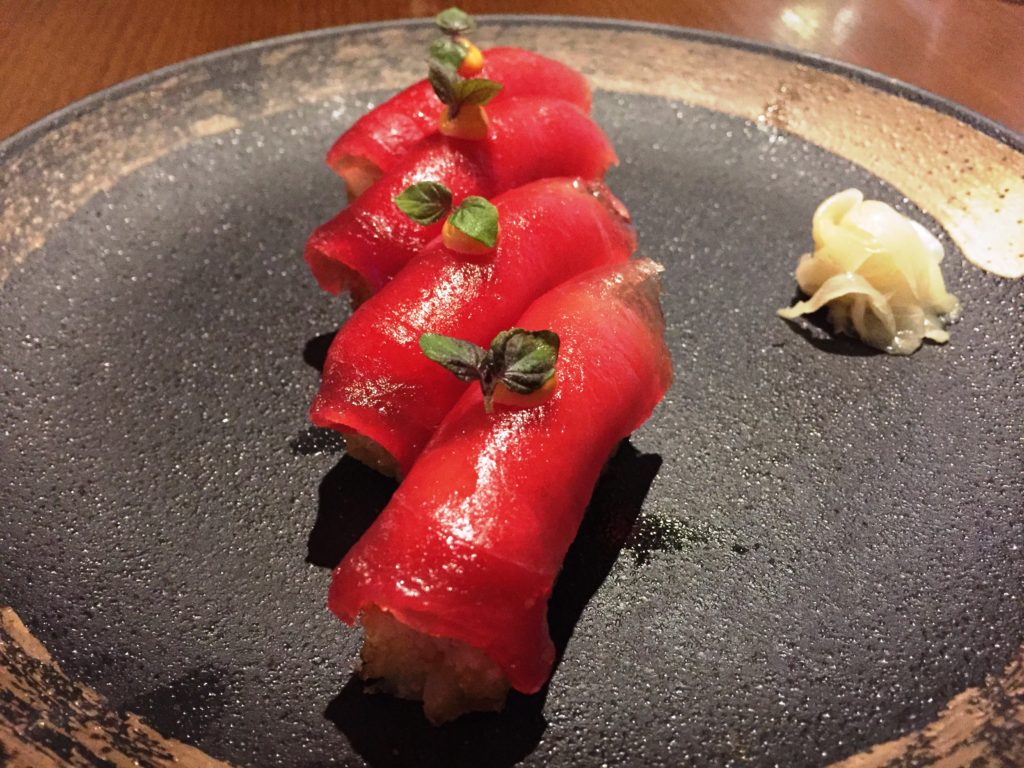 Day 3 –
Gold Coast is known for its stunning beaches and they attract some of the best surfers in the world but for folks like me who aren't really into all the water sport it's best to stroll about and just take in all the beautiful sights. Burleigh Heads is another stunning beach in fact I might have to admit that I find it prettier than Surfer's Paradise and it's got a lovely little spot if you walk up the hill a bit (any local can help you) to just sit on the bench and take pretty pictures. There are plenty of shops and cafes around the area particularly James Street where you can spend some time browsing.
One of the very best meals I had on this trip was at a restaurant with an enviable location. Rick Shores  – an Asian inspired modern Australian restaurant with its clever name ( I kept thinking it was Rickshaws ) is the only restaurant that is right on the beach! A meal here at lunch time means you're not only eating some fabulous food but are treated to a stunning view. It is clearly a very popular spot as it was buzzing with reservations and was recommended to me by at least 4 locals ! If you find yourself here, two words of advice – book in advance and don't miss their signature Rick's Fried Bug Roll. Don't worry they don't serve you actual creepy crawlies, it's the local Mortel Bay Bug which is a crustacean similar to baby lobster. It's a great roll but they have other stunning dishes as well.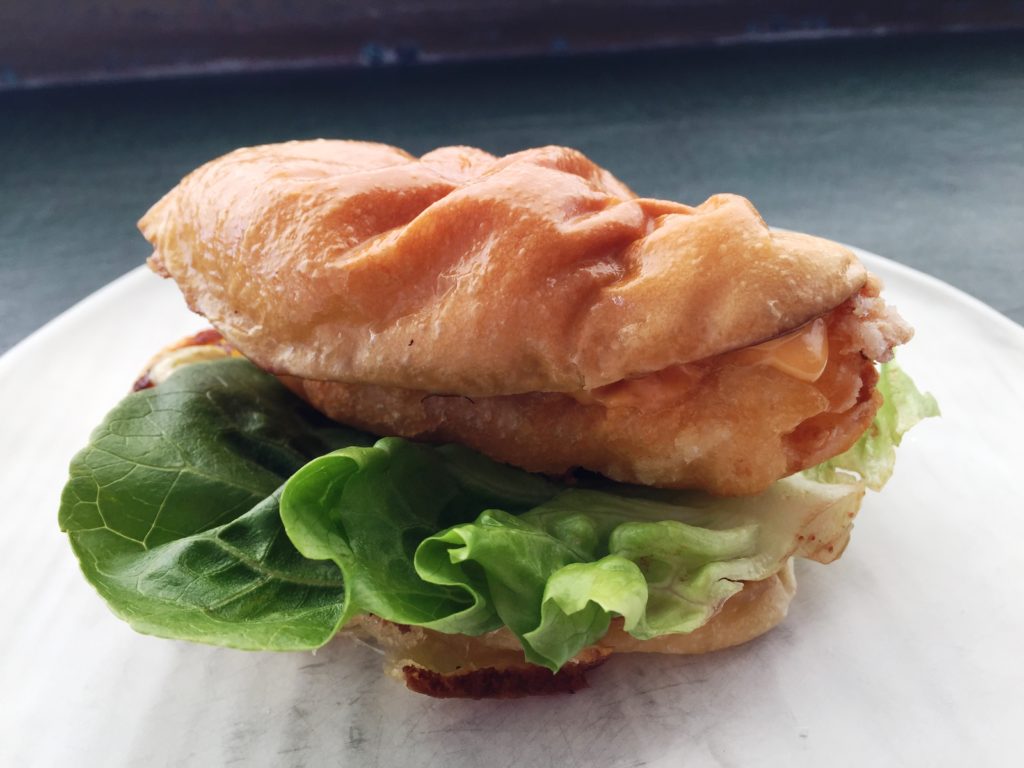 It would be a crying shame to come to Queensland and not see a koala bear. Specially since it's one of the few states where you can actually hold one! Currumbin Wildlife Sanctuary  is just a dream for folks who enjoy animals and if you're travelling with children then it's a real treat for them. It's home to one of the world's largest collection of native Australian wildlife. While the Koalas are the star attraction this is also home Kangaroos, wombats, Lorikeets and many more! You can cuddle the koalas, feed the birds, pet and feed the kangaroos, watch an Aboriginal dance show or even learn more about their incredible Animal Hospital where they do a great job of rescuing and looking after.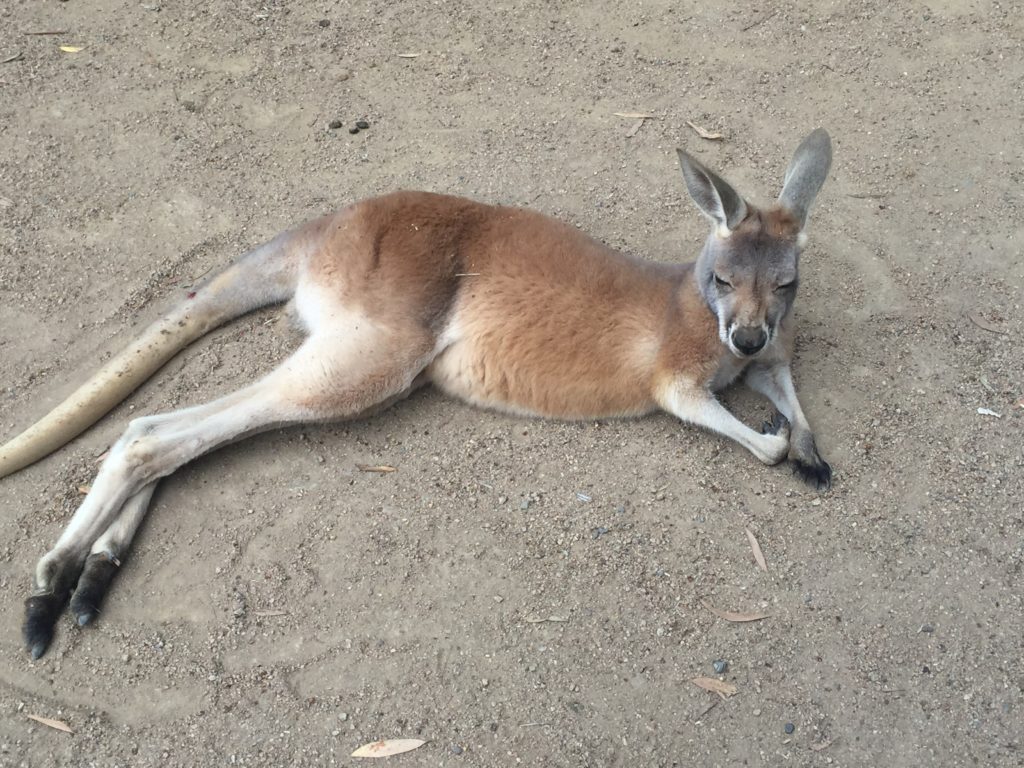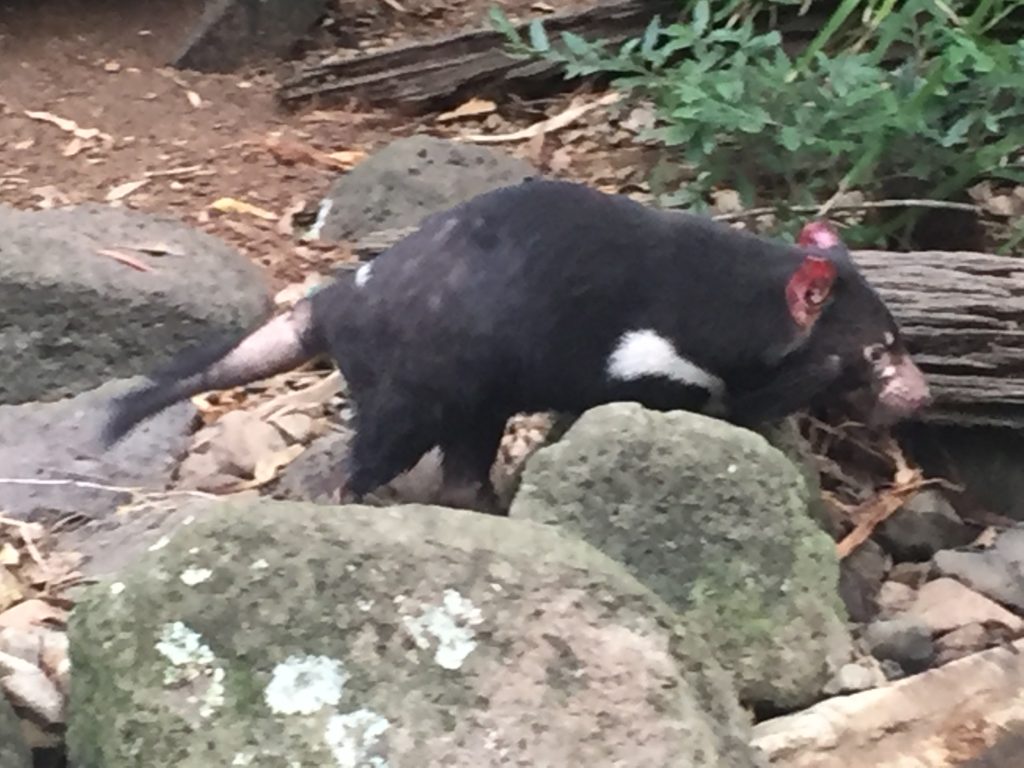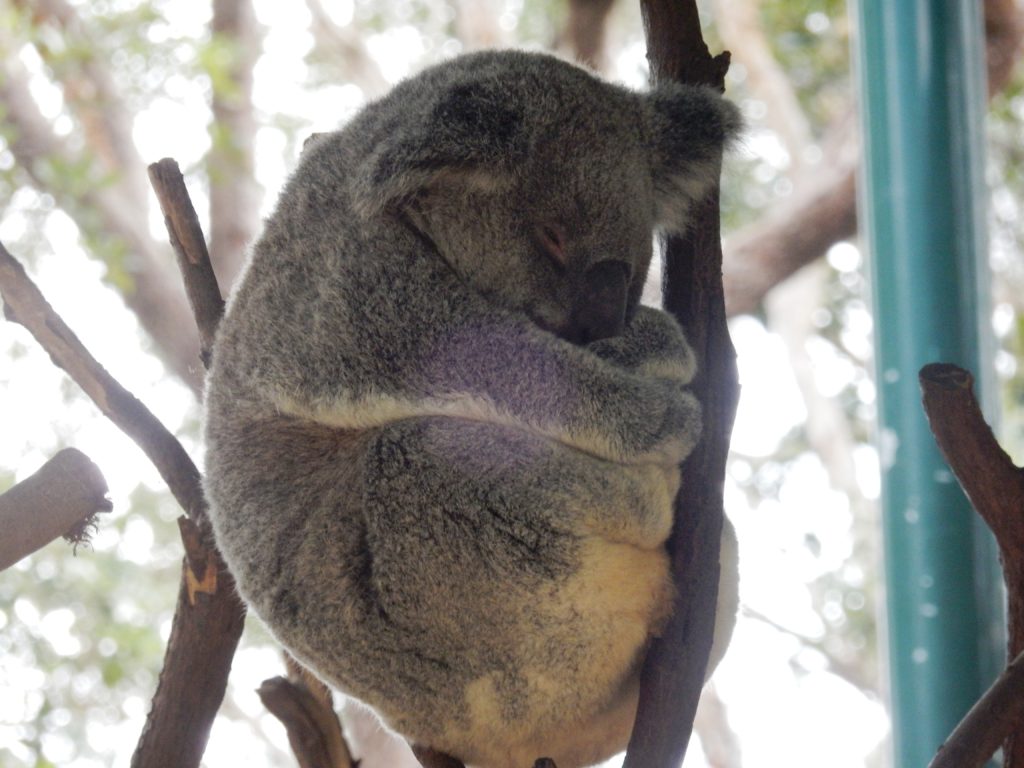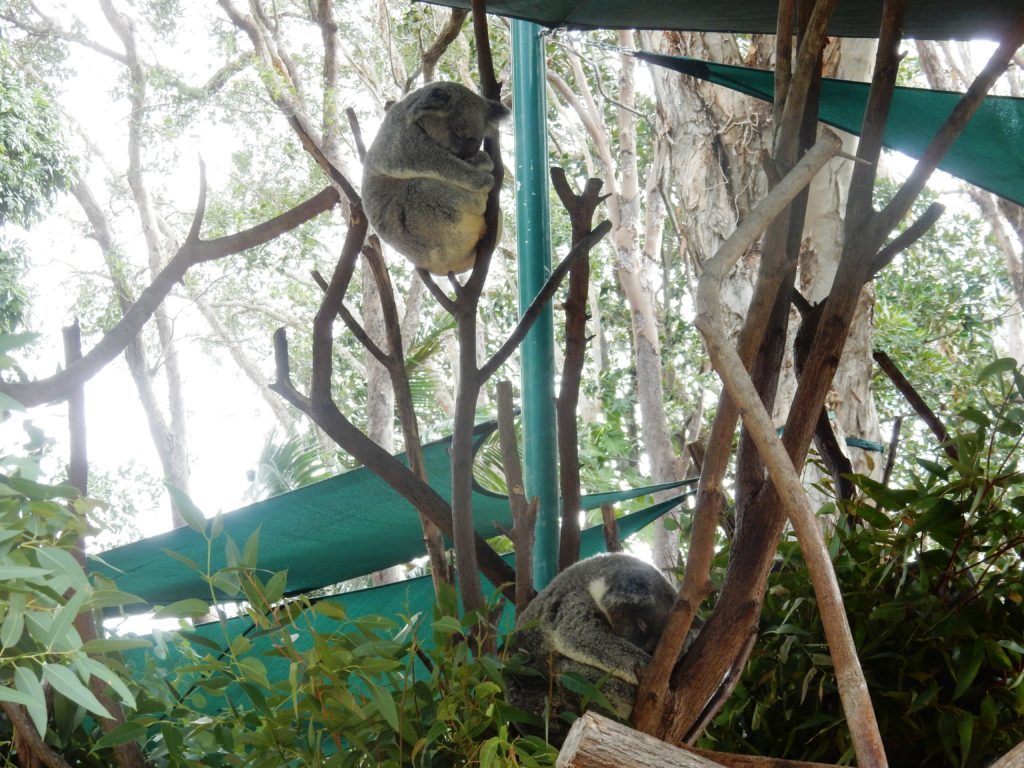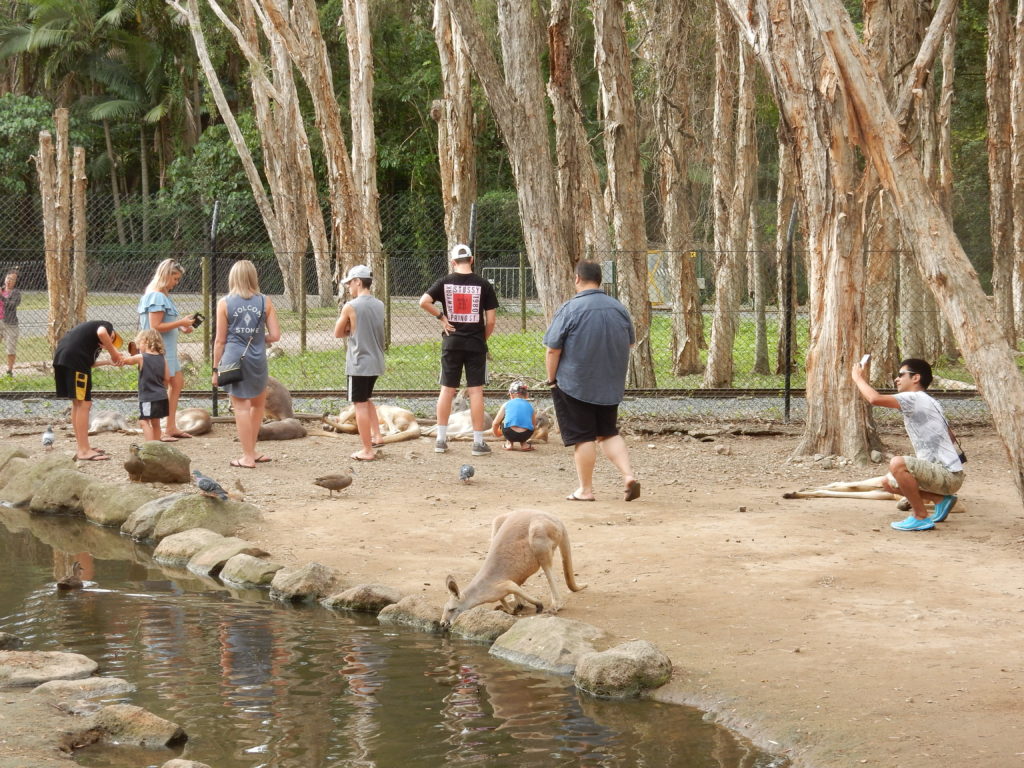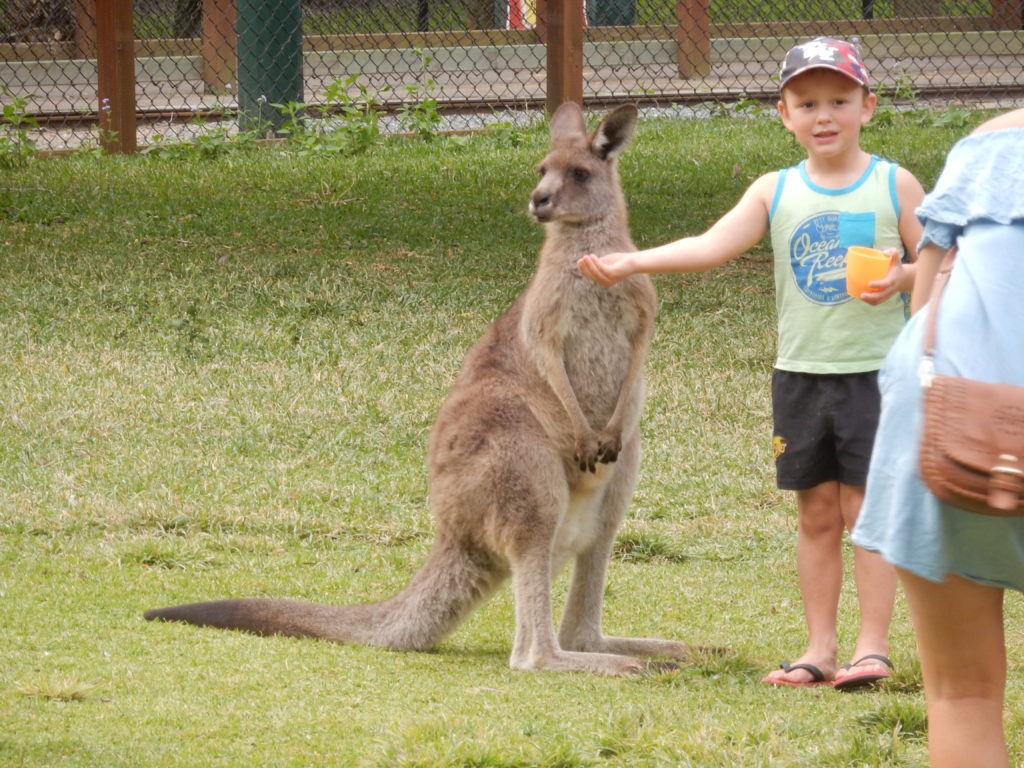 After a day well spent by the beach, some great food and cuddling a Koala, I ended up having dinner at a trendy spot called the Night Quarter. It's the newest addition to all the activities in the city and this kicks off at 4pm and winds up at around 10pm. There is live music, plenty of food stalls, a couple of stalls to shop at and just a lot of different things to choose from. Again ideal if you've got kids since they have small areas where they can play but honestly it's bustling and fun of energy so they'd have a great time anyway. If you're lucky you'll catch some amazing local bands perform.
Day 4 – Drive to Brisbane
I was scheduled to drive to Brisbane which is about an hour and half away but before I left I managed to do something I never thought I would ever do. I took a little mini city tour in a fire truck ! There is a really fun company called Fire4Hire and they have old fire engines which they've spruced up very nicely and let you take a ride in it. They give you a little low down on how the truck works, play some very cool music while you're driving and occasionally you'll even have a couple of folks wave out to you in the truck. It's a great way to get picked up from the airport or to use it for a quick tour and then as a drop off to your next attraction but mostly it's just a fun way to get a little city tour.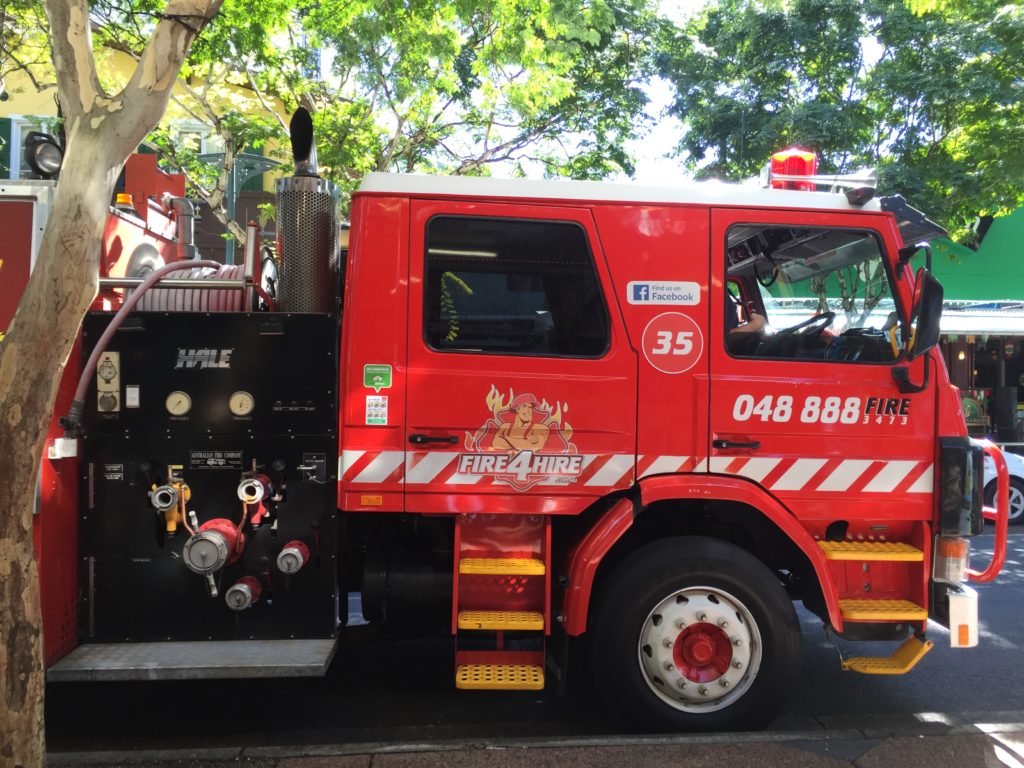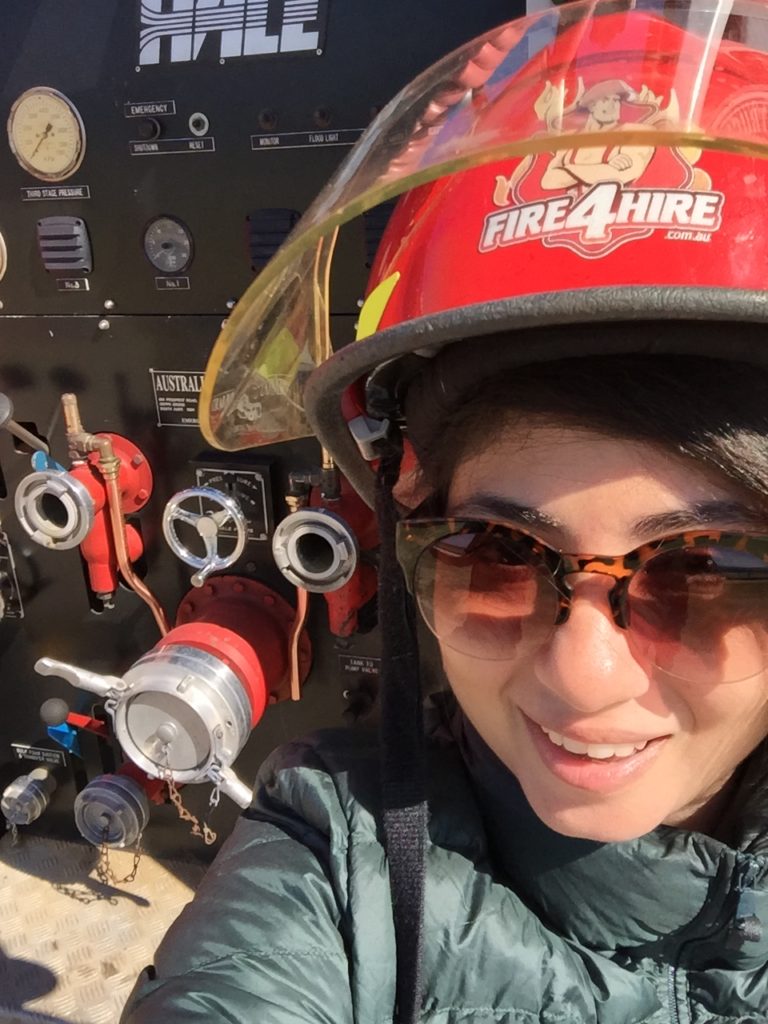 Accommodation –  During my stay in Brisbane I stayed at the lovely Stampford Plaza Hotel which I'm told is one of the best in the city. It's got a great location right in the heart of the CBD and next to the Brisbane River. I had a lovely view of the river and bridge from my supremely comfortable room. The elegant hotel has an old world charm and is a refreshing change from the usual modern ones. Lots of dining options but also plenty of spots nearby specially along the river banks.
Once I hit Brisbane and checked into my hotel I thought I'd fuel up before I ventured out. The hotel is strategically located by the banks of the Brisbane river and their restaurant Brasserie on the River has an section that overlooks the river which is just stunning. It's the perfect setting for a meal no matter what time of the day but I chose to devour a gorgeous steak and salad here despite a very tempting and highly recommended seafood buffet.
I strongly believe that two most efficient ways to explore a city is by walking around and having a local give you insights. So I spent the rest of my day with Emma from Brisbane Greeters who was delightful and a just a fountain of information about the city. We walked more than I thought we initially would through all the city highlights, through South Bank Parklands, and almost managed a water taxi ride but alas we missed the boat ( literally ) and walked back to my hotel. Brisbane is so different from Gold Coast but has its own unique charm and elegance which I seemed to appreciate more through this tour.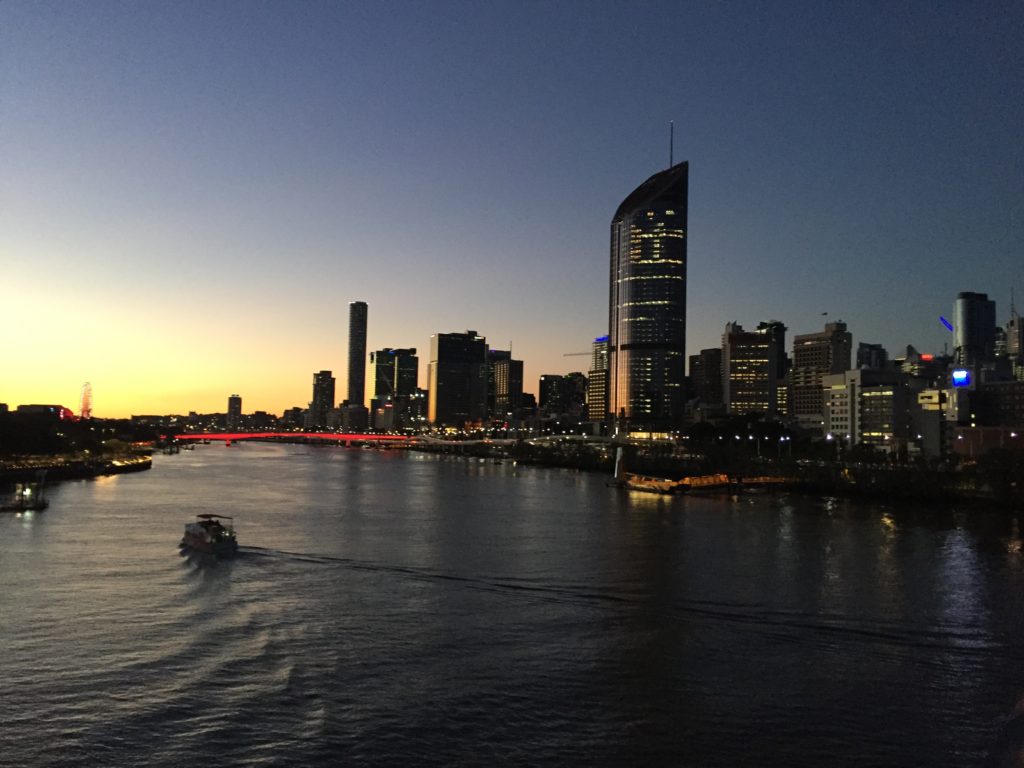 I thought I would be stuffed post my indulgent lunch but I clearly burnt it all off walking around the city so off I went for another stunning meal at a local hot spot called Gerard's Bistro. The restaurant is chic and buzzing with beautifully stylish people which is so fitting since the plates of food served to you are beautifully stylish and zinging with flavour. I'd recommend this trendy spot for a meal out.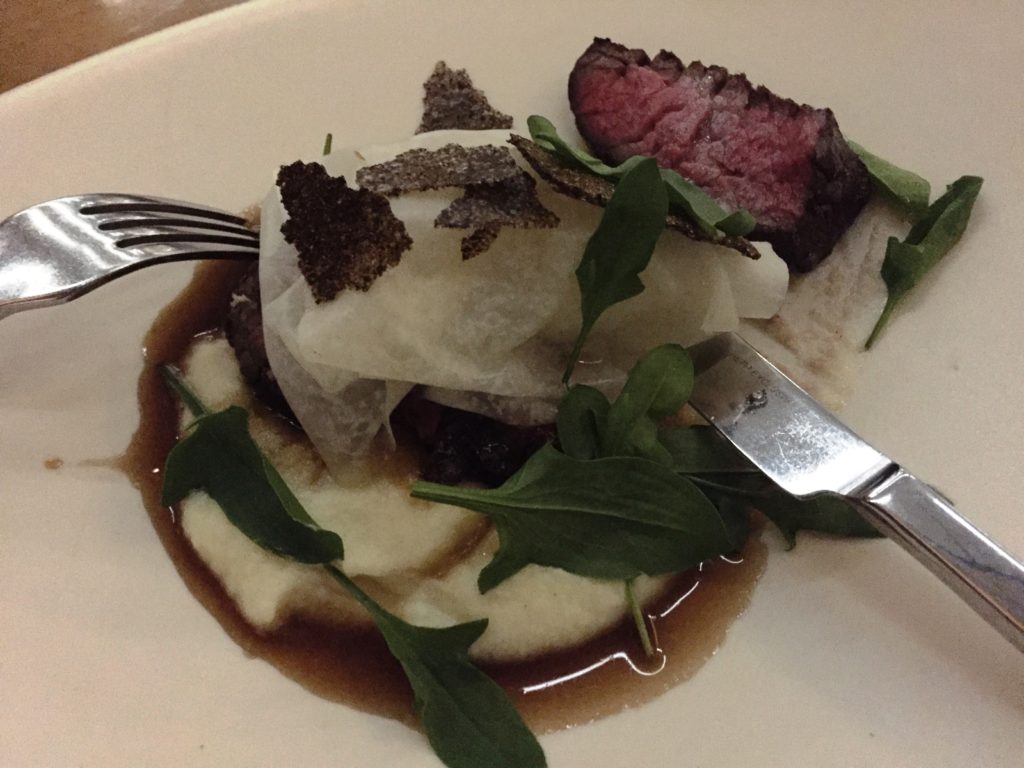 Day 5 –
Usually I'd eat breakfast at the hotel buffet but it was a Sunday and I was told Brisbane is all about a lazy breakfast brunch on Sunday and THE place to do that is a cafe called Billkart West End . I'll admit I really like indulging in a good breakfast even though I can't eat so much in the morning and this is definitely the place for it. They've got some very unique dishes, some artery clogging ones too but judging by the plates of food that are constantly flying out of the kitchen it's safe to say folks are loving it. I got a portion of their Eggs Benny and a stunning I mean absolutely memorable stunning crumpets with honey comb butter. So simple but just the best way to kick start your day. Do NOT miss out on restaurant.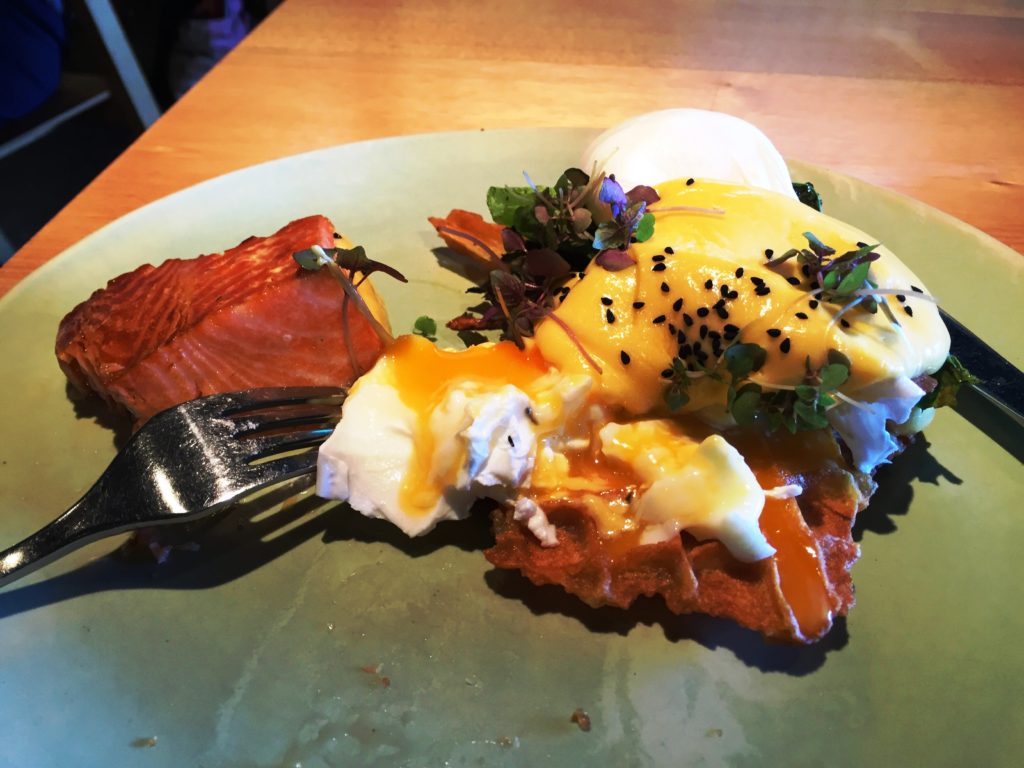 You can't come to Brisbane and not visit a sanctuary dedicated to Koalas so today was dedicated to the Lone Pine Koala Sanctuary because I'll be honest with you, I'm a tad bit Koala obsessed. Ok maybe more than a tad but you get the idea. Now you can drive up to Lone Pine but the cooler way to get there is to take a boat ride and Miramar Cruises are the ones to do it with. Miramar Cruises is a lovely boat ride up the river, you can book your tickets online or sometimes at the time of the cruise as well. There's food and drinks on board a recorded commentary giving you information about the city and the sights by the bank as you pass them.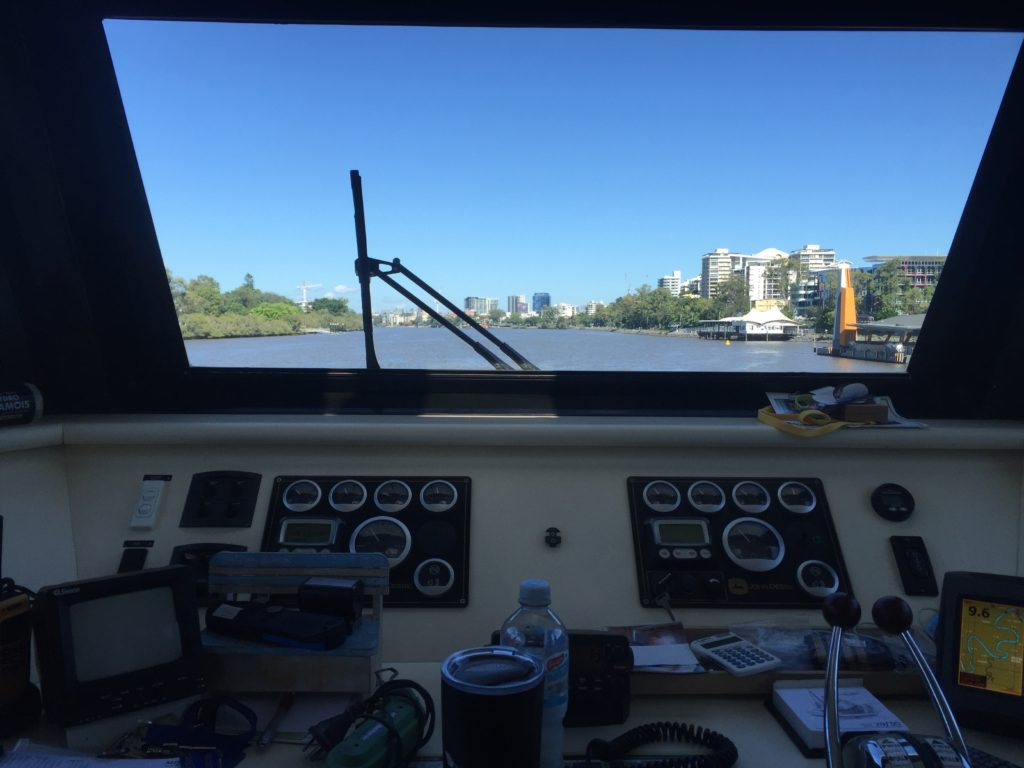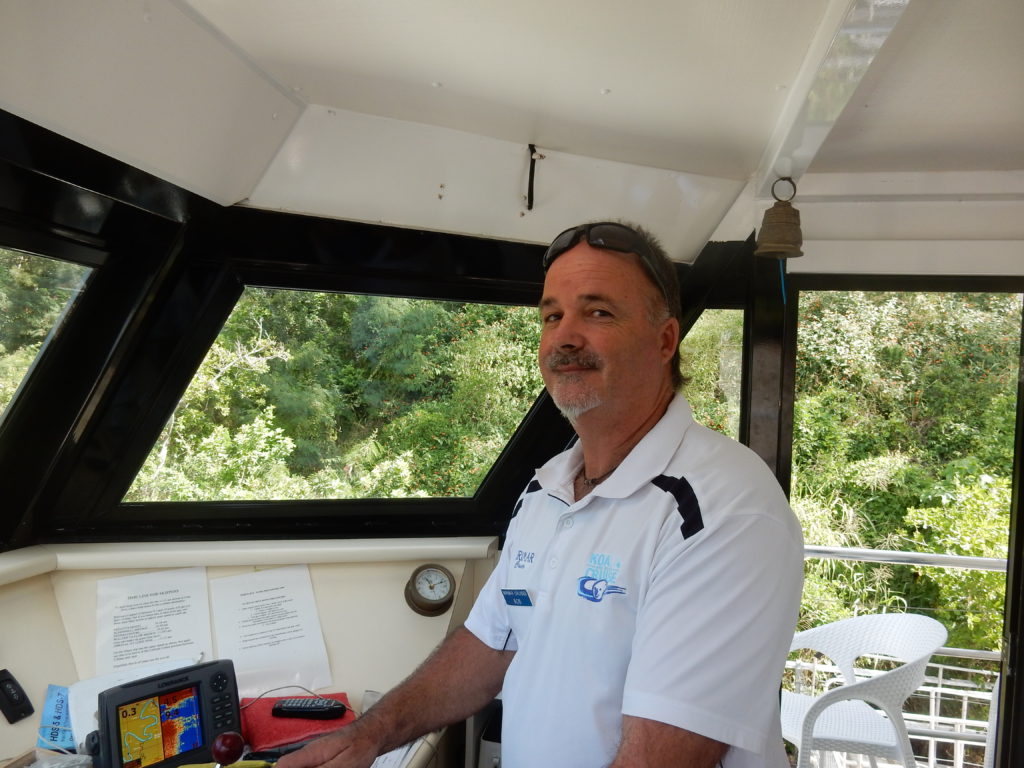 Lone Pine Koala Sanctuary  is officially recognised by the Guinness World Records. It's the world's first and largest Koala Sanctuary with over 75 years of experience and 130 Koalas. You get to see them in all age groups and can spend hours just observing them eat or hop around from one branch to another. Again don't miss out on a chance to hold a Koala for your photo op. Lone Pine encourages you to feed and pet the Kangaroos but all the other Australian animals are kept in an enclosure you can't get into. You can spend a few hours or even the whole day here but if you're going back by boat then it leave at 2pm which honestly is ample time to enjoy the park.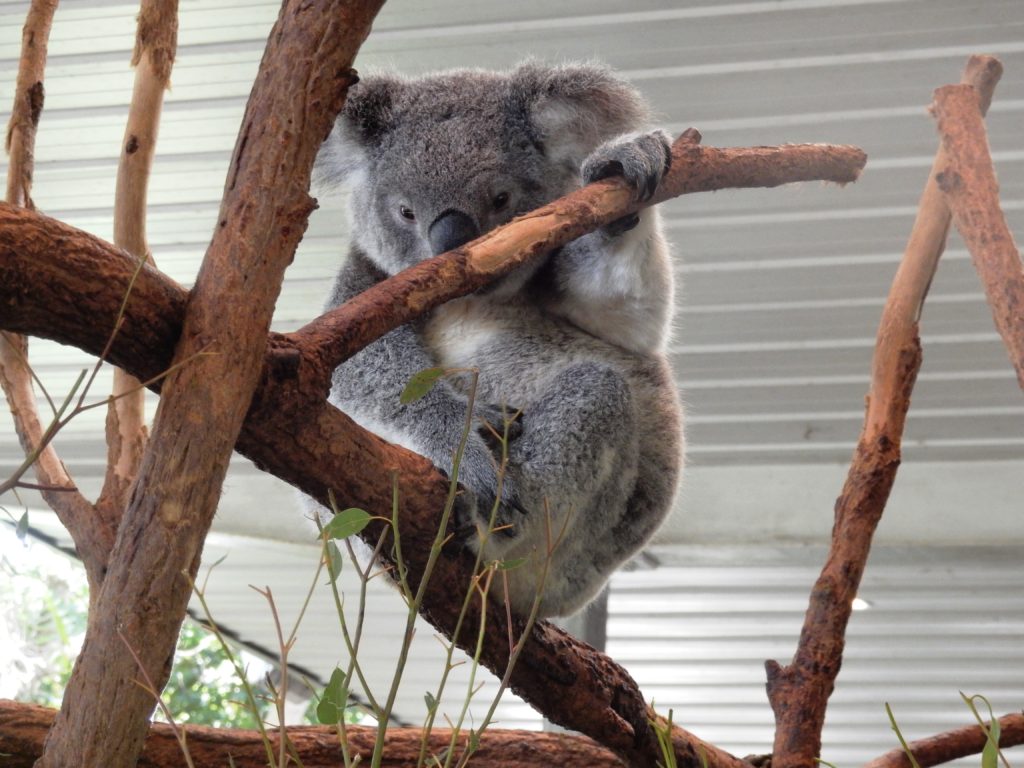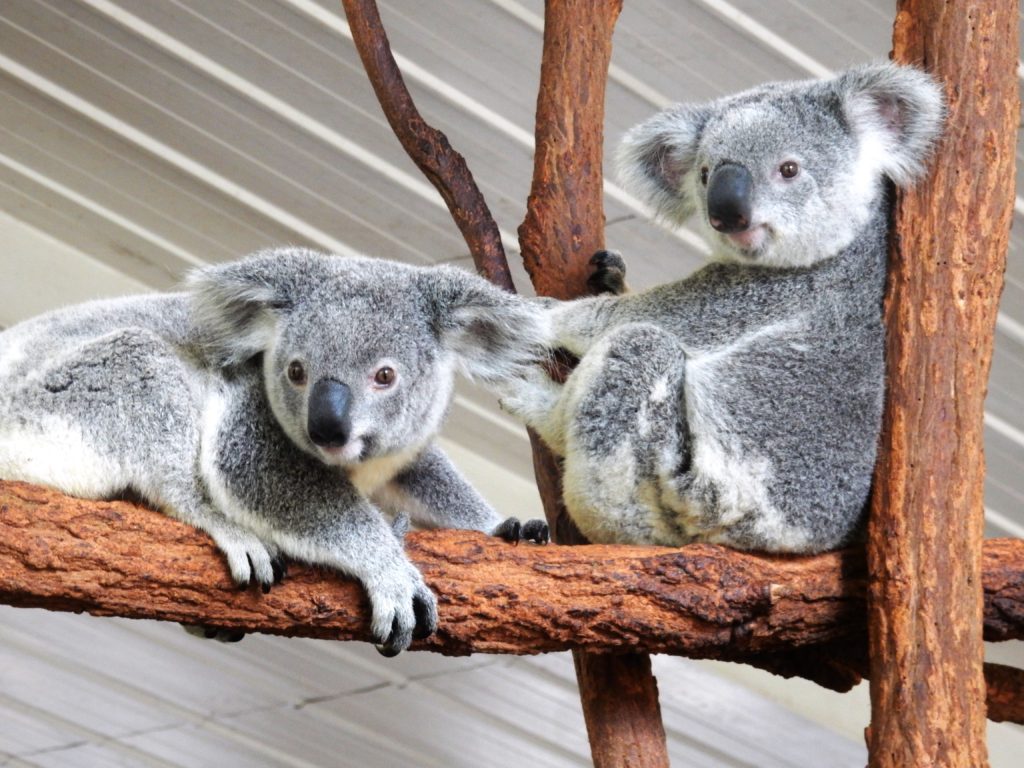 I spent the rest of the afternoon walking through the South Bank Parklands . It is located on the Brisbane River and is a great recreational precinct full of picnics, bars, cafes , gardens and even a small lagoon with sand and a lifeguard that the locals enjoy calling a beach. It's a large stretch of land so at any corner you'll spot folks enjoying themselves. On the weekends there are plenty of craft stores that pop up giving it this flea market vibe and attracts an even larger audience.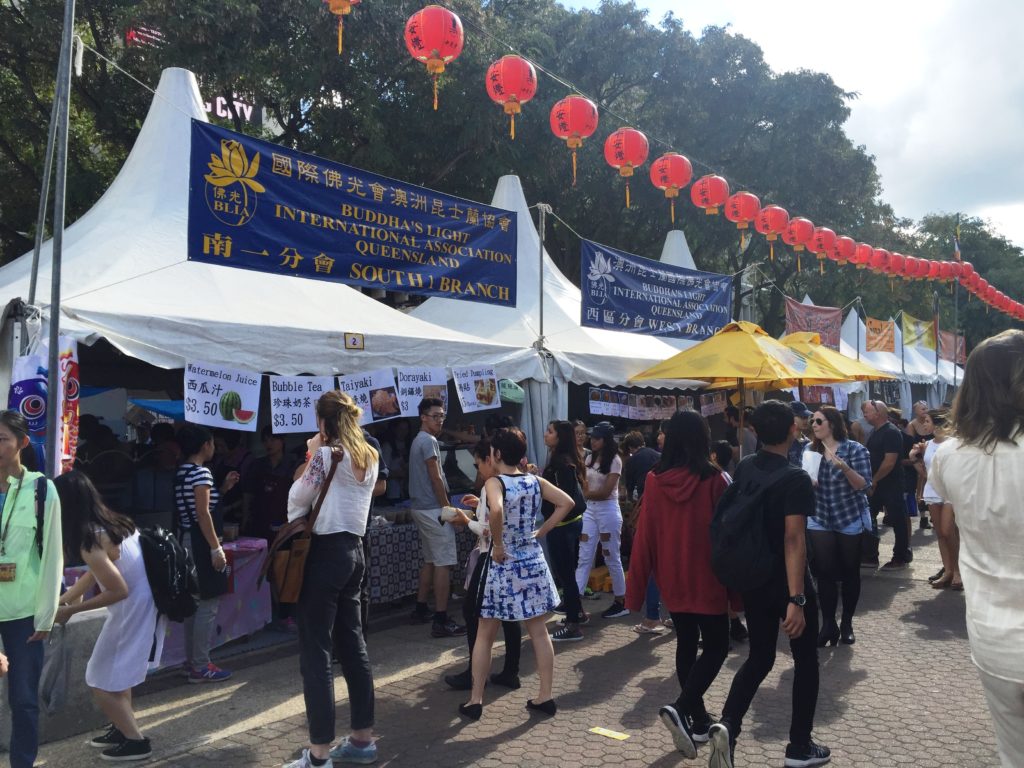 For my last meal in Brisbane, I made sure it was special. I walked down the banks from my hotel to another trendy seafood specialist called Jellyfish Restaurant. The restaurant boasts of the river and bridge for its view and while it is lit up at night, I think a meal here during the day might be prettier. The restaurant is known for their fresh catch and then cook it up in the sauce or style of your choice but I opted for more traditional choice from their a la carte menu.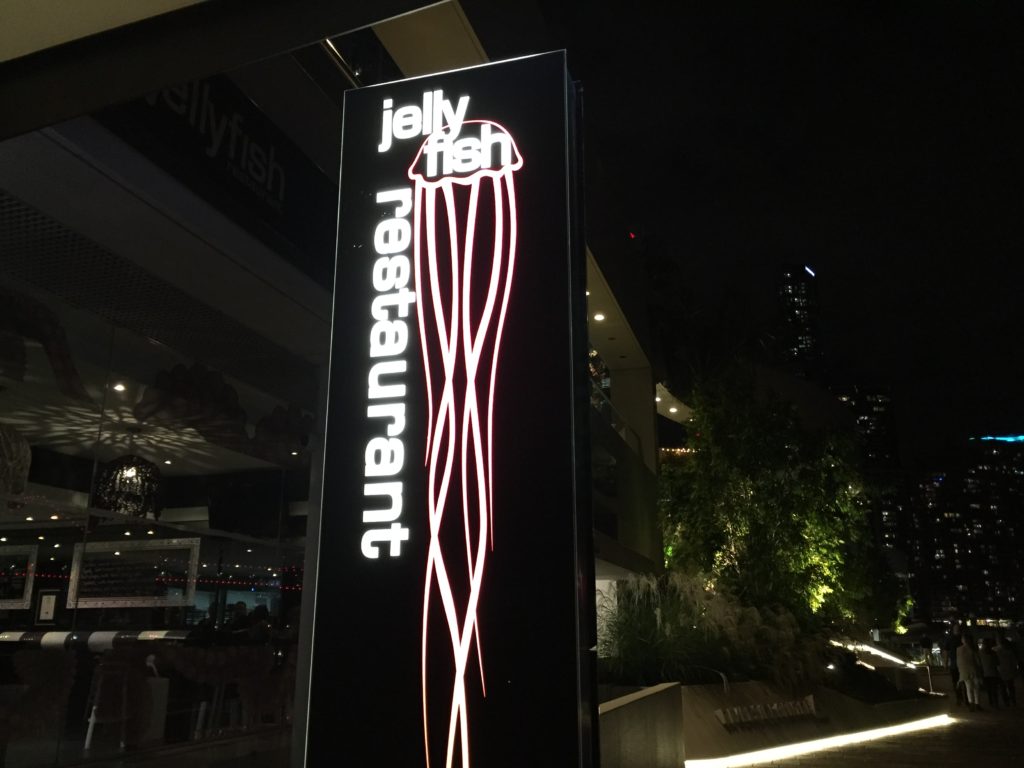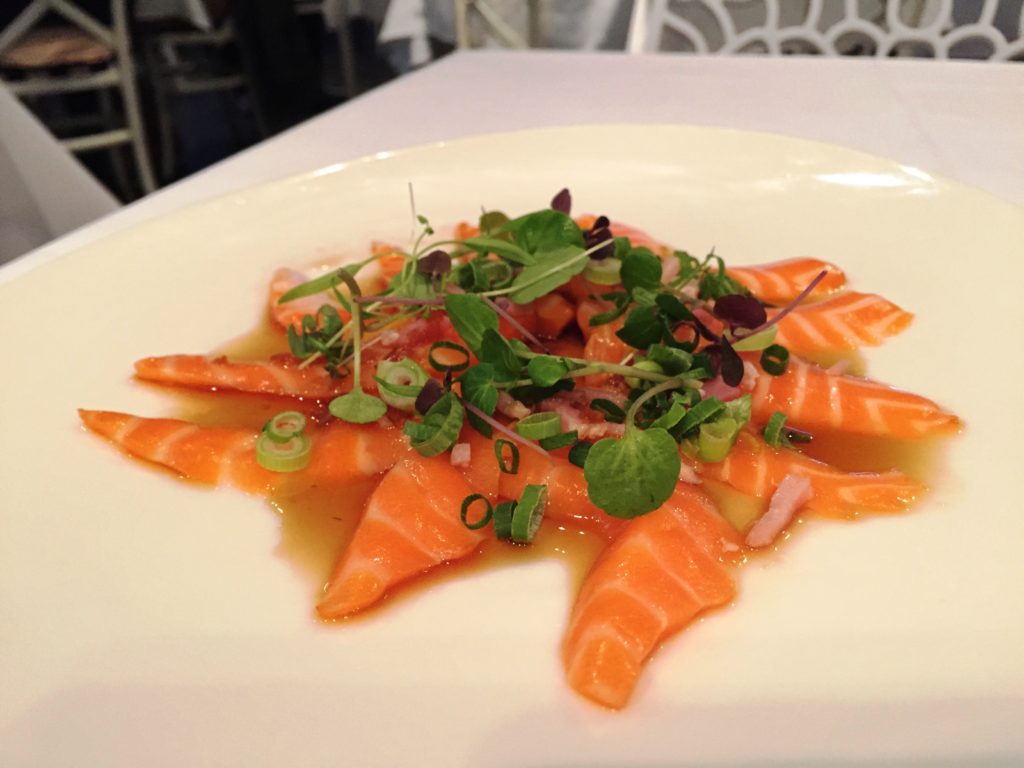 This is my summary and itinerary for how to enjoy a bit of Queensland with these two cities. If you have any tips about either the Gold Coast or Brisbane I'd love to hear them!
All my travel plans are made possible thanks to this incredible agency I work with. My entire trip to Queensland Australia was made possible thanks to the suggestions and booking by Quantum Travels who are Australia specialists. Should you need help planning your trip this is their information email – holidays@quantumtravels.net website :  Quantum Travels
If you'd like to pin this article then some of these might help 🙂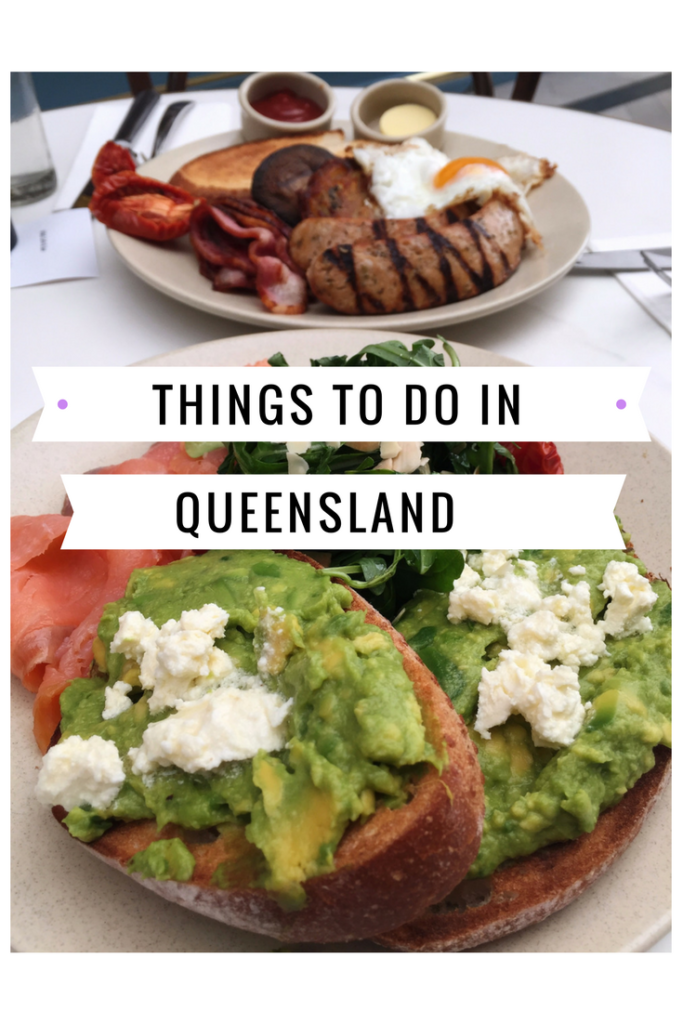 For more updates on my food and travel adventures, follow me on Facebook, Twitter, Instagram and Snapchat : thetinytaster