I'm not a big baker and generally avoid things like cakes and cookies because the precision of baking intimidates me. However I've been hankering to bake more lately and in terms of unintimidating and easy recipes this Nankhatai biscuit is perfect. It's also a biscuit I grew up eating and was always reserved for a special treat for me.
It's not a traditional Parsi recipe per say but since it was developed by a Parsi in an Irani bakery in Gujarat and the community enjoys it so much it's adopted and every Parsi home will enjoy these Nankhatai biscuits.
What Is Nankhatai Biscuit ?
Nankhatai is the Indian shortbread cookie. It is a version of a bread that has its roots in Persia. Infact Naan means Bread and Khatai means biscuit. This biscuit was originally made in Surat Gujarat in an Irani bakery and has become a hit ever since. It's a beloved Indian biscuit but the Parsi community in particular adores this biscuit and eats it often.
Recipe
Ingredients
1 cup Maida or all purpose flour
1.2 cup Besan or Chickpea flour
1/4 cup Rava or Semolina
1/2 cup Powdered Sugar
1 teaspoon Baking powder
1/2 teaspoon salt
1 teaspoon Cardamom powder
1/2 cup Ghee or clarified butter
1/2 teaspoon Nutmeg Powder
Sliced almonds or pistachio for garnish ( optional )
Method
In a bowl mix all the dry ingredients – the maida, besan, semolina, sugar, cardamom powder, nutmeg powder, salt and baking powder. Mix it gently and then add in the ghee and mix it together. It will start to crumble and slowly with your hands, bring it together to form a dough.
Place the dough in the refrigerator for 15 minutes.
Once it's hardened a little and more manageable roll out the dough into small balls and place on a baking tray lined with parchment paper.
Top each ball with almond slivers for garnish or you can skip this step entirely. Bake in the oven at 180 degrees C for 15 minutes.
In case the almonds burn, you can bake the biscuits without any almonds for 10 minutes then take it out, garnish with the almonds and bake again for the remaining 5 minutes.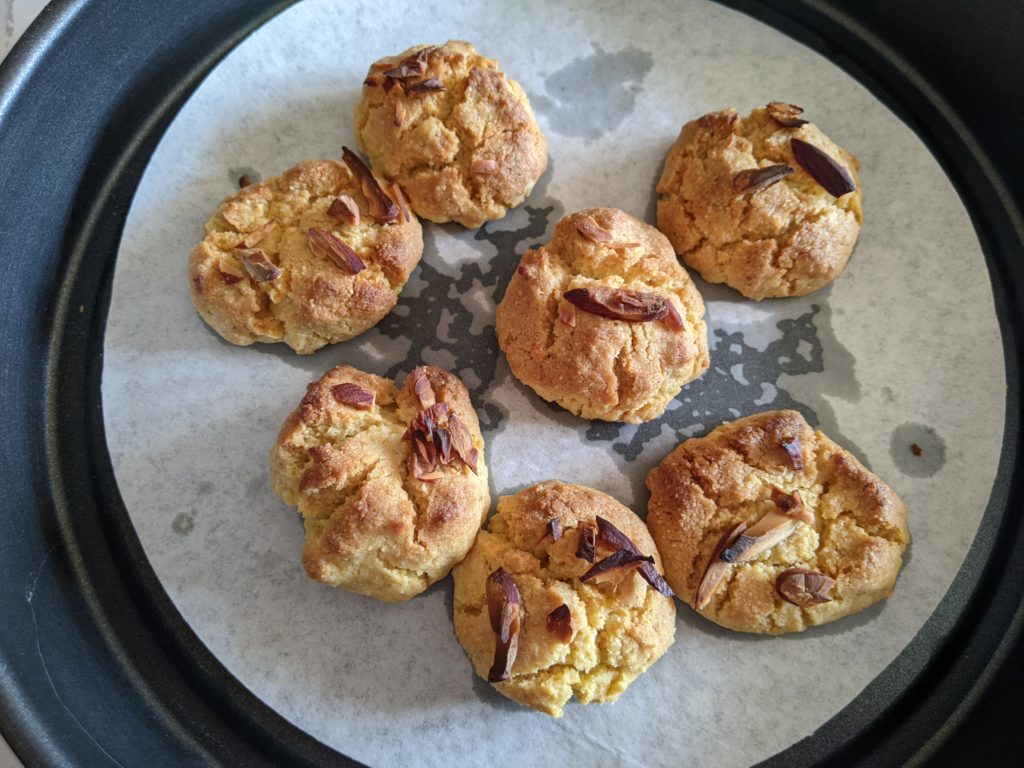 Once baked let them cool a bit and enjoy !
What Is Nankhatai Eaten With?
These biscuits can be enjoyed on their own. Most Parsis like to enjoy their Nankhatai with an evening cup of tea or choi. It works as a teatime snack and can be served with any other biscuits or stored in a jar and enjoyed whenever you feel like eating a cookie.
Can You Store Naankhatai Biscuit?
Yes you can store Nankhatai biscuits. Just place them in any air tight container and they will last up to 7 days comfortably. It's like any other cookie or biscuits you don't need to refrigerate or re heat them.
Other Parsi Recipes