What Is Chicken Pot Pie
A chicken pot pie is a simple recipe that is actually quite easy to make and very uncomplicated. It's a pie with a flaky crusty top and full of vegetables and chicken in a thick sauce served in a pot or individual sized bowl.
What Is The Difference Between a Regular Chicken Pie & A Chicken Pot Pie?
There isn't much difference between a regular chicken pie and a chicken pot pie except that you don't need to roll out your pie base or cover for a chicken pot pie. You use puff pastry ( readymade or store bought ) and often they are served in an individual bowl ( pot ) and just covered with puff pastry and you eat it out of the bowl itself you don't cut a piece like you would in a traditional pie. The chicken pot pie has a top crust only and usually has the addition of more vegetables unlike a savoury chicken pie.
Recipe
Ingredients
250 grams of boiled shredded boneless chicken
1 litre of Chicken stock or Water
1 Carrot diced
4-5 Potatoes boiled and cubed
1/2 Cup Frozen Peas
Pepper
Salt
1 Sheet of Puff Pastry ( frozen and store bought )
50 grams of Butter
1/2 cup flour
1 Onion finely chopped ( optional )
1 Celery Stalk finely chopped ( optional )
Butter to grease
Method
In a pot add the butter and once it melts add in the flour and stir continuously till it combines. Keep stirring and add in the chicken stock or water. You might not need the entire litre but add half keep stirring till it forms a sauce. Don't be alarmed if there are lumps, keep stirring till they all disappear.
Add the chopped carrots and cook for 5-8 minutes. Once the carrots have cooked add the boiled potatoes and the frozen peas and cook further for another 5-7 minutes. You can add any vegetables of your choice, onion, celery, French beans, broccoli etc. Just ensure that the vegetables cook.
As you cook the sauce will thicken and if you feel it's too thick and you want more of a sauce add some more chicken stock and keep stirring to thin it out. In case you feel like you've added too much stock and it's too watery and you need to thicken it then add some more flour and keep stirring. Adjust accordingly to get enough sauce for the filling.
Once all the vegetables have cooked add in your shredded boiled chicken and mix it all together. Since the chicken is already cooked you don't need too much time, add in your seasonings. In this recipe I've only added pepper because the chicken stock is salted enough and so is my butter but please taste and add salt accordingly. You can also add chilli flakes, cumin or any other seasoning. I like to keep it simple and have only added pepper. Cook for another 3 minutes and switch off the flame and let this mixture rest.
The easiest part of this recipe is the store bought puff pastry. Make sure you thaw it slightly so its managable. Please keep in mind in hot humid weather the pastry will start to sweat quickly and won't be easy to work with so make sure it's not completely room temperature but at the same time not frozen. If you feel it's too warm pop it back in the fridge for some time.
Roll out your puff pastry and then cut out a circle of pastry using the bowl that you're going to bake your pie in for reference. The idea is to cut a circle of pastry that is slightly bigger than your dish so you can cover it entirely and seal the sides. ( as shown in the video )
Fill your ramekin or bowl with the chicken filling and then cover it with your cut out puff pastry and press down the sides to seal it completely. ( refer to the video ) Brush the pastry with melted butter and bake in the oven at 180 degree C for about 5-10 minutes. I would advise to keep checking post the 5 minute mark to see if the pastry has cooked and risen and accordingly adjust the time so you don't end up burning the pastry ( trust me I burnt it thrice because I wasn't paying attention ). The pastry will puff up and the butter helps it turn golden brown.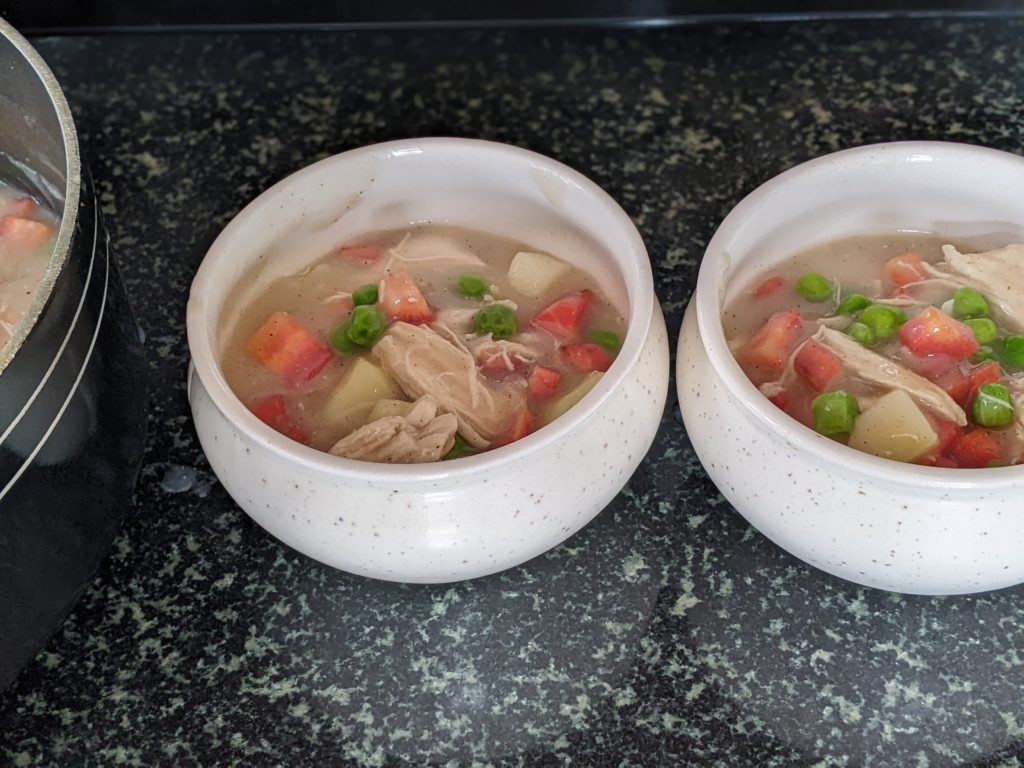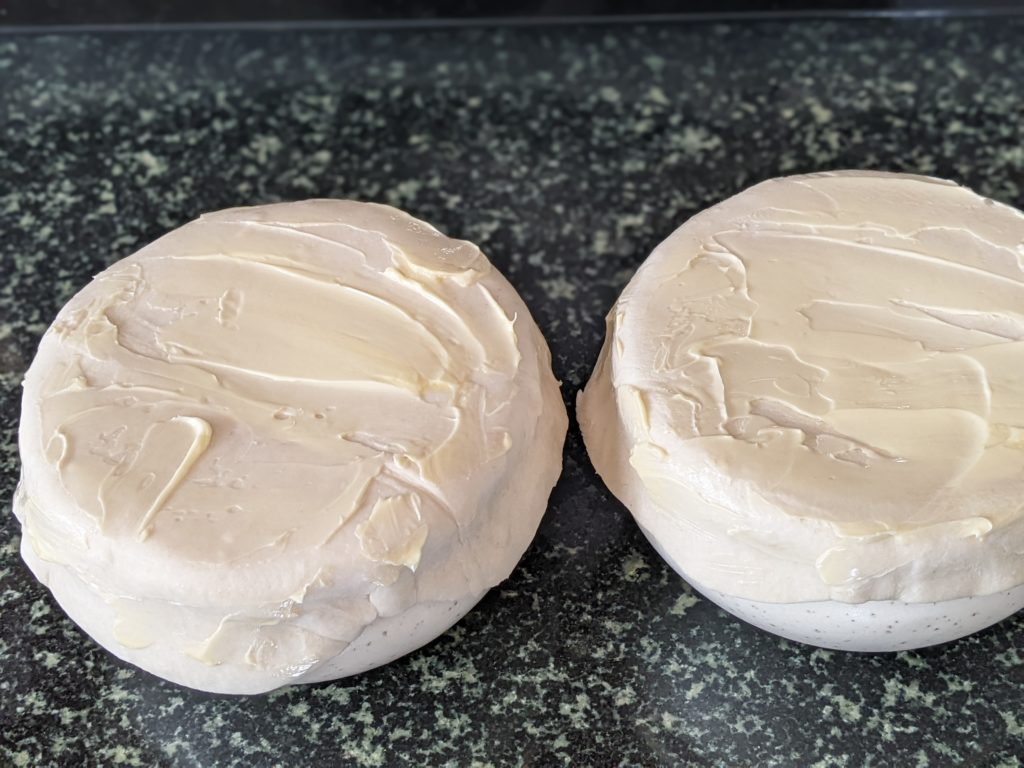 Once cooked, let it cool for 5 minutes and then serve hot ! The pastry is lovely and flaky and you cut right into it and enjoy the crust with the pie filling.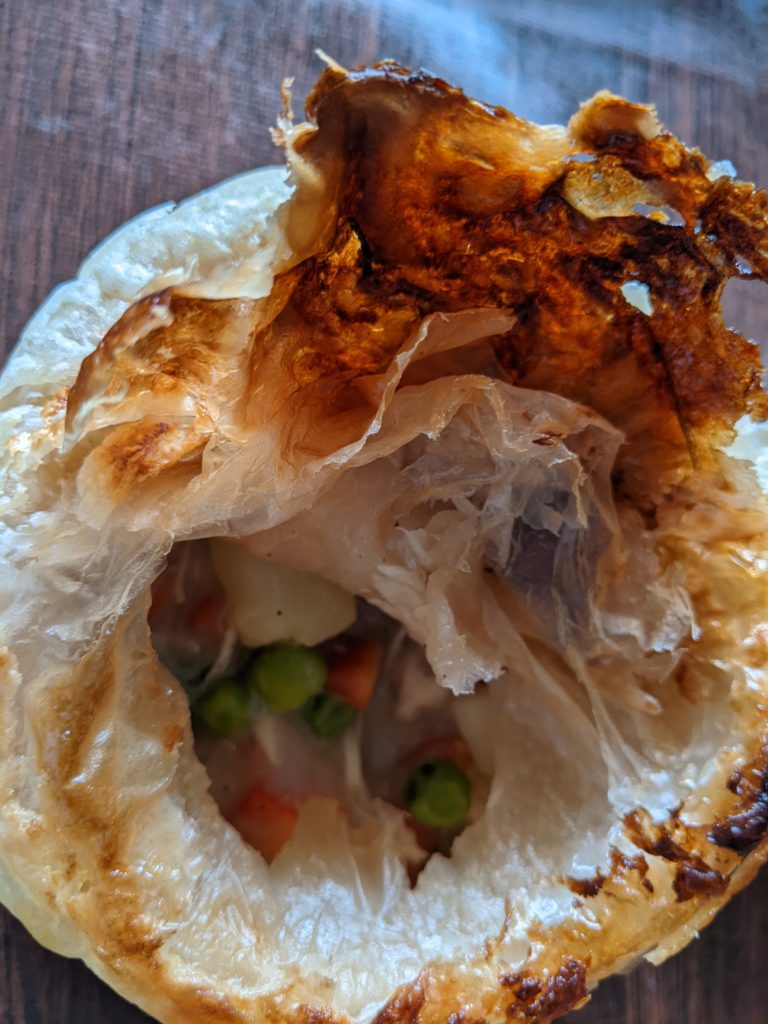 Please note you can make individual portions of this pot pie or one larger portion it's entirely up to you. This will give you approximately 2-3 individual pot pies.
How To Make Chicken Stock ( And The Boiled Chicken )
You can use readymade chicken stock or use the chicken bouillon cube to make stock but I like to cook my chicken and then use the stock.
In a crock-pot add 1 1\2 litres of water, about 500 grams of chicken ( I only used about 250 grams for the recipe but you can add as much or as little as you like for the stock. ) I use boneless chicken because it's easier but chicken on the bone will add more flavour to your stock. Add 1 tablespoon of salt, 1 teaspoon pepper corns, 5-6 pods of garlic, a knob of ginger, one small onion cut in quarter and if you have a carrot and celery stick for more flavour. Let the chicken and aromatics come to a boil and then simmer it for a minimum of 45 minutes to an hour.
Strain the mixture and reserve the stock water. Take the boiled cooked chicken and shred it with two forks and use that in your recipe or to make sandwiches.
How To Serve A Chicken Pot Pie
This is almost like a one pot meal because you serve it as is, in the dish that it's baked in. So there aren't any accompaniments or anything to go with it.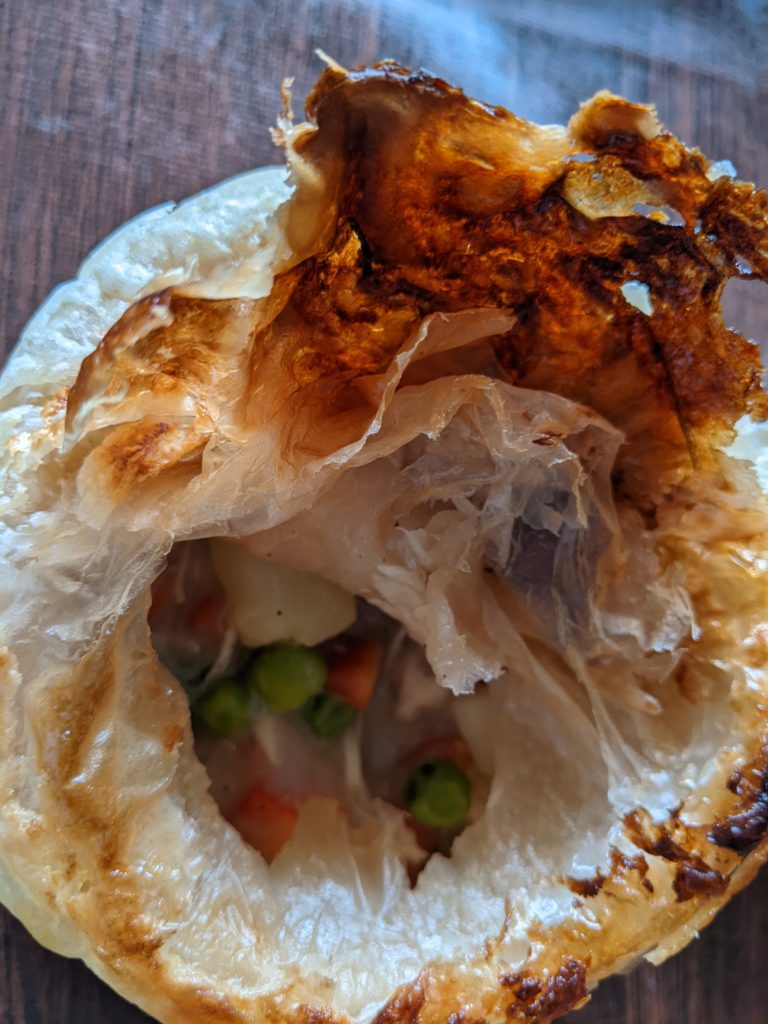 Can I Freeze A Chicken Pot Pie
No this is a dish that has to be eaten fresh out of the oven and I don't recommend freezing or refrigerating it at all.