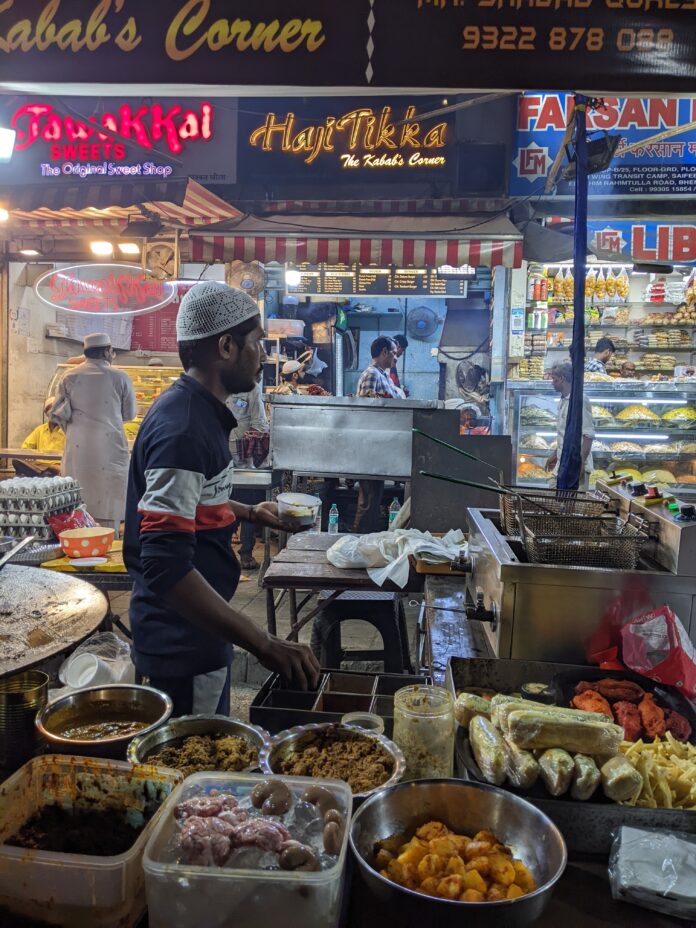 The holy month of Ramzan (Ramadan) is special to many but for foodies around the world, it's one of the best times to indulge in some of the best dishes. Every Ramzan food lovers flock to various eat streets or "Khao Gullies" to indulge in an array of delicacies. This year was no different. Ramzan time in Mumbai is a treat for carnivores and there are some spots you just can't miss. One such spot is Bohri Mohalla in Bhendi Bazar.
Even those that don't frequent these eat streets often, have heard of Mohammed Ali Road and all the hustle bustle.However, a truefood connoisseur knows where the real culinary treasure is hidden and that my friends is at Bohri Mohalla.
What makes this Eat Street unique is that is actually home to a fair number of people from the Bohra Community. The Dawoodi Bohra Muslims trace their heritage to the Fatimi Imams of Egypt and Yemen. They are a wonderful enterprising community (with a unique delicious cuisine of their own) and take pride in helping their community members to flourish.
Take for example the establishment of the Saifee Buhrani Upliftment Trust. This trust is tasked with a mammoth project to rehabilitate one of the most densely populated areas and give it a new face lift. Since phase 1 of this tremendous feat is complete and I got a glimpse of it through this brilliant food walk at Bohri Mohalla, I can just imagine how grand the end result will be.
Bhendi Bazar is a cultural hub that is home to a closely knit community of residents, shops, businesses and a number of legendary food stalls. What was once old dilapidated buildings with inferior infrastructure, built during the British era to house migrant workers, is now in the process of being turned into swish high rise housing towering in the sky, and wider roads to facilitate an easier way of life.
What is interesting is that over 90 % of the residents in Bhendi Bazar live as tenants with no ownership rights but this rehabilitation projects brings them back as property owners which is a tremendous feat as this is prime real estate in the heart of South Mumbai. While the locality is home to several Dawoodi Bhora muslims, there are other communities that have been living here for generations and the benefits of this project are for all the residents of Bhendi Bazar regardless of their caste creed and religion.
There is a lot of detail, thought and planning that has gone into this charitable trust and I'm going to leave a link to their website here – https://www.sbut.com/
Coming back to the glorious food stalls that open in time for Iftaar, Bohri Mohalla is a haven for those who want to indulge in an array of dishes and sweets that are specially made during this time.
This food walk was a mix of some of the popular spots in the locality that you'll find on every food walk to Bohri Mohalla. What makes it special is that if it's your first time ( like it was mine ) then you're so excited about the quality of food and if you've eaten before then you know what to expect and are excited to enjoy it again. Having said this, there are a number of different food stalls and restaurants, if you visit explore more and find your favourites.
First top on my walk was to Haji Tikka Kebab Corner. The name is rather self-explanatory but my goodness what extraordinary kebabs. Soft melt in your mouth Mutton Sheekh is what I'd recommend along with their pillowy Beef Kebab Kofta. Almost forgot to mention the Kiri or Khiri ( not sure how you spell it ) but it's a delicacy. The Baida Roti is another hot favourite but if you're more comfortable with chicken then there's an array of chicken tikkas and kebabs to choose from. Please skip all the burgers and pizzas on that menu not for any other reason than them being crowd pleasers and fillers. Stick to the kebabs you will thank me later.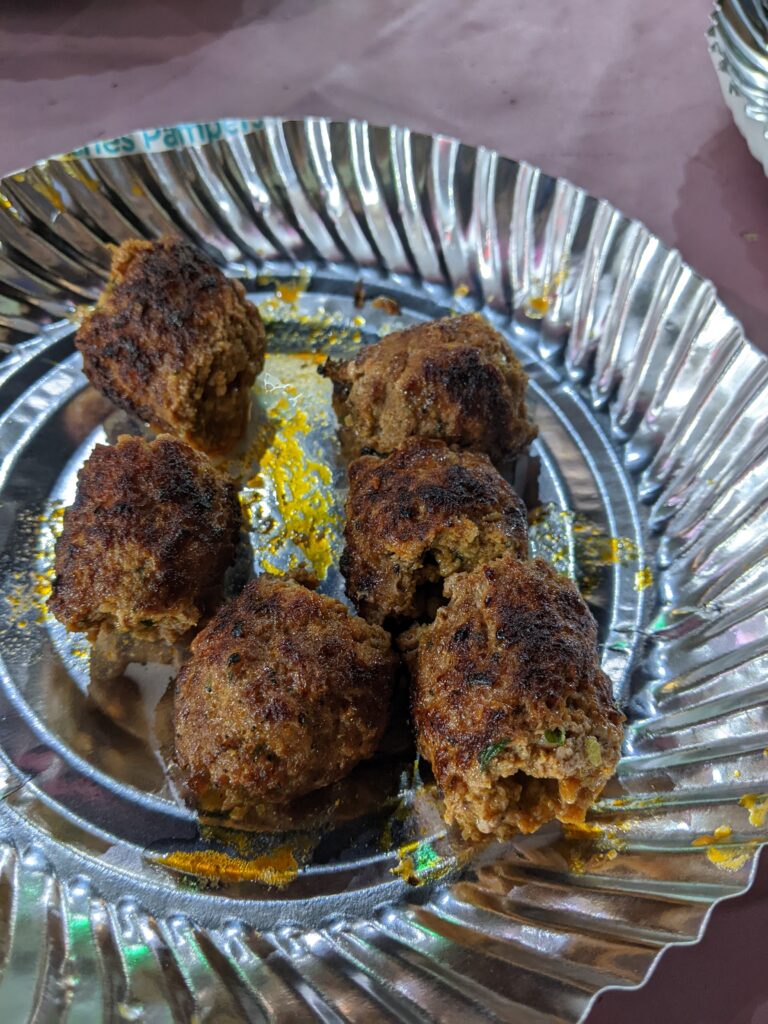 Stop nos 2 on this walk was at Shabbir's Tawakkal. What started out as a sweet shop and still of course dishes out increadible sweets, has also added a range of ' tawa items' to their menu. Think Baida Roti, Chicken Rolls ( fried like an egg roll or spring roll but more Indian flavours ) and lots more. One of their signature dishes is the Buttery Gurda (Kidney) that's served with pav it is a big hit and even if you don't eat kidney meat try nibbling on that flavourful gravy.
This place is also home to excellent phirni and malpua. The Phirni is a rice pudding and comes in different flavours, the traditional white plain one but also a bright yellow Saffron flavoured one and a fruity orange looking Mango Phirni, all delicious and I usually will pick the saffron one but the mango phirni is quite special. Make the most of it before the season ends.
Malpuas are a treat for me and remind me of my childhood as my granny would buy them for me and we'd indulge together without anyone else knowing. They're a pancake that's deep fried and somehow remains crispy on the outside almost like a crisp lacy border but soft on the inside. It's soaked in a sugar syrup and eaten with rabdi or cream or even on its own and just delicious.
Stop nos 3 was Taj Ice Cream which has been around for I think over 100 years if I'm not mistaken or something close to that. The specialty here is their seasonal flavored hand churned ice creams. Currently Mango is the best pick but in season strawberry and custard apple are also great choices. Lots of flavours apart from mango as well but it's lovely ice cream and a cool treat on a hot day.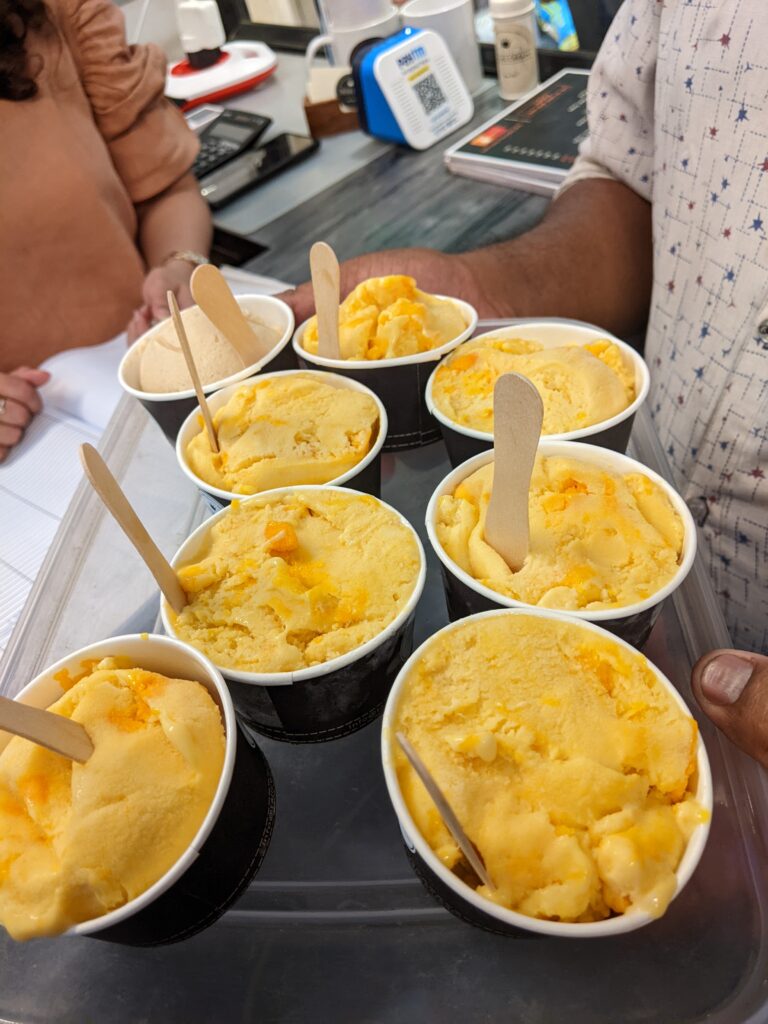 Stop nos 4 was Surti Bara Handi. This place is incredible for different cuts of meat. Nihari (a stew cooked with shanks of meat and marrow either beef or mutton) is their number one dish but it's also home to some great Paya (trotters). The uniqueness of this restaurant is that the food is cooked in 12 pots (barahandi ) and it's slow cooked for over 12 hours. So if you're eating it at night it means they started to cook it in the morning. It's this process of slow cooking that gives you this intense flavourful soft meat.
The tour actually ended here and there wasn't much space left in my stomach for me to eat. ( I had to skip the nihari at bara handi as well ) but it's so blisteringly hot thanks to this cruel Indian summer that a quick pitstop to a ssherbat wala became stop nos 5.
Imam Sherbatwala is a roadside stall that is famous for his sherbet. It's a concoction of milk, watermelon, sugar syrup and some secret masala mix that gives you think bright orange drink that looks really heavy but it is actually cool and refreshing. It's a great way to end your food walk.
Eid is almost here so many of these stalls and make shift spots on the road will disappear. However almost all of them are around through the year it's just not the same atmosphere and festive cheer. It's great fun to see Bohri Mohalla come alive during the holy month of Ramzan but even through the year the same epic food is easily found. In case you missed it this time around, try and pop by post Eid and still enjoy the food. Till then hopefully the video will give you a glimpse of what you're missing!
Disclaimer – This post was made possible due to the generous hospitality of the Saifee Burhani Upliftment Trust. Thank you for educating me on the work you're doing and for hosting me through this walk.
As always, thoughts, ideas, opinions and views are all mine 😊