I've such fond memories of my time spent in Bintan but most of them including working on my tan and scoffing down some delicious food. Bintan as I learned from my recent trip is much more than that. People like to visit as part of their trip to Singapore as it's just a quick ferry ride across and it's usually marketed as just a beach and resort destination but the truth is there is plenty beyond that. This trip I had the pleasure of staying at one of the very best hotels Bintan boasts off  the Bintan Lagoon Resort and thanks to the facilities they offer I managed to explore a different side to this cheerful island. If you're planning a trip to sunny Bintan ( and you really should ) then these are what I highly recommend you try and incorporate into your itinerary.
The Beach –  Indonesia is full of beaches and the ones in Bintan are just as gorgeous as  the others. It's the ideal place to spend many hours lounging at the beach. It also helps when most resorts have their own private beaches and you get a gorgeous view from your room. A little time at the pool and then some beach time. It would be a criminal waste to come to Bintan and not make the most of lazing or enjoying what their beaches have to offer.
ATV Ride – This was by far one of the most exciting things I've done in Bintan. I mean you can do this anywhere but the point is that a lot of resorts offer these facilities and the Bintan Lagoon Resort where I stayed sure did! I had the pleasure of riding with Shane Dallas, famously known as The Travel Camel who is one brilliant rider and had the time of our lives. For an exhilarating adrenaline rush, you must try your hand at one. In case you can't ride or are hesitant then an instructor will take you but it's still quite an adventure!
Chinese Fishing Village – While most come here to rest, relax and enjoy the beach it's well worth your time to explore the island and see what it has to offer. The Senggarang Village which happens to be quite close to the shores of Singapore, is a local fishing village where the majority if not all its inhabitants are Chinese. It's probably the most Chinese I've seen in Indonesia but they're a happy bunch that are always smiling and don't mind you walking around and exploring their humble village. The community is believed to have been here since the 18th century and most still live in their houses which are on stilts and made entirely out of wood. It's qquite fascinating to see how they live and the village has seven different temples hidden inside. Some quite large and easily visible but some tucked away inside and slightly more elusive but worth the effort to find them.
Temples – Bintan might be a small island best known for rest and relaxation but interestingly enough it's home to many temples, specially the Chinese and Buddhist ones. While the Senggarang Village is home to seven different ones, there is also the 500 Luohan Temple and a couple more Chinese and Buddist ones.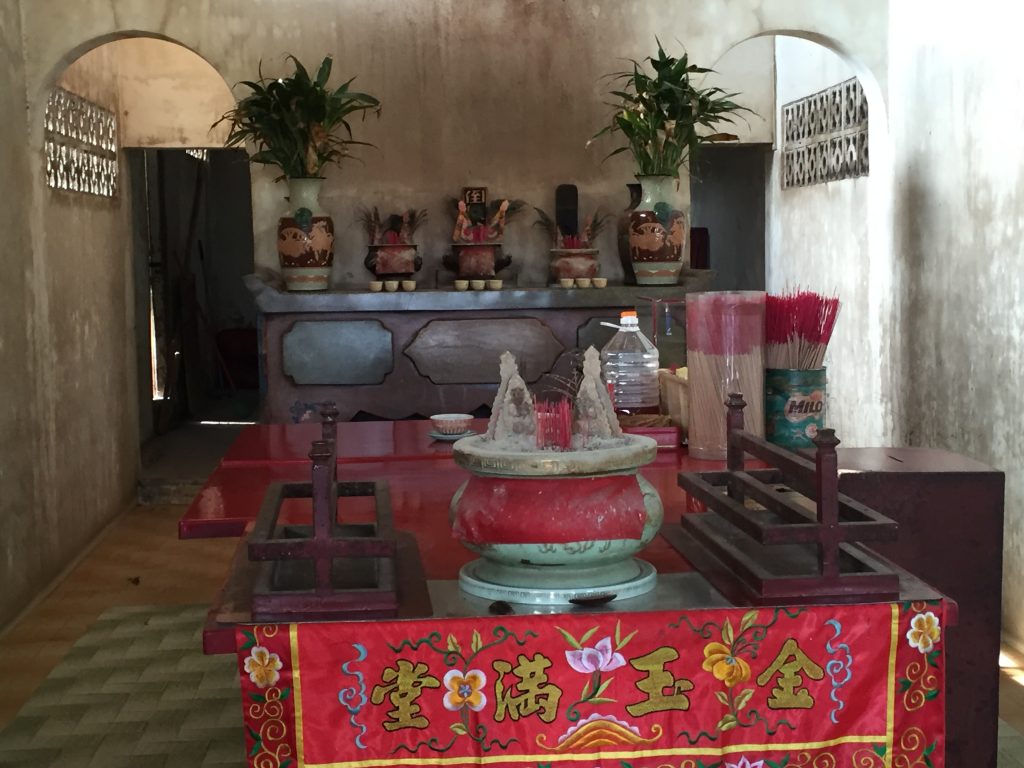 Local Market – In my experience Bintan offers some delicious food. The last time I was here I discovered a local food court across my hotel and ended up eating every single meal there because it was just too tempting and too good to resist. This time I was taken to the local market where apart from a spot of shopping, there are some terrific food stalls where you get a great taste of some local flavour. Plenty of Nasi Goreng, Mi Goreng, Satay and other usual suspects but along with them a lot of other fun options. They've even got my favourite Kway Teow which I've managed to master at home and whip up ever so often ( here's my recipe ). One of the local delicacies you must try if you're an adventurous eater which I can assure you I'm not, is Gonggong. The best way to describe it would be snail like but it's not really a snail its much softer and the locals just relish it. Bintan is of course close to the sea so plenty of fresh catch and you should make the most of their crabs prawn and other seafood offerings.
Mangroves – A boat ride might seem so blasé but when you're sitting in a speed boat zipping along a river to explore some mangroves I can assure you it's a blast. For folks that like the wild this is a wonderful sneak peek as you get to take a ride along the river through the mangroves forest and encounter some wildlife including monkeys snakes birds and even monitor lizards ( if you're lucky ). It's absolutely gorgeous and quite another experience going through a forest by boat. I did the Mangrove tour by day but I'm told you could even do a night ride and enjoy the forest under the stars along with flittering fireflies. Either way it's a fun way to spend your time in Bintan. There are also a few restaurants by the river which are great spots to sample more local delights including Gonggong.
Disclaimer : This post was done as part of a campaign called #TripOfWonders and I was hosted by the Indonesian Tourism Board. As usual all thoughts, ideas and opinions are my own
For more updates on my food and travel adventures, follow me on Facebook, Twitter, Instagram and Snapchat : thetinytaster